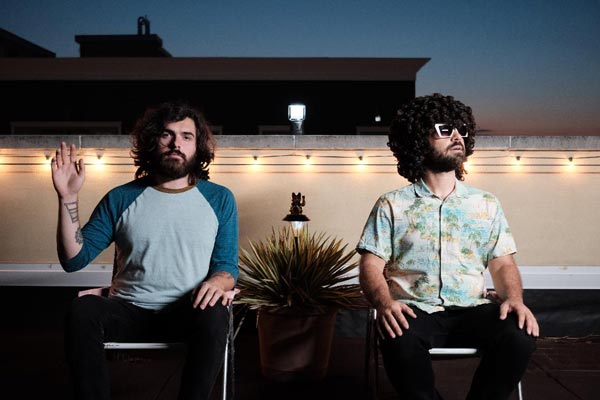 The Asbury Park-based indie-rock two-piece Yawn Mower are celebrating "Local Summer" with a new video for that track from their fourth original EP "Could Eat, Would Sleep" premiering here at Makin Waves. PHOTOS BY GREG PAPALCURE
When you've grown up at the Jersey Shore, like drummer-vocalist Biff Swenson and vocalist-guitarist Mike Chick of the Asbury Park-based two-piece Yawn Mower, Local Summer is without a doubt the best time of the year. The bennies are gone, the beach and bars are less crowded, and if you have to drive to either, parking is much easier. Yet, if the weather cooperates, you still get to have a whole lot of warm fun in the sun before the cold really kicks in, the fourth-quarter work load heaps up, and we transition into the enjoyment of the holiday season.
In the following interview the dynamic indie-rock duo share their favorite Local Summer memories, as well as details about their new video celebrating that season. The clip, making its media premiere below, is for "Local Summer," the best track on Yawn Mower's most recent EP, "Could Eat, Would Sleep," their third in only a year for North Jersey-based Mint 400 Records.
The label and frequent partners Sniffling Indie Kids are co-founders of North Jersey Indie Rock Festival, which Yawn Mower will play on Oct. 6 at White Eagle Hall, Jersey City, with their Asbury Park pals Dentist, plus label mates Guilty Giraffe, Tony Saxon, Shithead's Rainbow, and Ultra Major, Sniffling Indie Kids recording acts The Components, The Vaughns, LKFFCT, Psychiatric Metaphors, Professor Caveman, and Smock; Jersey City-based Rhyme & Reason Records' Glenn Morrow's Cry For Help, The Royal Arctic Institute, and Black Wail, and State Champion Records' Glazer, Ex-Maid, and Secretary Legs.
For Mint 400, Yawn Mower also recently contributed a cover of "I Love You All" from the 2014 film "Frank" to a new compilation entitled "From the Movies," also featuring a variety of different label mates. A video for the track also streams below. Wetbrain's Rudy Meier plays keyboards on it and sought-after session/touring violinist Nicole Scorsone (River City Extension, Bernie Worrell Orchestra).
Look for more output from the prolific Yawn Mower, and in the meantime, enjoy this chat!

Q: What inspired the song 'Local Summer?'
Mike: The lyrics to 'Local Summer' are bittersweet. On one hand, the song is carefree, talking about doing all the things locals like to do at or near the beach in September, but on the other hand, the song is about a number of deaths that happened in 2017, some involving the ocean, that had a big impact on me. Tell the people you love that you love them more often.
Biff: I play drums in the band. Thank you. You're welcome. God bless you.
Q: What can you tell us about the creation and inspiration for the music video?
Mike: We wanted to build off the vibe of our 'Kickstand' video, which was released a few months ago. We worked with Michael Burke (Chemtrail, Burke Multimedia) on the shooting of it. Mike was also behind the lens for the covers of our three original EPs and the 'Kickstand' video. We enjoy working with Mike. He is a super talented guy.
Biff: We swam, we danced, we sang, we witnessed some skate tricks. It took three or four shoot days, all just a few hours each. We wanted to make sure we captured the vibe of an actual local summer, but also we made sure we got to have some fun around town while we were being heckled by the occasional passerby. I'm like a kid in a candy store when I'm swimming in the ocean, so getting the drone footage of me in my element was dope. Mike Burke does a really good job of capturing us in our elements. He's awesome to work with and super quick on the turnaround.
Q: When you've grown up at the Jersey Shore like we have, Local Summer is without a doubt the best time of summer because the bennies are gone, the beach and bars are less crowded, and if you have to drive to either, parking is much easier. Share with me your favorite recent Local Summer memories and why they are special.
Mike: We've seen our fair share of 'Bennie Go Home' bumper stickers, but the reality is that the Jersey Shore wouldn't be able to sustain itself without tourists. I don't mind sharing our beaches with them, as long as they treat our home like their own. My favorite part of Local Summer is probably when it's not super-hot but still hot enough to hang on the beach, and there are way less people around, and it's magic hour.
Biff: Any September day I can jump in the ocean is a blessing. I'm immediately overwhelmed with feelings of childhood anytime I ride a wave in. It's a magical sense of feeling one with this giant sphere. I'm just a minuscule dot, treading water in this small fraction of the universe. Nothing else matters in those moments.

Q: How do you like working with Mint 400 Records? What have they done for you that you wouldn't have been able to do for yourselves?
Biff: Neil (Sabatino) has been incredible to work with! I text or call him with every idea I come up, and he always humors me. Mike and I pride ourselves on our work ethic, dedication, vision, and style when it comes to this project. Neil didn't want to change a single thing about us, but rather just nurture the beast. We've seen a huge growth in the band since signing. We've been charting on a handful of college radio stations all over the country, got placement in a North Face video, and have been playing more North Jersey/NYC shows -- and that has a lot to do with the constant help and encouragement we've received from Neil and the Mint 400 team.
Mike: I mean, he hasn't come through with those Ferraris yet though ...
Q: Will you release your next record with them? If so, when, and what will that be like, how will it be a departure for Yawn Mower?
Biff: Yeah, our next release will be 'Yawn Mooger,' two songs and a cover as a four-piece band. It features Nicole Scorsone on violin and Matt Cicalese on Moog. It definitely differs sonically from past releases because it has a lot more instrumentation throughout. It is us experimenting with new tools while staying inside the same four walls that are Yawn Mower. We also have a few more surprises up our sleeves before the year ends.
Mike: Don't throw your cigarette butts on the ground, folks! Don't flick them out of your car window when you drive either. Dispose of them properly and responsibly. Did you know it can take up to 10 years for a cigarette butt to decompose, Bob?
Biff: That's true. I read that on the Google device, Bob.

Q: What do you think of the North Jersey Indie Festival, especially having been spectators last year at a different venue and now performing at the coveted White Eagle Hall?
Mike: At the time of last year's fest, we had just signed to Mint 400 and were still meeting a lot of new people in the area. I liked how the fest had bands up and downstairs. All the walking made you feel like you were at a real festival. The lineup was sick too. We had a good time.
The venues we have played in Jersey City since -- FM Bar, Pet Shop, Monty Hall -- have all been great. The show at Monty Hall was the first one I was nervous to play in a long time. I kept thinking of all of my musical heroes that played that venue, and WFMU is upstairs, so it's like hero central. But we ripped it. It was awesome to meet Todd and Lizzie. Also I want to give a big thank you to Dancing Tony for keeping our cat safe.
Biff: It's exciting to play larger venues outside of Asbury. We got to open for Electric Six at Monty Hall and soon White Eagle Hall. Jersey City's music scene has continued to get better and better, so we feel super fortunate that we get to play up there so frequently. White Eagle Hall has been having killer acts pass through there, so it's a thrill to play the same stage as monsters like Jenny Lewis and Guided By Voices.

Q: You both have a number of musical side projects or creative endeavors going on - tell us about them!
Mike: This Fall, I will be releasing an acoustic EP called, 'More Sh*t To End Up in a Landfill.' It was recorded on a four track in a cabin in the Poconos last November. I also did a two-song release this year as Beach Wolff with Nick from Wetbrain and Bob from GayGuy/StraighGuy and Shut Up. I make art as well under the moniker Modern Animals. A full display of my work can be found on Instagram. All of our projects are either streaming or on Bandcamp.
Biff: I have my other band, Earth Telephone, which is based out of Philly. Now that we all live in the same city, we've been way more productive. We have Allegra from Cayetana playing bass with us now. We were direct support for The Menzingers' third consecutive sold out show at Crossroads earlier this year, plus we are opening up for Worriers at Johnny Brenda's on Sept. 28. We're just enjoying the natural growth of the project. We have a double single coming out very soon, and even sooner than that, we have a recording of our Courtney Barnett cover with all proceeds going to charity.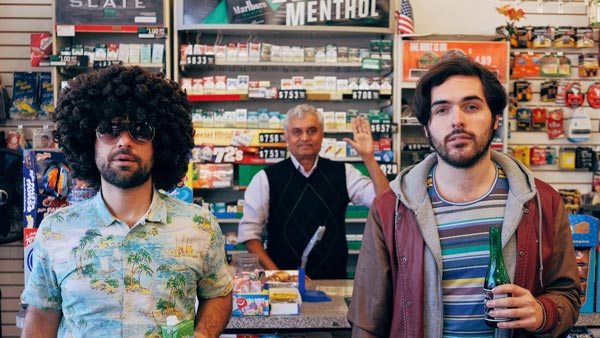 Yawn Mower in a photo for the 'Convenience Store' single from the 2016 EP, "Get to the Boat." The track recently was remixed with the Bayville-based rap group TrapBang.
Q: When and how did the two of you guys get together?
Biff: Our old bands would play Seaside Heights or Asbury Park together once in a while. Mike and I played with GayGuy/StraightGuy as Nirvana for a New Year's Eve show, and had talked about jamming for a long time. YM didn't really come together until Mike bought a baritone guitar, which defines our sound. He joked about starting a two-piece band with it, but you can't joke about starting bands with me!
Mike: Who knows what YM would look/sound like if I hadn't bought that baritone Jazzmaster.
Q: You also have a stacked show coming up at Piano's on Oct. 18 with label mates Ultra Major, Indie Fest mates The Royal Arctic Institute and Philly's Problem People. Comment on that banger, and other shows and plans that are coming up.
Mike: Ultra Major is rad. We just played with them and Birthday Boy at Coney Island Baby in NYC for their album release party. I've always liked Piano's but never got to play there, so it will be a special night for me. After that, we are playing Stosh's in Fairlawn with our buds Tide Bends and Vice Rags on Nov. 16.

Q: Between your 'Waffle House' EP earlier this year, featuring TrapBang and Das Racist member KOOL A.D., and recent performances featuring Jae Bird and TrapBang , you both seem to be very interested in hip-hop. Are there any future plans to record more hip-hop-based collaborations?
Biff: We find ourselves listening to just as much, if not more hip-hop, on our way to shows than we do rock. The bottom line is hip-hop is the new 'pop' music, as in popular music. It's been climbing its way to the top since its inception and there is no denying its staying power. Popular rock music just isn't interesting the way it once was. If you want to find exciting new rock music, you have to do it on a hyper-localized or DIY level. 'Bands,' like Imagine Dragons or Awolnation, have none of the qualities people like us would be looking for in alternative music. Hip-hop is more experimental and emotionally captivating on a mass-market level than 'bands' repeating the same whiney subject matter decade after decade while not having actual drums or guitars on the recordings. Weezer covering Toto is one of the most exciting things to happen to rock music on Top 40 radio this year. That says a lot considering it's a note-for-note rendition of a song written in 1982. If everything is going to be quantized, triggered, tuned, and monetized, than we might as well just go with the wordier genre! We wrote/recorded an original composition that features TrapBang, Jae Bird, and a couple other local rappers. That single/video will be out this winter for sure! Plus the video for our 'Convenience Store' remix with TrapBang should be out eventually. Also, that Cold Seas/Drew the Recluse song ('Bloodstain') is fire!
Mike: I love rock. I love hip-hop. You can always find good music if you look hard enough. But bottom line, Yawn Mower can't stop until we get to collaborate with Aesop Rock.
Biff: Aesop, have your people contact our people.

Bob Makin is the reporter for www.MyCentralJersey.com/entertainment and a former managing editor of The Aquarian Weekly, which launched this column in 1988. Contact him at makinwaves64@yahoo.com. And like Makin Waves at www.facebook.com/makinwavescolumn