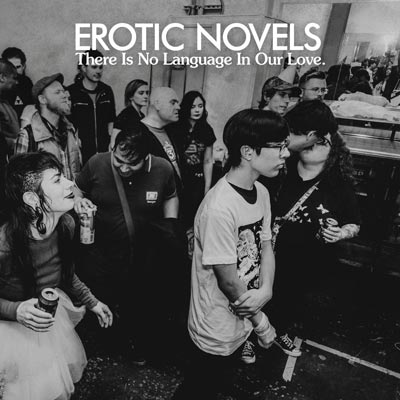 New Brunswick punk trio Erotic Novels have released "There Is No Language in Our Love," their debut for Lansing, Mich.-based GTG Records.
"There is No Language in Our Love" is a fascinating record for several reasons. The first is that producer Chris Pierce has done a great job at his New Brunswick-based Volume IV studios of seamlessly making Hub City punk act Erotic Novels sound fuller than a three-piece with deft layers of finessed production.
Also, the duo of vocalist-bassist Shannon Perez (Don Juan Destroyer, Side Bitch) and vocalist-guitarist Chris Tull (Hellstroms), who are joined in the studio by drummer Bobby C. and a rotating cast of skinsmen on stage, are much more dichotomous on record than live. One of half "Language" flirts with pop to such an extent that it sheens the band's punk edges, which is no surprise given Pierce's love of and influence on punk-pop, such as The Ergs. But then, the 10-song LP also has a strong hard rock, old-school metal component that comes to sounding like early Kiss, as well as Heart, largely because of Perez's doubled vocals that recall the Wilson sisters. Again, the hard-rock element isn't a surprise given Pierce's love of Black Sabbath, hence the name of his studio. But these sounds are surprising in relation to the band's raw live show, of which they also polished the rough edges on their 2017 five-song EP, "Debut," a similar pop, punk, hard-rock collection. 
I'm glad to see that they branch out in the studio, especially on my favorite track, the closing "I'm Not Willing," a powerful look at overcoming insecurity through the eyes of a cutter. I love the opening line in which Perez sings, "I'm not willing to hurt myself anymore after Grandma asked about the scars that are on my arms."
Other highlights include:



The quasi title track "Straight to the Ground," in which Perez explains the meaning behind "There Is No Language in Our Love"




The opening "Five Years Later," an in-your-face breakup song with great opening lines that passionately (and understandably) contradict each other, "No, I don't need anyone except you. No, I don't hate anyone except you" (talk about your love-hate relationship)




The Beastie Boys bounce and beat of Tull's "Library Books"




The David Lynch-inspired "Wild at Heart," which is a misnomer because it seems to be about hearts that have been tamed by love and heartbreak with lines, such as "But don't ask why/Why I sacrificed everything for you/You gave me your heart/Now you have two" and "What are you going to watch/'Blue Velvet' or 'Wild at Heart'/What are you gonna do/When I'm on my knees starin' you at you"




The Cramps-likes'50s-tinged male-female vocal interplay of "Last Stab," especially the line, "I love you more than I hate myself."



The creative couple, also the force behind the punk and indie rock podcast "Weekend Quality," is depicted on the cover of "Language" kissing in the crowd of a show. They recently celebrated the release of the LP at a festival organized by their new label, GTG Records, in its base of Lansing, Mich. GTG also is the home of the Trenton punk band Honah Lee.
Erotic Novels soon will announce a New Jersey release party, but in the meantime, they will play Oct. 6 at Crossroads, Garwood, with Weston, Digger and Latex Generation.
Bob Makin is the reporter for
www.MyCentralJersey.com/entertainment
and a former managing editor of The Aquarian Weekly, which launched this column in 1988. Contact him at
makinwaves64@yahoo.com
. And like Makin Waves at
www.facebook.com/makinwavescolumn