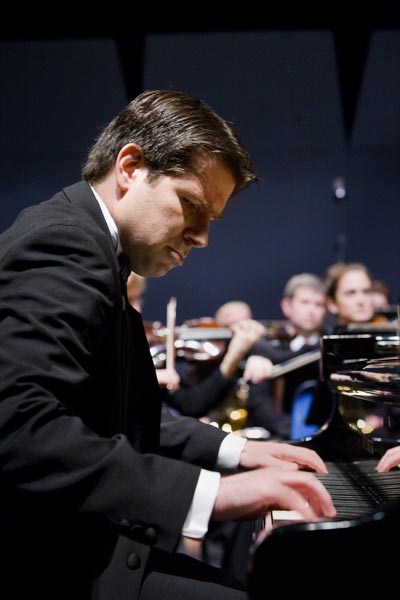 (MAURICETOWN, NJ) -- Maurice River Music will mark the beginning of its 12th season of salon concerts with a return appearance by the renowned pianist Itay Goren on Sunday, October 14 at 2:30pm at a residence in the Mauricetown, NJ area.  His recital will include Robert Schumann's Faschingsschwank aus Wien (Mardi Gras in Vienna), Books 1 and 2 of Claude Debussy's Images, and Modest Mussorgsky's Pictures at an Exhibition.
Goren, making his third salon concert appearance, has had his performances described as "an evocative journey from shimmering excitement to calm contemplation" by Classical New Jersey.  He has performed solo concerts in Europe, Asia, the Pacific and the United States. His recitals at the Ateneo de Madrid, Palffy Palace in Prague, The American Cathedral and Scots Kirk in Paris, and numerous halls in New York City were greeted with high acclaim. Following his performance at the Festival de Cámera in Villaviciosa de Odon in Spain, a review of the festival signaled out his concert as being "especially emotional." Other notable festival appearances include the Pacific Summer Music Festival in Guam, The American Music Festival in France, the Hindemithon Festival in New Jersey, and the International Choral Festival in the Czech Republic. 
Originally from Haifa, Israel, Goren studied music at the Rimon School of Music in Tel Aviv, Israel before continuing his education at William Paterson University in New Jersey. Under the guidance of pianist Elka Kirkpatrick, Itay graduated with degrees in both classical and jazz performance and received many honors and awards from the University. He is currently on the faculty of the music program at Ramapo College of New Jersey.
As a chamber musician, he collaborates frequently with the Madison String Quartet and the Gabriel Chamber Ensemble. In recent seasons, he performed at concerts dedicated to the music of Bartók, Schumann, Villa-Lobos, Brahms, Mozart and Beethoven.
Goren has been the soloist in concerti by Beethoven, Liszt, Mozart, and Bach. His latest concerto appearances include performances of Brahms' Piano Concerto No. 1, at Drew University with the Central Jersey Symphony Orchestra, and Rachmaninoff's Piano Concerto No. 2, with the Summit Symphony.
---
The article continues after this ad
---
---
As a champion of contemporary music, he has performed works by living composers David Winkler, Richard Sorce and Randall Svane, the last of whom wrote and dedicated a new piano sonata to him, which Goren will premiere this season. This past summer, Goren gave highly-acclaimed recitals in summer festivals in Europe—his second appearance at the Festival Asisa de Villaviciosa de Odon in Madrid, Spain and his first at the Rencontres Musicales de Jaugette in France.
Upcoming appearance include solo recitals in New York City, Boston, Newport, RI, Pennsylvania, and New Jersey, concerts in the New York City area with the Madison String Quartet and baritone Steven Scheschareg commemorating the 80th Anniversary of Kristallnacht, as well as a tour in Austria and Germany with the same ensemble. His agenda also includes performances of Brahms' Piano Concerto No. 2 with the Tübingen Academic Orchestra in Tübingen, Germany.
Future Maurice River Music salon concerts will include repeat appearances by pianist Clipper Erickson on November 18, pianist Norma Meyer and friends on January 13, 2019, pianist Allison Franzetti on February 24, clarinetist Christopher Di Santo and friends on March 24, and, in his salon concert debut, marimba virtuoso Makoto Nakura on April 7. All concerts will be at 2:30pm.
Seating is very limited, so reservations are required. Donations to assist in covering expenses will be accepted. To reserve seats, receive directions, or receive more information on the series, please call Maurice River Music at 856-506-0580, e-mail them at info@mauricerivermusic.com, or visit their website at www.mauricerivermusic.com.