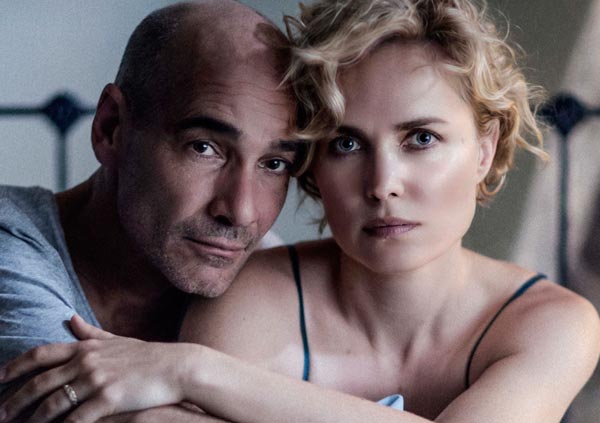 Andrew Marc Kotatko's brilliant film Whoever Was Using This Bed opens the Fall 2018 New Jersey Film Festival on Friday, September 14!
Here is an interview I did with Andrew:
Nigrin:  Your psychological dramatic short film Whoever Was Using This Bed is about a husband and wife who are woken in the dead of night by a mysterious phone call. Please tell us more about your film and what motivated you to make it?
Kotatko: Well, I'm just a huge fan of Raymond Carver's work. I had previously adapted his story "Why Don't You Dance?" into a short film called Everything Goes starring Hugo Weaving (The Matrix) and Abbie Cornish (Three Billborards Outside Ebbing, Misouri), which did very well on the festival circuit. Ray's widow, the poet Tess Gallagher, loved that film, so I thought I would try my hand at adapting another story. Whoever Was Using This Bed was a very personal story for Ray and is essentially an intimate, nocturnal dialogue between a middle-aged husband and wife about life, death and the nature of love. Given the amount of dialogue, the story wasn't an obvious choice to adapt into a short film - but the ideas in it are so compelling and universal, I was determined to bring it to the screen. It was a tough nut to crack, but I think we pulled it off.
Nigrin:  Your film has a wonderful international cast including Jean-Marc Barr, Radha Mitchell, and Jane Birkin. How were you able to get these wonderful actors to star in your film? Was it easy working with them? 
---
The article continues after this ad
---
---
Kotatko: They were my dream cast - and an absolute dream to work with. I actually wrote the screenplay with Radha Mitchell in mind. I loved her in Woody Allen's film Melinda and Melinda, in which she played two versions of the lead character, one tragic and one comic. Radha and I have a mutual friend, an Australian film producer, who agreed to pass my script on to her. I'm so glad she embraced the complexity of her character and was prepared to take a leap of faith and make the film with me. She really is a wonderfully clever and highly instinctive actress. I had greatly admired Jean-Marc Barr from his work with filmmakers Luc Besson and Lars von Trier. I had first seen him in Besson's The Big Blue as a teenager, which had a huge impact on me. Jean-Marc and Radha were friends and had acted together in the film Big Sur, based on Jack Kerouac's novel. They had a few scenes together in that film and shared a wonderful chemistry. Given the amount of intimacy and vulnerability in Whoever Was Using This Bed, it was a great asset to work with actors who had an existing relationship with each other. I wanted the actress playing the mysterious phone caller to have a very distinct, timeless voice - almost ghostly - as if to suggest that she may be a a presence from beyond the grave. Again, Jane Birkin was my first choice. I met with Jane while she was on tour in Australia performing the songs of Serge Gainsbourg. Very interestingly, Jane had written a play which also explored an existential drama between a married couple. I think that co-incidence may have convinced Jane to do the film - and I'm so glad she did. 
Nigrin:  Your film is pretty hermetic and seems faithful to the Raymond Carver short story of the same name. Did you try to distance yourself from the original at all?  
Kotatko: No, I just tried to give the characters a strong emotional context for their words and actions. I lived with the material for a long time before the film was made and I really pondered every aspect of the story. The one aspect of the short story that was further developed in the film was the character of the phone caller. There is a stronger sense of a relationship between the husband and the phone caller in the film, which I think greatly raises the emotional stakes at the climax.
Nigrin:  Being from Annandale in New South Wales, was your film also shot in Australia? 
Kotatko: Yes, it was shot in Paddington, Sydney in a wonderful Victorian house. The owners were incredibly generous and trusting and allowed us to paint the interiors the way we wanted to. Australian crews work very hard and everyone just jumped in to make it happen.As a director, I was blessed. It was a very exciting and rewarding experience. 
Nigrin:  Are there any memorable stories while you made this film or any other info about your film you can pass on to us?
Kotatko: Aside from the welcome challenge of making the film, one of the most memorable and moving things that happened to me was getting a response from Tess Gallagher. She described the film as being "like a wonderful strange music box whose tune haunts you, and never misses a beat. I think Ray would have been delighted with it." There isn't a filmmaker in the world who wouldn't be touched by that!
Here is a the trailer for Whoever Was Using This Bed: 
****************************************************************************
Whoever Was Using This Bed will be followed by the feature Funny Story. Here is more information on this New Jersey Film Festival screening: 
Whoever Was Using This Bed - Andrew Marc Kotatko  (Annandale, NSW, Australia) Starring an internationally acclaimed cast, including Jean-Marc Barr, Radha Mitchell, and Jane Birkin, this taut, psychological drama is based on a short story by Raymond Carver. When a husband and wife are woken in the dead of night by a mysterious phone call, they find themselves drawn into an unsettling examination of their fears and desires. 2018; 25 min. 
Funny Story -Michael Gallagher (Beverly Hills, California) Funny Story is a tragicomedy about the ties that bind us. After years of being a neglectful father, a womanizing TV star decides to crash his estranged daughter's vacation. As it confronts the destructive power of narcissism, Funny Storymoves to celebrate the healing power of forgiveness, and the joy of taking part in karaoke after a round of tequila shots. 2018; 85 min.  Co-sponsored by the Rutgers University Cinema Studies Program!
Friday, September 14, 2018 at 7:00 p.m.


Voorhees Hall #105/Rutgers University


71 Hamilton Street, New Brunswick, New Jersey


$12=General; $10=Students+Seniors; $9=Rutgers Film Co-op Friends


Information: (848) 932-8482; www.njfilmfest.com