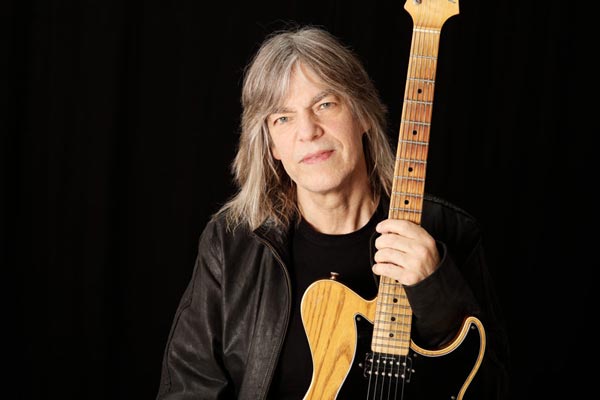 On July 3, 2016, the world changed forever for Mike Stern. The multiple Grammy-nominated guitarist, a former member of Miles Davis' band during the early 1980s and subsequent member of Steps Ahead, Jaco Pastorius' Word of Mouth, and The Brecker Brothers... 
Mike Stern was hailing a cab outside his apartment in Manhattan when he tripped over some hidden construction debris left in the street. He broke both his arms in the fall and the cab he was hailing ended up taking him to the hospital. This horrific accident happened on the day he was supposed to leave town for a European tour, which was promptly cancelled. Not only did Stern fracture both humerus bones (the long bones that run from the shoulder to the elbow), he was left with significant nerve damage in his right hand that prevented him from doing the simplest tasks, including holding a pick. 
Following his initial surgery, Stern was back on scene in late October of 2016, guesting with Chick Corea in a celebration of Miles Davis' music during Corea's two-month residency at the Blue Note in Manhattan. For that gig, he had to play seated while wearing a black glove outfitted with velcro to help him hold onto his velcro-fitted pick. In November, Stern hit the road for a European tour, co-leading a band with longtime friend and collaborator, drummer Dave Weckl.
Following a second surgery, the guitarist gained more control of his nerve-damaged picking hand and subsequently devised a scheme where he literally glues his right-hand fingers to the pick, which strengthened his grip, allowing him to more fully realize his signature speed, precision and fluidity informed mainly by bebop and the blues.
Feeling sufficiently fortified, Stern and his stellar crew of sidemen — many of whom go back with him to the '80s — went into Spin Studio in Long Island City between January and March of 2017 to record his 17th album as a leader. The guitarist's sly, self-deprecating sense of humor comes across in the title of the album, Trip, as well as on individual tracks like "Screws" (he initially had 11 screws put into his arm following his first surgery) and "Scotch Tape and Glue" (his current method for holding onto the pick).
---
The article continues after this ad
---
---
"Sometimes you have some bad stuff that'll happen to you, but you kind of get through it and you realize that everybody has this stuff — good trips and bad trips," said Stern. "But you just gotta keep trying, you gotta get up and keep going as soon as you can, which I was able to do. I had to figure out a way to play. I don't know what I'd do if I couldn't play music. If you really want something bad enough, sometimes you have to fight for it; you find a way to make it happen. And now I have friends who I trust who tell me that they wouldn't have noticed any difference in my playing if I hadn't told them what happened to me."
Miles Davis' career as a trumpeter, composer and bandleader is synonymous with the stylistic evolution of jazz. His ensembles and recordings are the benchmarks for cool, post-bop and fusion as evidenced by these four-generations of artists who first gained recognition under Davis' leadership. Drummer Jimmy Cobb appeared on one of the most popular and influential recordings in history, "Kind of Blue" (1959) while guitarist Mike Stern ("We Want Miles," 1981), bassist Buster Williams ("Directions," 1960s) and alto saxophonist Sonny Fortune ("Big Fun," 1974) have the post-bop and fusion bases well covered.
To contemporary jazz guitar aficionados, Stern is regarded as one of the true guitar greats of his generation. A player of remarkable facility whose searing lines are informed mainly by bebop and the blues while also carrying a rock-tinged intensity, Stern made his mark with Miles Davis in the early '80s before launching his solo career in 1985. Since then he has released 17 recordings as a leader, six of which were nominated for GRAMMY® Awards. His latest, Trip, is his first since recovering from his accident. But Stern is back on top of his game, playing with typical authority and prodigious chops on this all-star outing, which features such longstanding colleagues as trumpeters Randy Brecker and Wallace Roney, saxophonists Bob Franceschini and Bill Evans (a bandmate of Mike's in Miles Davis' 'comeback band' of 1981), bassists Victor Wooten and Tom Kennedy and drummers Dave Weckl, Dennis Chambers and Lenny White.
On Trip, Stern shifts from his scorched-earth distortion laced licks on the title track and "Screws" to his patented fleet-fingered burn on the three swingers paced by Return To Forever Lenny White — the Rhythm Changes number "Half Crazy," "Scotch Tape and Glue" (based on the changes to "On Green Dolphin Street") and "B Train" (his quirky contrafact on "Take the A Train"). Elsewhere on this all-star outing, he shows rare sensitivity on his tender nylon string acoustic ballad "Gone" and on "Amelia," which marks his second appearance on record as a vocalist (his first was on the lyrical tune "Wishing Well" from Electric, his 2014 collaboration with fellow guitar hero Eric Johnson). "Singing is kind of second nature for me," says Stern. "I sometimes sing the melody when I'm writing a tune. I'll be playing chords on the guitar and I'll start singing a melody and then write it down. I got the nerve to do it from that record I did with Eric Johnson and I'm doing it more on the gig too. And it's cool because I've always tried to get that more vocal sound on the electric guitar. So the two go hand-in-hand."
 You catch see Stern in action when his band comes to The Newton Theatre on September 14 at 8:00pm.  Tickets range from $34 to $49 and are available at www.thenewtontheatre.com.  The Newton Theatre is located at 234 Spring Street in Newton, New Jersey.