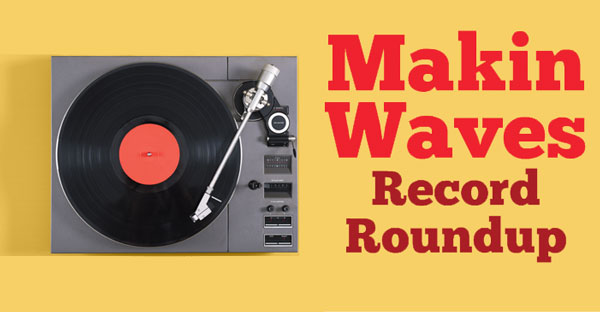 Chris Rockwell is a clever wordsmith who has had books of his works published, won national poetry slams and been named Poet Laureate of Asbury Park. As a rapper, the Jersey Shore-based artist also has dropped several records, the latest of which is "Ten Years in the Breaking." The title is a double meaning that refers to the decade in which Rockwell has emerged as a regional touring act. The eight-song collection also spans, details and chronicles the breakups of several romantic relationships. Throughout, Rockwell also trades in his biting humor and suburban spunk for earnest emotion and vivid imagery.
Much more sensitive, lighter, and mellower than most of what Rockwell has recorded and released since 2004, "Breaking" also is a departure from an extensive collaboration with "Chill" Will Smith, aka New Star, with the exception of one track. Easily relatable and quite excellent with the word play, Rockwell waxes on failed long distance love, divergent paths of the heart, and the often all-too-true notion that music and marriage don't mix. While some of his finest rhymes surface, "Breaking" lacks the intricate beats and effortless flow of some of his previous outings, particularly those with Smith.
For instance, "Going Away Party (Verrazano Song)," which ponders the hardships of an impending long-distance relationship, while providing a colorful description of the couple's last night together, struggles with its beats and flow. The beats are simple and the vocal approach seems stuck in a clunky arrangement. However, the verses in "Going Away" are fantastic, especially this great line: "Only sober one in the room and I still feel dizzy." I also like how the opening imagery of the girlfriend dumping an empty bottle of wine on the Verrazano-Narrows Bridge after getting her pregame on comes full circle within the storyline. The bottle symbolizes the guy's sorrow about his girlfriend's departure and the inevitable end to their already troubled relationship.
"Airplane Mode," the sole Smith-recorded track, is another look at a rocky romance, this one from the seat of a plane bound for a vacation next to a woman other than the one who inspired the song. Again, clever rhymes and a strong story carry the track, but the delivery is rather whiny and the melody and arrangement pail in comparison to other Rockwell-Smith colabs, such as 2016's "Rockwell Rebel Radio" LP and their charitable 2017 dual side project, "The Rock Star Scenario" EP.
Similarly, the musical drag of the closing "Window Pane" weakens emotional lyrics and their delivery as they compare tears from the inside to the rain on the outside. Beyond that, "Breaking" is great, especially the hard-hitting "Breathe Easy," which deviates from the breakup theme with advice on how to navigate life's pressure and pain. 
I also like "East Coast Heart You," a romantic spin on the East Coast vs. West Coast rap battle, but one of the heart. Once again, distance has strained a relationship this time between a touring rapper on the West Coast and the love he left behind back East. Interesting imagery and rhymes — such as "I'm crashing with some friends out on tour. I can hear them having sex in the room next door" — and a more upbeat accompaniment and vocal make this one of the better "Breaking" tracks. Highlights also include the nostalgic single, "I Made U a Mix Tape," and the opening fun of the quasi-title track, "RC Cola and Five Dollar Rum." Both look back at halcyon days when life and love were easier.
Rockwell's latest book of poetry will be published in October with a section featuring "Breaking" lyrics. That will be followed by a national tour. In the meantime, Rockwell is playing steady with new backing band, the Ballroom Riot. Upcoming shows include Aug. 23, the Second Annual Rap Vs. Punk show at the Saint with Chill Smith, Sister Munch, This Year's Comeback, Miles Nxbxdy, Trashboat Dickinson, Trapbang, and DJ Flea Market, and Nov. 17 at Asbury Park Yacht Club for the Second Annual Makin Waves Hunger Benefit for Food for Thought with Nalani & Sarina and Experiment 34. 
While I prefer the vocally harmonic roots rock of Levy & the Oaks' 2016 self-titled debut LP, damn if they haven't written some infectious new tunes that infect the cranium like a gummy worm beating on an ear drum. While occasionally still relying on the brilliant lap steel playing of Chris Colon and, to a lesser extent, richly layered vocals, the popular three-piece now have more in common with power pop than Americana. As a result, their audience likely will grow larger as it responds to material designed to engage listeners live even more so than on their forthcoming six-song EP, "Sound of the City."
Strong songwriting throughout nearly compensates for what the faithful will feel is overlooked or under-utilized. The songwriting, as well as slick production, are at their best with the jarringly dichotomous and unsettlingly apocalyptic "Happiness Is Easy." A robotic, automated drum track by Berklee-trained Andrea Morgan symbolizes the soullessness and lack of humanity described in lyrics so fantastic and fascinating, I am sharing them all. The chorus —  "I was dragged through life's changes. I was told to get over it, get used to the hands around my neck. Happiness is easy if you can forget" — is interspersed with the following exceptional verses:
"Oh what a scary feeling. I feel the seasons change for good, and with that comes a healing that's more like being slaughtered in the woods.
"In the street, the march is tappin', moving forward like a crippled Fred Astaire, but me, I stand for nothing. I am protesting protest so you'll never see me there.
"My blood runs hot. It's thicker than the wine. My flag flies black and blue. We were made to break, and I'm out of glue. A martyr for the gospel of you."
The arrangement around the opening is particularly powerful with a pause before the last line that heightens the misery that belies the title. Yet, the story is told alongside what basically is a dance track, ironically dialed in by the talented, well-schooled Morgan. The effective combination creates something altogether different that is a statement against apathy in the face of tyranny and a testament to the songwriting of vocalist-guitarist-lyricist Duane "Levy" Okun, bassist-percussionist-pianist Lou Panico, and Colon, who also plays electric guitar, as well as the production of Morgan, who also has worked with Jersey Shore-based Pure Noise recording act Can't Swim. Panico's hauntingly beautiful piano track adds to the dichotomy, offering a glimmer of hope as the world falls apart all around it.
"Happiness" is the only track produced by Morgan. The EP's other two producers are Christian Medice, who also trained at Berklee, and Joe Pomarico, co-owner of Levy & the Oaks' new label, Holmdel-based Telegraph Hill Records, also the home of Avery Mandeville & the Man Devils, The Burns, and Foes of Fern, all three of which feature other label head Matt "Fern" Fernicola, also a Berklee grad.
The power-pop of "Rings" and the cute fun of "Another Night in Asbury" were produced by Pomarico. Both are funky tracks. I love the line in "Rings": "If there is beauty in suffering, honey, I know I am Ryan Gosling." And in "Asbury," there's: "Sitting outside Bond Street, you told me you were happy to be alive and life seemed pointless before you met me. Were you being serious? Or whiskey serious? Handed me a glass, told me to relax, so I took a couple of sips."
Despite its poppy overtones, "Asbury" is surprisingly overlong on the record. It should come to a cold end to avoid a radio edit and easily could be expanded live for a fired-up crowd. I mean, if you're going to sacrifice two of the best elements of your band — the lap steel and vocal harmony — to a more accessible sound, then you might as well keep the tracks a radio-friendly length.
"Asbury" is one of two tracks that comment on the lack of importance of appearance. The other is the Medice-produced/mixed "Mirror Mirror," an opening lament of popularity and beauty in the face of an unwanted pregnancy. That tune is the EP's second single. Medice also produced the first single, "Obsessive Love," which relates a romance to an unscripted movie by a delinquent director, as well as something classic that never gets old.
All three producers, along with mastering-mixing engineer Chris Badami, should get credit for helping Levy & the Oaks pursue a poppier sound while maintaining their credibility. But with the self-produced closer and title track, an extremely well-written and performed song that is akin to musical theater, the band again struggles with length. One of the prettiest Jersey songs released so far this year, "Sound of the City" features a hauntingly beautiful piano and string arrangement that could have concluded the track with a stunning cold ending that would have increased its emotional impact rather than ramble to a cliched conclusion that doesn't do justice to such great lines as the closing verse: "In the waves, you seem distant from the shoreline. You're missing. My lighthouse shines, but not for you."
Whether a roots-rock band, a power-pop band or a combination of both, Levy & the Oaks certainly are artistic. And the arrangements of these new songs should make for a great live show, which you can check out Aug. 24, The Saint; Aug. 25, Langosta Lounge; Aug. 29, Asbury Park LIVE (with Bobby Mahoney and the Seventh Son), and Aug. 30, House of Independents (with The Vaughns, Avery Mandeville & the Mandevils and again with Bobby Mahoney & the Seventh Son), all Asbury Park; Sept. 8, Butch Kowals Tavern, Rahway; Sept. 14, Stosh's Craft Beer Bar, Fairlawn, with Delicate Flowers, The Nectars, Crowded Shoulders, and Kate Dressed Up, and mid-September at Resurgence Festival in Atlantic City. 
Joey Henderson must smoke a lot of pot!
More than half of his latest record with his Jersey Shore-based band The Burns, The 'You' EP is about getting high and being stoned. A great testament to the enduring legacy of 70s rock, particularly T Rex, the six-song digital collection, nine-song full-length CD, and Telegraph Hill Records label debut also tells the tale of a drifting, restless heart that needs to find a physical and emotional home.
More rockin' than last year's debut album, "Splenderson," The 'You' EP successfully captures the fun of The Burns live, especially "Irish Exit," a horn-driven track that has less to do with the historic Sounds of Asbury Park of their home base than such glammy British inversions of rhythm & blues as T-Rex, Mott the Hoople and David Bowie. The tune is set at a party during which a poor bloke gets so stoned and subsequently paranoid, he leaves without telling anyone goodbye. Amidst the jinx of high jinks, great gang backing vocals by lead guitarist Matt "Fern" Fernicola, bassist Chris Dubrow and drummer Billy McCabe, as well as a sassy sax by scene veteran Michael Squillace add to the strength of the track.
"Irish Exit" is preceded by "Unlike You," another fun tune about a fella who'd rather be wasted than man up. The tune features a sweet solo by Fernicola, as well some tasty feedback that fades into a soft but strong ending. 
"Suboxygen" may be the strongest example of the band's homage to the '70s with references to Cheap Trick, Sweet and Slade, while the opening "Blind" recalls the sweet but edgy crunch of T-Rex. "Talk About It," a Brit-flavored punkadelic romp that sounds like The Clash pecked apart by Hawkwind, is about the tension of a couple whose fella is trying to set his ex up with someone else. The tune segues nicely into the standout track "Wolves," a breakup song about a player who'd rather be on the prowl with his pals to deal with paranoia than secure in a relationship. I love the gang call-and-response and great dual guitar solos between Fernicola and Henderson into one by Fern that is a gift from the rock gods. 
The Burns have done a good job producing this album themselves, cohesively blending songs that predate the two-year-old band with brand new ones. However, I must say I think The Burns are at their best when they pursue American roots music. You'll get a great taste of that with the physical CD of The "You" EP, which at nine songs clocking in at 35 minutes, actually is a full-length, and a highly recommended one at that because the three bonus tracks are even better than the six that will be released digitally. They are: 
"Hard on You," a single released in March that also relates to getting high and features a strong gang counter harmony and clever, punchy wordplay, including the standout lines: "Well, I'm broke. I smoke. I drink to cope with the pain. And I hope dad jokes would get you roped, and I've never been to the Saint. But I'm glad you told the truth, and I hope you're onto someone new."
"I'll Be Back" is a funky chicken-picking country-blues ramble of the aforementioned restless heart previously released as a video.
An extended version of "Wolves" is the best thing I've ever heard The Burns do with a  righteous jam that extends the guitar solos into a Beatlesque false fadeout that soars back to a blistering finish courtesy of Fern's mighty axe.
CDs are available at upcoming Burns shows on Aug. 31, Strand Smokehouse, Queens, N.Y.;  Sept. 1, CBGB, Newark Airport, and Sept. 8, Asbury Lanes, for the joint record release show of Rachel Ana Dobken and The Mercury Brothers.
You know you've arrived when just about everyone in a nationally recognized music scene knows you by your first name. That is the case in Asbury for Avery, who really only needs her last name, Mandeville, to cleverly match that of her backing band, the Man Devils. The all-star outfit includes guitarist Matt "Fern" Fernicola, a principal in Avery's label, Telegraph Hill Records, who also plays in the label act The Burns with Man Devils bassist Chris Dubrow, as well with their label mates Natalie Farrell and his own band, Foes of Fern. Dubrow also plays with Tara Dente and Rachel Ana Dobken, while drummer Owen Flanagan keeps time for Dan Amato & the Sophisticated Gentlemen.
And so they back the uniquely expressive, exceptionally rich talent of Avery, who makes fun of accepted absurdity like Elvis Costello and sings like an indie-rock Billie Holiday with quivers, smokiness and elongation of vowels. With a more indie-rock sound than the players' other organic outfits, Avery certainly has come a long way since her skinny days playing solo acoustic, sometimes busking on the streets of Asbury Park. Bruce Springsteen once gave her a $20 tip.
I'd only seen her solo acoustic, so it was treat for me to watch the Man Devils drive "Blood" —one of the two best songs released by a local Jersey act so far this year — into a ritualistic ragefest that had about three dozen women in front of the stage screaming along in an exercise of empowerment at Avery's July 13 record release party at The Saint. In nearly 40 years of covering music, I've never seen a song by a local independent act elicit such a meaningfully passionate response. An anthem that releases the anger women often contain in the face of a world of bullshit, "Blood" is explosive, expressive and sardonically funny. With its Nirvana-like blast of emotion, it is the kind of song that can turn an unknown local act into a national star.
I hope that is the case for Avery because she deserves it, and the way "Blood" empowers women is a sight and sound to behold live, on video and/or on her excellent full-length debut album, "Happy Birthday, Avery Jane," a follow-up that eclipses last year's five-song debut with seven new songs and two older ones. The older tracks are:
 "Alex Ander," a sad, atmospheric acoustic-driven tune that looks at a lifelong friendship ended by the title character's downward spiral into self-destruction, addiction and homelessness. Beautifully haunting keys by former Man Devil Branden Steinagle, who recently departed to Japan, matches the moodiness of the track.
"The Woods," also a haunting song albeit an energetic one that's a cross between the atmospheric rootsiness of Chris Isaak and the spooky soundtracks of David Lynch.
However, that powerfully cryptic tune deserves better than the pat ending arranged by Fernicola and produced by his Telegraph Hill partner, Joseph "Pom" Pomarico. Fortunately, Fern makes up for it live with a scorching guitar solo.
"Happy Birthday" kicks off with the live opener, "Get Real," a Brooklyn-tinged indie-rock rap about a musician who just wants to get paid, be recognized and ward off stalkers. Based on the strength of her new nine-song collection, Avery Jane should be able to do the first two at least regionally. I wish her luck with the last one because "Happy Birthday" and the live show in which it is presented will bring her more fans, as may a "Get Real" video, the release of which will be celebrated on Aug. 11 at Pearl St. Consignment and Custom Clothes in Red Bank.
The album also contains the closing "Knockoff," another crowd-stirrer that, like "Blood," turns individual angst into group rage. "Walk of Shame" is '60s-inspired garagedelica meets '80s new wave. The bouncy nugget enacts the title as a new-fangled dance craze in the spirit of Bobby Freeman's "The Swim."
On a more serious note, "Predator" skewers society, particularly the criminal justice system, regarding the treatment of rape victims and their cases. What's interesting is that the in-your-face track starts out with beautiful music that turns angrier until it breaks back down into beauty, as well as sadness.
"Facebook" is a jangly, country-flavored romp set within social media and centered around unanswered messages and untagged photos. Avery's wavery vox is put to particularly good use as she sings, "Every day begins with a text I'm not answering from Chris Dubrow. You know last night, I didn't give a fuck. The music was blasting, but no one was listening ... Every day begins with a song I'm not finishing. I know nobody's listening."
A set closer if there ever was one, "Encore" should elicit just that. Another one of Avery's best, the song equates in a bizarre but beautiful way wrongdoing to an artist receiving an encore. A moody cello by Jen Fantaccione (River City Extension) makes a great track even better, as does the second verse: "Running late to the gig because I'm trying to do my hair; that perfect in between of 'I care and I don't care.' I've got new stuff coming out soon. Yeah, I've got new stuff I'm trying to say. All this truth I am writing won't ever see the light of day."
Well, thankfully, that's not true, but everything else Avery says is within a honest patch of songwriting that is that perfect in between of cute and warped. The fact that Avery holds her own in an indie-rock band with three of the best players in the Asbury scene, yet easily can play these songs on the folkie solo acoustic tip, is a testament to her as a songwriter and performer. And that those busy players have a fresh, original sound apart from their many other projects is a testament not only to them, but also Fern as arranger and Pom as producer of "Facebook," "Blood," and "Predator," along with the skills of additional producer Mike Constaney, who helmed "Alexander" and "Encore." Props also go to Joshua Perna, who co-wrote and performed all accompaniments on "Get Real," "Walk of Shame," and "Knockoff."
Set to tour in the fall with Virginia folk-punk Mike Frazier, Avery first will play The Vaughns' End of Summer Splash, Aug. 30, House of Independents, Asbury Park, with Levy & the Oaks and Bobby Mahoney and the Seventh Son, and Oct. 11, The Working Artist, Belmar, with Jake McKelvie, Brook Pridemore, and Program.
Bob Makin is the reporter for www.MyCentralJersey.com/entertainment and a former managing editor of The Aquarian Weekly, which launched this column in 1988. Contact him at makinwaves64@yahoo.com. And like Makin Waves at www.facebook.com/makinwavescolumn.