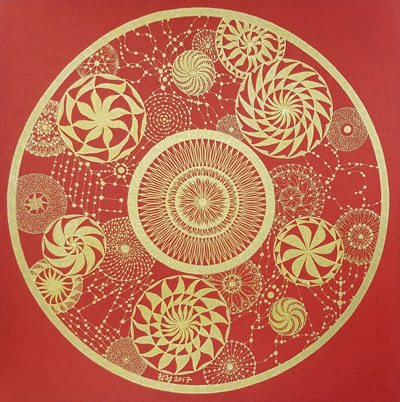 (SOUTH ORANGE, NJ) -- The Walsh Gallery at Seton Hall University's South Orange campus presents "Seeing Red" from September 4 through October 20, 2018. The exhibit examines the many artistic, cultural, political and religious connotations of the color red using books, works on paper, religious items, textiles and artworks of various mediums.
Materials from the Msgr. William Noé Field Archives and Special Collections Center, the Seton Hall University Permanent Collection and the Newark Public Library complement the artworks of Angelica Bergamini, Pasquale Cuppari, Eric Jiaju Lee, Ben Jones, Heejung Kim, Carole Loeffler, Yuli Sung and Peter Treiber on display in the exhibition.
Curators Meghan Brady and Alexandra Henderson invite visitors to examine the multiplicity of meanings associated with the color to see it in new and familiar ways. The exhibition is accompanied by a public art installation of Carole Loeffler's "Granny Graffiti" which will be on display at the Walsh Gallery as well as nearby in Newark.
 "The color red is truly significant," Henderson remarked. "While it has many distinct meanings across the world, commonalities can also be found."
"The structure and interdisciplinary nature of the exhibition encourage a dialogue between these varied associations across themes and cultures," Brady added.
---
The article continues after this ad
---
---
Visitors on campus during Seton Hall Weekend on October 20, 2018, will have the opportunity to take a gallery tour with the curators at 1 p.m. The curators will lead visitors around the gallery, giving more in-depth information about the objects and themes included in the show and answering visitor questions. The event is free and open to the public.


Color Red Examined in Interdisciplinary Exhibition: September 4 – October 20, 2018


Opening Reception: Thursday, September 13 from 5 p.m. – 9 p.m.


Guided Tour with the Curators: Saturday, October 20 at 1 p.m.


For more information, see www.shu.edu/walshgallery. The Walsh Gallery is open 10:30 a.m. to 4:30 p.m., Monday—Friday. Seton Hall University is located at 400 S. Orange Avenue, South Orange, New Jersey, 07079.
IMAGE by Heejung Kim; Variation of Celestial Mandalas #3; ink and marker on watercolor paper; 8" x 8"; 2017
ABOUT SETON HALL UNIVERSITY - One of the country's leading Catholic universities, Seton Hall has been developing students in mind, heart and spirit since 1856. Home to nearly 10,000 undergraduate and graduate students and offering more than 90 rigorous academic programs, Seton Hall's academic excellence has been singled out for distinction by The Princeton Review, U.S. News & World Report and Bloomberg Businessweek.
Seton Hall embraces students of all religions and prepares them to be exemplary servant leaders and global citizens. In recent years, the University has achieved extraordinary success. Since 2009, it has seen record-breaking undergraduate enrollment growth and an impressive 93-point increase in the average SAT scores of incoming freshmen. In the past decade, Seton Hall students and alumni have received 24 Fulbright Scholarships as well as other prestigious academic honors, including Boren Awards, Pickering Fellowships, Udall Scholarships and a Rhodes Scholarship. In the past five years, the University has invested more than $150 million in new campus buildings and renovations. And in 2015, Seton Hall launched a School of Medicine as well as a College of Communication and the Arts. A founding member of the Big East Conference, the Seton Hall Pirates field 14 NCAA Division I varsity sports teams.
The University's beautiful main campus is located in suburban South Orange, New Jersey, and is only 14 miles from New York City — offering students a wealth of employment, internship, cultural and entertainment opportunities. Seton Hall's nationally recognized School of Law is prominently located in downtown Newark. The University's new Interprofessional Health Sciences (IHS) campus in Clifton and Nutley, N.J. will open in the summer of 2018. The IHS campus will house Seton Hall's College of Nursing and School of Health and Medical Sciences as well as the Hackensack Meridian School of Medicine at Seton Hall University.