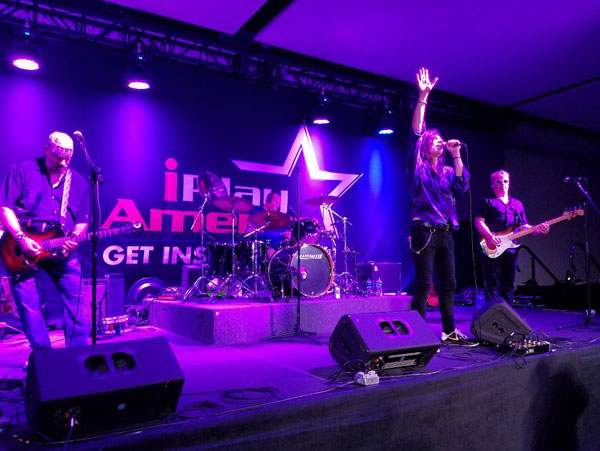 PHOTO: Almost Journey. l to r: Joseph Cumia - Guitar and Vocals, Billy MacQuarrie - Drums, Michael Ledesma - Vocals, Pat Rotolo - Bass and Vocals
I never in a million years would have thought about iPlay America in Freehold as being an event venue. To me, it's a place to ride bumper cars, have kids' birthday parties and play video games. Never been there.
Then I found out through my niece that YouTube personality Joey Graceffa will stop there as part of his Eden Tour. Hmmm, at iPlay America in Freehold, NJ? So I filed that info in my head and went about my business, totally forgetting about it...
Until late one night, last week, I heard on the radio station NJ 101.5 that Almost Journey, a Journey tribute band, was going to be performing there. Uh-uh, no way!
I knew my daughter would love to see this show, so I dialed into 101.5, played the trivia contest and much to my surprise, won two tickets!
---
The article continues after this ad
---
---
My 10 year-old daughter and I arrived at 4:30 for the buffet. Yes, you read that right -- a buffet! We checked out the stage which was already set up, looked around a bit, then settled into our table seats to chow down.
Almost Journey came on with a bang. Just the way they should have in my opinion. They took over the stage and the room! The musicianship was captivating and the singer, Michael Ledesma, effortlessly made contact with the audience. People were drawn to the music.
During their break, Michael posed for pictures with the fans, making the experience for my daughter even more fun.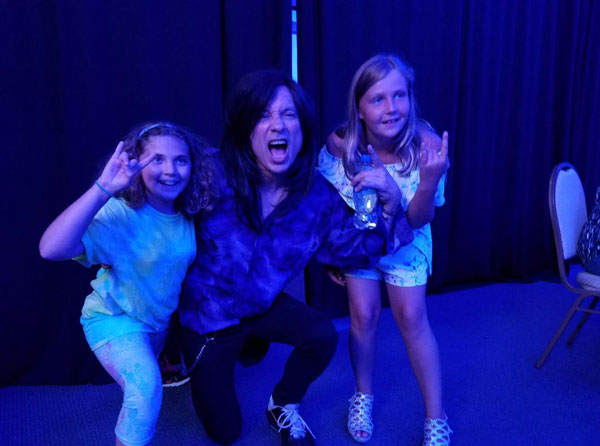 PHOTO: Anna, Michael Ledesma of Almost Journey, Samantha - iPlay America, Freehold, NJ, August 12, 2018
After break, the band broke out and did some not-Journey songs. This was refreshing as the energy was so raw and captivating and quite honestly, it was nice to hear them play something other than Journey.
My daughter wasn't the only kid there. Several other tweens gathered around the dance floor and literally danced the night away, going up to the stage and high-fiving the singer Michael during the performance!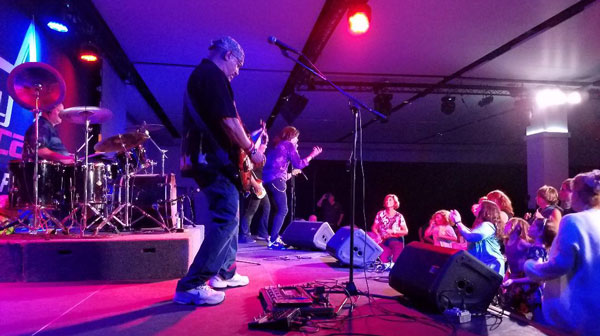 The audience dancing up a storm at the Almost Journey concert at iPlay America.
Sitting at our table was Chet, Laura and their 9 year-old daughter, Samantha.
Samantha was singing along with the band so I was curious as to what she liked about the concert. "It's music from before my time. It's really cool. I like the food and the lighting."
Mom Laura chimed in, "It's nice to see younger generations enjoying 80s music and bands like this at an event center that kids can attend."
Interesting point, Laura! There are plenty of venues that will not allow under 18 or 21 years of age to enter. Not a problem at iPlay America!
Naturally, Dad Chet didn't want to be left out, "This is truly an event the entire family can enjoy."
Well, Chet, you weren't kidding! What a fun evening!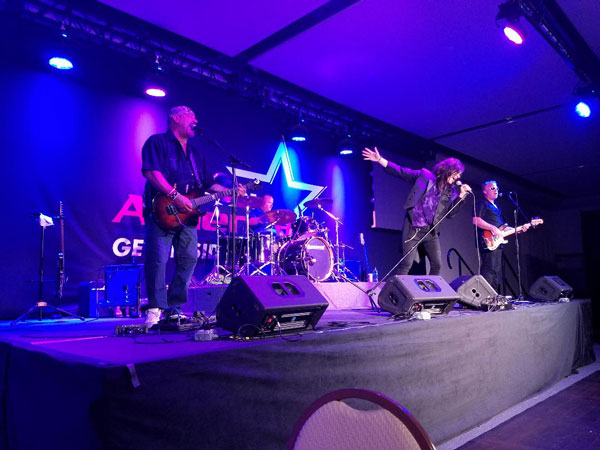 Can you guess which song the band played last? Pssst… see the video below!
Almost Journey is managed by Joseph Cumia, aka Brother Joe. http://www.notu2.com
Photos by Ilana Rapp
---
Ilana Rapp is a media-savvy Generation Xer with instinctive wit, quick humor and a taste for deep human emotions. As a former (child) actress with Broadway, film and television credits, she is adept at, well, lots of things.

She has blogged on The Huffington Post and writes entertainment pieces for NYCastings.

She is a huge fan of the television show V. Ask her why her favorite number is 22.

Follow Ilana on Twitter @LizardLadyNJ