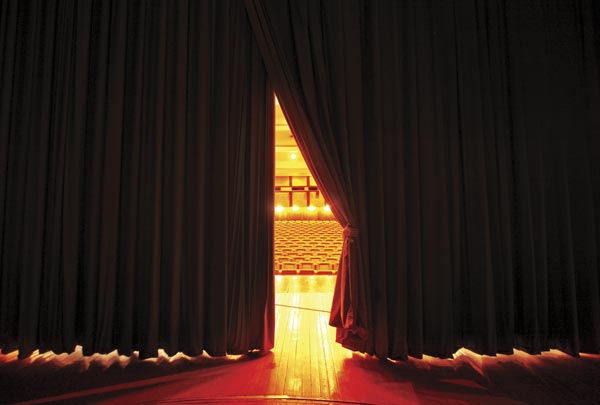 (MONTCLAIR, NJ) -- Vanguard Theater Company has announced the award of a significant grant from the New Jersey State Council on the Arts for Vanguard's educational program, DREAM VTC.  In addition, Vanguard announced that Tee Rico by Lin Manuel Miranda has become the main sponsor of Vanguard's 2018-19 season.  
The New Jersey State Council on the Arts' (NJSCA) grant gives project support for DREAM VTC, an educational program that teaches theater skills to teens of diverse backgrounds, while focusing on significant social issues. Students engage in a 6-month experience mirroring professional practice and touring sites serving populations without traditional access to the arts.
In its 2018 pilot program, Vanguard's Junior division performed "Children's Letters to God" at the Barrow Group Studio Theater, while the Senior division performed "Two Gentlemen of Verona, the Rock Musical" at the West End Theatre, both in NYC. DREAM VTC then performed selections at Nassan's Place, an autism after school program, and the Actor's Fund's Lillian Booth senior care facility in Englewood.
"This grant means that we can greatly expand our touring possibilities and reach even more populations that have difficulty accessing live theater. We are so proud that we will be able to say; made possible by funds from the New Jersey State Counsel on the Arts in our DREAM VTC programs!" said Lynn Irby, Principal, South Orange Middle School and VTC Board President.
Lin Manuel Miranda TeeRico is Miranda's officially-licensed merchandise site, where every design benefits a cause and/or a creative artist.   Lin-Manuel Miranda is an American composer, lyricist, playwright, and actor best known for creating and starring in the Broadway musicals Hamilton and In the Heights.
---
The article continues after this ad
---
---
Miranda founded TeeRico to direct awareness to and raise money for causes about which he cares deeply, such as raising money for hurricane relief in Puerto Rico, and Broadway Cares, Equity Fights Aids, after the Orlando massacre.  Vanguard's mission is to develop and produce transformational theater with an emphasis on D.R.E.A.M. - diversity, reciprocity, education, awareness and mentorship.  So TeeRico is a perfect fit - no pun intended.
"We are so grateful that TeeRico by Lin-Manuel Miranda renewed its sponsorship of Vanguard.  They were incredibly generous to us last year. To have them come back and double their award amount for our upcoming season is a huge ratification of the work we are doing to tell important stories and bring communities together through theater," said Janeece Freeman Clark, VTC Co-founder and Artistic Director.
Vanguard Theater Company (VTC), founded in 2015, addresses the lack of diversity in traditional theater casting and training. VTC produces original and reimagined theater driven by D.R.E.A.M: Diversity, Reciprocity, Education, Awareness and Mentorship. VTC's MainStage productions, educational programs, collaborations with e.g., Montclair Film, NJ Pride, and Everytown for Gun Safety, engage varied communities in the performing arts and social issues. Vanguard Theater Company's year-round programming is made possible through generous support from TeeRico by Lin-Manuel Miranda; The New York Community Trust; Seton Hall University; Investors Bank, and many individual donors.