---
BIG NEWS! Here's the latest Issue of NJ Stage Magazine -- Click here
---
Glenn Hughes To Bring The Classic Hits
of Deep Purple To The Stone Pony
originally published: 08/08/2018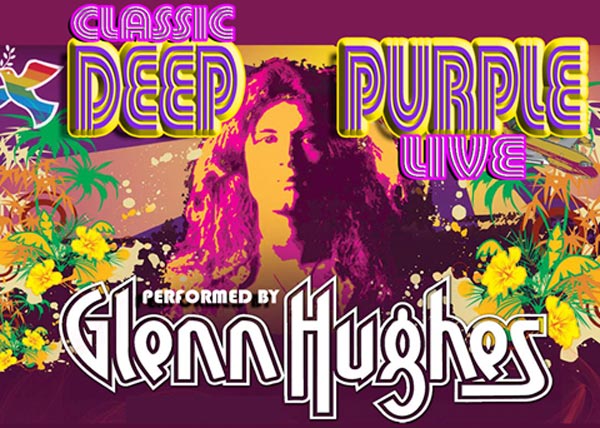 (ASBURY PARK, NJ) --  Upon the recent completion of a successful South American and European festival tour, rock and roll legend Glenn Hughes is bringing the Classic Hits of Deep Purple Live tour to the United States. The 18-city trek kicks off on August 25th in Westbury, NY at the NYCB Theatre and travels around the Northeast before wrapping up in Tarrytown, NY on September 22nd. Locally, the tour comes to The Stone Pony in Asbury Park on Tuesday, August 28 and Sony Hall in New York City on the next night.
The "Voice of Rock" will be performing various hits and deep cuts from the illustrious Deep Purple catalog including "Burn," "Stormbringer," "Sail Away" and "Smoke On The Water" among other rock classics. Glenn will be focusing on arrangements from the live albums – not studio recordings – for these songs, giving fans even more insight as to what it was like seeing a Deep Purple show during the 1970's. Once the US run wraps at the end of September, Glenn Hughes will return to Europe to continue to bring his interpretation of the legendary music of Deep Purple to the fans worldwide.  All tour dates, VIP packages and ticket info can be found at www.glennhughes.com.
At a recent stop in Wales, UK; Alter Bridge frontman and Slash vocalist Myles Kennedy dropped in on the show. Hughes and company alongside Kennedy on guitar and vocals performed a raucous version of the Deep Purple classic "Highway Star." A fan video of that performance can be seen here.
No stranger to collaborations, Glenn Hughes also collaborated with country music icon Eric Church at a concert last year that has been immortalized on Eric Church's 61 Days In Church release.
Vocalist/bassist/songwriter Glenn Hughes is a true original. No other rock musician has carved such a distinctive style blending the finest elements of hard rock, soul and funk. Stevie Wonder once called Hughes his favorite white singer. The first important band Hughes was a member of that achieved notable success was Trapeze. In 1973, Hughes joined Deep Purple. The trailblazing hard-rock legends had just weathered the departure of vocalist Ian Gillan and bass guitarist Roger Glover, but guitarist Ritchie Blackmore, keyboardist Jon Lord and drummer Ian Paice continued with the addition of Hughes and David Coverdale. He spent key years of his career as the beloved bassist and vocalist of the group, recording on the classic albums: Burn, Stormbringer, and Come Taste the Band.
---
The article continues after this ad
---
---
Since 1992, Hughes has toured extensively in Europe, Japan and South America in support of solo albums, but more recently has been involved with award winning supergroups', Black Country Communion with guitar star Joe Bonamassa, keyboard player Derek Sherinian (Dream Theater) and drummer Jason Bonham, son of the late Led Zeppelin legend John Bonham and California Breed, who also featured both Hughes and drummer Jason Bonham. 
Glenn Hughes was inducted into the Rock and Roll Hall of Fame as part of the Mark III line up of Deep Purple on April 8, 2016.
The Stone Pony is located at 923 Ocean Avenue in Asbury Park, New Jersey.


Tommy Castro & The Painkillers To Return To Lizzie Rose Music Room
​​​​​​​(TUCKERTON, NJ) -- Tommy Castro & the Painkillers return to the Lizzie Rose Music Room on Wednesday, April 17 at 7:30pm.  Whether he's squeezing out the deepest blues or playing the funkiest soul grooves, legendary blues and soul giant Tommy Castro knows how to ignite a crowd. Tickets are $38.00 Advance and $45.00 day of show.
---
Experience Hendrix at NJPAC on March 29th
(NEWARK, NJ) --  Celebrate the music and legacy of Jimi Hendrix as Experience Hendrix comes to Newark's New Jersey Performing Arts Centeron Friday, March 29 at 8:00pm. This critically acclaimed multi-artist tribute to Hendrix features performances by Billy Cox, Joe Satriani, Dave Mustaine, Jonny Lang, Dweezil Zappa, Eric Johnson, Doug Pinnick, Chris Layton, Mato Nanji, Kenny Aronoff, The Slide Brothers, Henri Brown, Kevin McCormick and special guest Taj Mahal.
---
World Famous Bachata Artists To Take The Stage for Uforia Bachata Fest 2019 At Prudential Center on Saturday, March 16
(NEWARK, NJ) -- Uforia Bachata Fest 2019 at Prudential Center will bring together the world's best Bachata artists including, Frank Reyes "The Prince of Bachata", Hector Acosta "El Torito", Zacarias Ferreira, Luis Vargas and Raulin Rodriguez "El Cacique". Uforia Bachata Fest 2019, presented by Zamora Live, Euforia Radio (Univision) and Corona Extra, will be held on Saturday, March 16 at 8:00pm.  The contagious Caribbean rhythm known as "Bachata" will have its gala night, marking the first time in history these world-renowned artists will perform on the same stage. 
---
Youth Symphony and Youth Orchestra To Perform at Princeton University January 27
(PRINCETON, NJ) -- The New Jersey Youth Symphony (NJYS) continues its 40th Anniversary with a concert featuring the NJYS Youth Symphony and Youth Orchestra on Sunday, January 27 at 4:00pm at Richardson Auditorium at Princeton University located at 68 Nassau Street in Princeton. Youth Symphony will open the concert with Mahler Symphony No. 1 in D major followed by Youth Orchestra performing Dvořák Symphony No. 8 in G major, Op. 88.
---
Rickie Lee Jones To Perform At Grunin Center
(TOMS RIVER, NJ) -- Two-time Grammy winner Rickie Lee Jones exploded onto the pop scene in 1978 and has made a career of fearlessly experimenting with her sound and persona on more than 15 critically acclaimed albums. She brings her show "An Intimate Evening with Rickie Lee Jones" to the Jay and Linda Grunin Center for the Arts on Friday, February 22 at 8:00pm.  
---


The Empire Strikes Back in Concert with the NJSO LIVE! at the State Theatre
Some of our favorite childhood memories growing up at the Jersey Shore involved going to our town's grand old movie palace, The Community Theater, in Toms River. Built with colonial architecture and featuring large white columns in the front, paned glass windows in the lobby, a circular brick walk from the sidewalk to the box office, and a white picket fence which enclosed a lawn and a flower bed, this local gem presented the latest Hollywood films. For kids like us back in the 1960's, that meant pictures like Mary Poppins, Cinderella, The Love Bug, and Flipper.
---
Scott Wolfson and Other Heroes At Riverside Rhythm & Rhyme
This coming Sunday, January 20, Scott Wolfson and his band will be serving up their unique blend of Americana at the Riverside Rhythm & Rhyme series at Investors Bank Theater in Succasunna, New Jersey. The band – Scott Wolfson and Other Heroes – formed in Jersey City in 2011, and, even though the members have migrated in various directions since then, they still consider themselves to be a Jersey City band.
---
"He Totally Wowed Us!" John Oates LIVE! at SOPAC
It's brisk for an evening walk on South Orange Ave. in South Orange, NJ, this Friday, Jan. 4, 2019 evening, but it's a good road to follow as it leads us directly to the South Orange Performing Arts Center (SOPAC) for a special performance by singer, songwriter, and guitarist John Oates and his backup group, The Good Road Band.
---
"Tons of Fun!" The Glenn Miller Orchestra LIVE! at the Grunin Center
Although Friday, December 21, 2018 is the shortest day of the year, the audience of big band music lovers here at Toms River, NJ's Grunin Center for the Arts is hoping for a long evening of classic swing and holiday tunes performed by the incomparable Glenn Miller Orchestra!
---
Mike Davis and The New Wonders
Mike Davis traces his love for the trumpet back to a Disney movie. He grew up in a musical family, with both his parents playing strings in the Seattle Symphony. But Davis wanted an instrument of his own. Then, at age 9, he saw "The Aristocats," the animated film about a bunch of French felines — including a group of jazz-playing alley cats.
---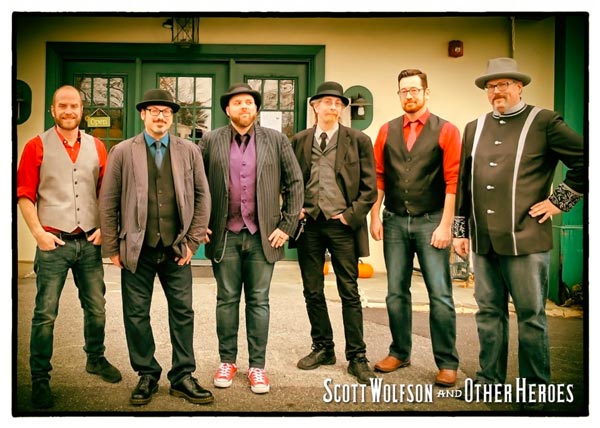 Scott Wolfson and Other Heroes At Riverside Rhythm & Rhyme
This coming Sunday, January 20, Scott Wolfson and his band will be serving up their unique blend of Americana at the Riverside Rhythm & Rhyme series at Investors Bank Theater in Succasunna, New Jersey. The band – Scott Wolfson and Other Heroes – formed in Jersey City in 2011, and, even though the members have migrated in various directions since then, they still consider themselves to be a Jersey City band.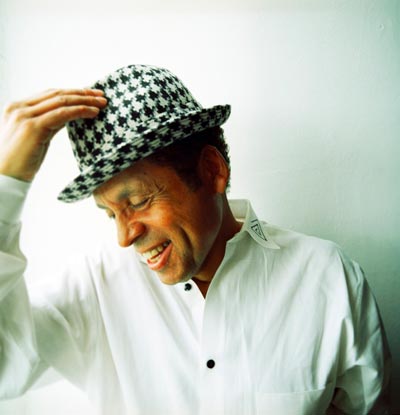 PODCAST: Garland Jeffreys At SOPAC
At the age of 75, singer-songwriter Garland Jeffreys continues to rock. The Brooklyn native got his start in New York City's club scene in the mid-60s, and had a breakout hit in the 70s with the single "Wild in the Streets." He met his best friend Lou Reed while studying art history at Syracuse University, and he recorded with The Velvet Underground's co-founder John Cale before striking out on his own. In 1977, the year his album "Ghost Writer" was released, Rolling Stone pronounced him Best New Artist. In the decades since, Jeffreys has recorded 12 more albums, including last year's "14 Steps To Harlem."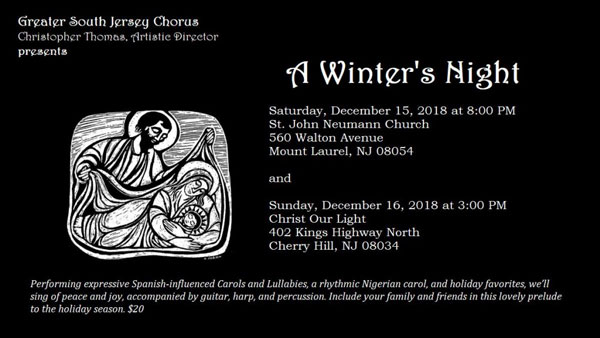 Join The Greater South Jersey Chorus For "A Winter's Night" (Or Afternoon)
The holidays bring many special things and, for me, one of the best is the music. It sets a mood, invokes memories, soothes the soul and provides a seasonal soundtrack for my life.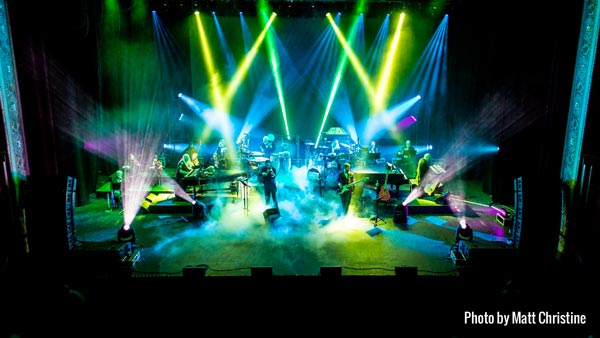 An Interview with Chip Davis Of Mannheim Steamroller Christmas
You can experience the magic of the holidays — Steamroller-style — when Mannheim Steamroller Christmas by Chip Davis makes a tour stop this Thursday, December 6, 2018, at New Brunswick, NJ's historic State Theatre.



New Jersey Stage © 2019 by Wine Time Media, LLC | PO Box 140, Spring Lake, NJ 07762 (732) 280-7625 | info@newjerseystage.com

Images used on this site have been sent to us from publicists, artists, and PR firms.
If there is a problem with the rights to any image, please contact us and we will look into the matter.