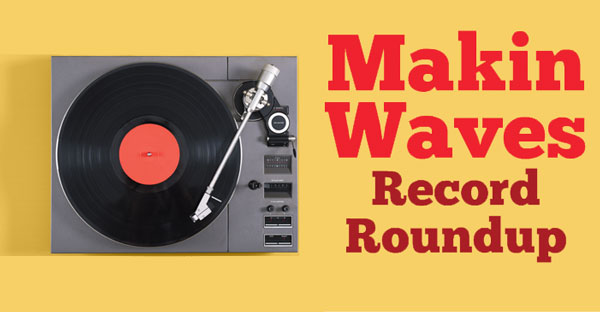 No doubt that Eryn, the youngest inductee of the New Jersey Blues Hall of Fame, is a massive, well-rooted talent who combines blues, jazz, rhythm & blues, rock and soul exceptionally well, but did you know she has a Broadway quality voice? I didn't until I heard "The You Missing From Me" on her new EP "Lady E." It's also a Broadway quality song composed specifically for the Jersey Shore songstress by David Bryan, Tony winner for "Memphis" and co-founding keyboardist of Bon Jovi.
The six-song collection kicks off with the single, "Hallelujah You're Gone," a jubilant jive reminiscent of a Dan Penn song sung by Irma Thomas. The similar-sounding "Our Love Won't Die" is Eryn's sassy account of a strained  relationship that flickers but still has a fire. I love the clever Allen Toussaint-like wordplay and charming horn arrangements reminiscent of him.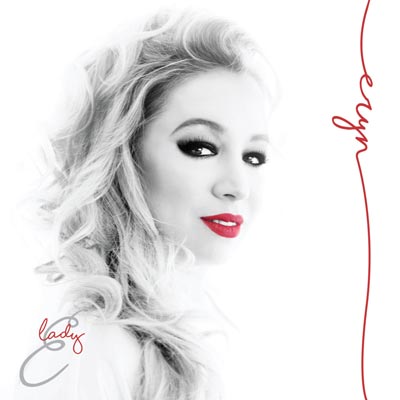 "Just Jump" is a soul-drenched nugget mined in the field of the great Rev. Al Green that immediately will convert fans of Susan Tedeschi to Eryn. Like "Our Love," the fun song about the fear of beginning a new relationship after being hurt a few times was co-written with Eryn by former Spin Doctors guitarist Anthony Krizan and Cheryl DaVeiga, an ASCAP Foundation Award-winning songwriter from Florham Park.
For "Stranger In My House," Eryn and collaborator Alice Leon of The Alice Project turn to gypsy jazz to tell the tale of a couple who has grown apart. In contrast, the closing Motown-like "Running Red Lights" ala "Ain't No Mountain High Enough" chronicles star-crossed lovers looking to connect. Singing in her highest register, Eryn would have had an even better track of this warm, rich number if she had used more of the organ that opens the soulful tune and less of overbearing strings. 
Produced and mixed by Jack Daley (Lenny Kravitz, Joss Stone, Beyonce) and recorded by Joey DeMaio at his Shorefire Recording Studios in Long Branch, "Lady E" not only features one of Eryn's best performances, but several by a who's who of session and touring musicians. They include Daley on bass, drummer Glenn Patscha (Sheryl Crow, Roseanne Cash), saxophonist Steven Salcedo (Darlene Love, Little Steven), vocalist Layonne Holmes, who's worked with Springsteen and Bon Jovi, and Jersey Shore guitar greats Marc Ribler, music director of Little Steven's Disciples of Soul, and Eryn's husband, Matt O'Ree, who, when not fronting his own amazing band, sits in with his wife's backing unit, the Whiskey Devils (Eryn also is one of his backing vocalists). Both of the O'Rees' bands will share the bill on Aug. 5 at the Long Branch Summer Concert Series in West End Park in Long Branch. 
Crazy & the Brains are a wonderfully odd punk- and jazz-rooted ensemble from Jersey City, who would be straight-up punk if not for the amazing chops of the most unlikely of punk rockers, xylophonist Jeffrey Rubin. His frantic trickle 'n' tink is one of the things I love most about Crazy & the Brains, especially when he makes his mallets explode, tossing them to the floor, where they lay beheaded, shredded and shattered beneath his rig.
I also love the Johnny Thunders-possessed soul of front man Chris Urban who adds to that persona greatly with "Candy Yamz," the opening track of the band's new and long-awaited EP, "Out in the Weedz," produced by seminal Jersey band supporter Pete Steinkopf of the Bouncing Souls at his Little Eden Studios in Asbury Park. Interplay between the Thunder-like attitude of Urban, the thunderous rhythms of bassist, guitarist Ernest Young and drummer Jonathan Lango, and the lightning hands of Rubin is at its best on this song about a punk who aims to come between his girl and her father.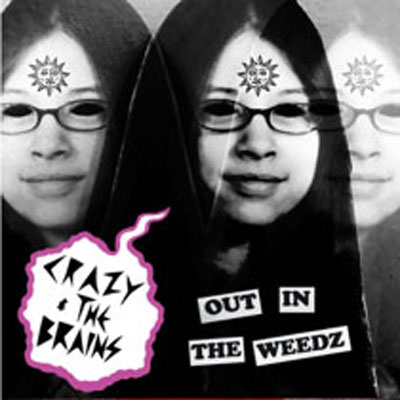 A great xylophone intro next opens "Vapor Wave," an otherwise gnarly 'n' snarly surf-punk track. Yet, Rubin's charming chime more than holds it own throughout.
Like Johnny Thunders, Crazy & the Brains have a love of '60s pop, particularly girl-group rock, and that comes through on the title track, which sounds like The Shirelles through a funkel or punk funnel. Rubin's playing adds to both sides of the musical equation.
To the quirky "You Can Call Me Quincy," Maverick delivers an excellent Motown-like bass line that holds together the surrounding chaos, particular a wild, jungle cat-like ending. The closing "Nasty" lives up its title with a finish that continues the punk tradition of The Sex Pistols, The Dead Boys, and The Dictators. The eclectic tune also seems inspired in parts by Iggy Pop, '80s Brit rockers, such as Echo & the Bunnymen, and the Rude Boy sounds that inspired hardcore and ska punk.
Throughout "Out in the Weedz," Urban and Rubin deliver great performances, but the explosiveness that is Young, Maverick and Lango cannot be contained in the studio and has to be experienced live to get the full effect. I highly and wholeheartedly recommend you do that because Crazy & the Brains is one of the best live bands in New Jersey, especially how Young puts on a show, not just with his Angus Young-like guitar playing, but the way he flails his instrument and flings his body throughout a set.
In addition to "Out in the Weedz," you can experience the greatness of Crazy & the Brains on July 28 when the band and fellow Little Eden stable mates Hot Blood, Little Vicious, Doc Rotten and Chris Brown play the Makin Waves Summer Concert Series at Asbury Park Brewery. Crazy & the Brains also will play Aug. 4, North Catty Park, Catasauqua, Pa., with Blanks 77, and The Punknews.org Summer Soirée, Aug. 24, Creep Records Store, also Philadelphia, where they'll play their own set and back Stza Crack of Choking Victim and Leftover Crack. Sharing that bill will be Joe Jack Talcum of The Dead Milkmen and Philly punk trio Pushin' It to the Limit.
Once upon a time, New Jersey was the East Coast capital of hard rock with L.A. being its West Coast cousin. But that all changed with the rise and fall of alternative rock, which left scatterings of scraps for the punk and indie rock scenes that now dominate the local music landscape, while hip-hop waits patiently in the wings for old white guys too afraid to present them to die off. 
If it was the mid-'80s of metal rock, Jersey Shore-based Ropetree might be the biggest band in New Jersey. Instead, they are left to scour among the even fewer scraps left for them and the handful of other great hard rock bands who call New Jersey home.
With the title of their latest self-released LP, "The Saints of Asbury on their Stone Pony," Ropetree make a cloaked reference to that situation as the good guys of the scene who don't seem to get anywhere with their good music, while others ride onto success. Of course, it's also a reference to the two venues that have been supportive of the band, along with countless other acts. It's fitting that the Saint will host Ropetree's release party on June 30 for this 11-song effort, their sixth release since 1999 and second LP.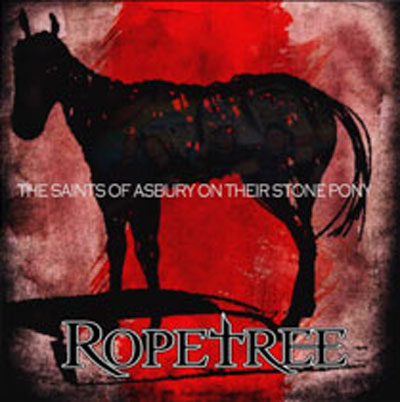 The collection kicks off with "Lost Again," a mid-tempo grabber with an explosive Offspring-like chorus about the pain of loss to infidelity. The flip side of that is the funky second single, "So Bad," that also looks at adultery but from the viewpoint of fulfilled lust rather than lost love. The other single is "Empty," a gut-busting rocker about survival and revenge.
Rough 'n' tumble as Ropetree are, a couple of beautiful moments stand out, such as the echoing guitar introduction of the Disturbed-like scorcher "Kiss the Ground," which alternates between slow-burning and explosive as it descends into the madness of broken dreams. Then there's my favorite track, "Intoxicated Love," which is from the viewpoint of a guy who digs a younger chick much more than she does him. This one too alternates styles in a cross between beautiful power ballad and crunching crusher.
I also really like "Rats and Pigeons," a tormented expose of scavengers who bring fear failure and evil to life. This is one of the more menacing tracks on the LP, along with the crazed creative process detailed in "Artist," as if it were a battlefield for the mind, and "3 Steps," an angst-filled alternative metal mood-stirrer that rises up from the gutter to depict a creepy stalker. A fantastic psychedelic break on "Steps" features one of several strong solos by guitarist Jeff Kalemba. The same can be said for the Rage Against the Machinesque "Plastic Jesus," which vents anger against God because of the religious hypocrisy that continually fails Him.
"Saints" wraps up with the gnarly groove of "She Said (Good Love)" pierced by dissident guitar squawks to punctuate the tail of a drifter who takes advantage of his latest conquest. A really impressive drum roll by Chris Marzulli leads to a fun, edgy reggae finish.
See Ropetree Aug. 18 at Starland Ballroom in Sayreville opening once again for Fuel.
It's so great to hear the various influences that make up the fun, entertaining sound of everyone's favorite New Jersey family rock 'n' roll band, The RocknRoll Hi-Fives. The Centeno Family — 16-year-old vocalist Eilee, who also plays Theremin; 13-year-old drummer Evren; their guitarist dad, Joe, a touring veteran of the Jersey rock scene, and bassist mom, Gloree — have a blast blasting a blend of Ramones-inspired punk rock, Kiss-like glitter rock and power pop ala Cheap Trick. This mix of best-of culled from two EPs, plus four new tracks, is a great place to start if you've crawled out from under whatever rock prevented you from experiencing the bliss that is The RocknRoll Hi-Fives. The faithful, meanwhile, will be filled with glee revisiting the past with the fistful of the present that is the band's full-length debut, "Re-Introducing The RocknRoll Hi-Fives," their second release for Asbury Park-based Little Dickman Records following the 2016 EP, "the Beat the Sound the Dragon Roar," tracks from which make up half of the new LP.
There's also the redemptive "T.K.O." and "Running Nowhere," another girl-group nugget funneled through The Ramones, as well as Kiss. I love Evren's big beat and Eilee's perfecting of her Theremin skills on this one.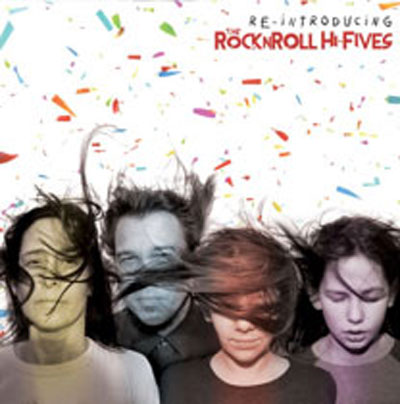 "Re-Introducing" digs out of the crates from their self-released 2015 sophomore EP, "Gold Glitter Shoes," the live favorite "Livin' the Lost Boy Life" on which Joe admits he doesn't want to grow up, then launches into a sweet Ace Frehley-like solo. The tasty track was inspired by Eilee's participation in a school production of "Peter Pan." 
Besides the fact that parents play rock 'n' roll with loving teenagers, what's amazing about The RocknRoll Hi-Fives is that all the lyrics were written between the ages of 12 and 16 by Eilee, who named the band when she was only 4. While nearly all the songs are cute and charming, like she is, they also reveal a life wisdom that defies her age, especially on the closing "Running Nowhere" and perhaps the opening "Same Mistakes," but it's hard to say with that one because the lead vocal mix is muffled and buried on the verses.
While with the exception of "Battles," The RocknRoll Hi-Fives don't top the previously released tracks on their "Re-Introducing," the tunes do hold their own; not that it matters because seeing is believing with this band. The faithful know that the 2017 Makin Waves Live Band of the Year offer one of the best shows in the rock 'n' roll universe. Highlights include Joe doing high split jump kicks off the bass drum like superhero or at least a superdad in his RRHFs cape, Eilee shooting confetti so that it joyously rains down on the delighted crowd, Evren also defying his age, his mad, young soul possessed by John Bonham, and Gloree, the superglue mom holding down the imaginary fort in her family's collective mind. Welcome them home from a summer-long national tour on Aug. 16 at FM in Jersey City and Aug. 18 at Asbury Park Yacht Club.