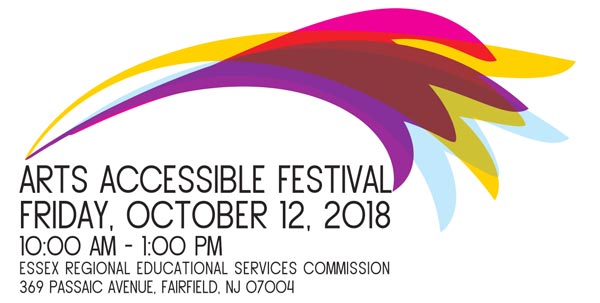 (FAIRFIELD, NJ) -- Arts Unbound Inc., in collaboration with Essex Regional Educational Services Commission (ERESC) and Superintendent, Dr. Laurie Newell will host the 3rd Annual Arts Accessible Festival at Essex Regional Educational Services Commission in Fairfield, NJ on Friday, October 12 from 10:00am to 1:00pm. The purpose of the art festival is to create a safe and creative space for persons with disabilities and underscore the benefits of visual art in special needs communities through hands-on visual art workshops led by Arts Unbound instructors.
The festival is free, wheelchair accessible, and open to the public. In 2017, the festival convened over 250 participants from schools serving special needs children, seniors, and organizations working adults with developmental and physical disabilities.  
Each art activity is designed to inspire learning, increase skills and confidence, and engage the participant in developmentally appropriate creative expression. Due to the success of the festival the past two years, Arts Unbound will add more workshops to the program. Some of the workshops will include painting, drawing, mixed media, printmaking, sculpture, jewelry-making, art games, etc. Informational booths for parents will be on hand, along with live music, games, and food.
The workshops will be led by Arts Unbound teaching artists, seniors and this year we will introduce one of our current students to help provide an art activity for the participants of the festival.
The Essex Regional Educational Services Commission is located at 369 Passaic Avenue in Fairfield, New Jersey. 
---
The article continues after this ad
---
---
Arts Unbound is dedicated to the artistic achievement of people living with disabilities and to the continuing artistic enrichment of seniors. We provide visual arts education and professional development to help emerging artists compete on the retail market. By promoting the work of artists with disabilities and seniors, we celebrate their art-making and by doing so challenge the stigma associated with disabilities and aging.
Essex Regional Educational Services Commission (ERESC) was established in 1979 to provide mandated educational programs and administrative services in a cost effective and efficient manner.  ERESC is a public, non-profit agency that derives its authority pursuant to 18A:6-51 et. seq. ERESC is governed by a Board of Directors consisting of a representative elected by the Board of Education from ten (10) of its constituent member school districts.  The Board of Directors meets monthly to oversee the administration of services.
Essex Regional Educational Services Commission has been servicing school districts for nearly four decades throughout northern New Jersey including Bergen, Essex, Hudson, Morris, and Passaic and beyond.
ERESC operates three special education and alternative schools:  Essex Junior Academy, Essex Campus Academy, and Essex High School. In addition, the ERESC operates two educational programs for incarcerated students. These schools are Sojourn High School and Journey High School.