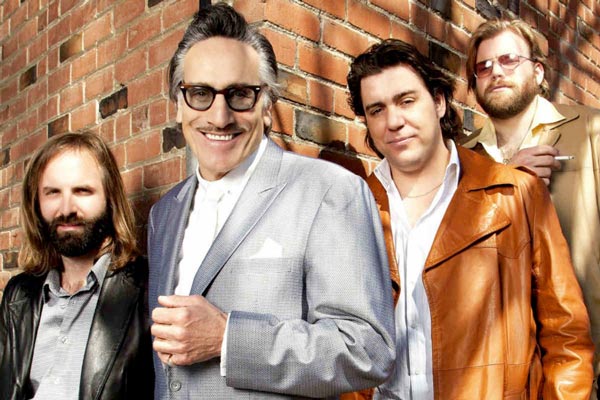 (PIERMONT, NY) -- Wildly fun, musically fearless 2018 Blues Music Award-winning Band Of The Year Rick Estrin & The Nightcats, touring in support of their latest Alligator Records release, Groovin' In Greaseland, will perform at The Turning Point in Piermont, New York on Sunday, August 12, 2018.
Overflowing with talent and bursting with bravado, Rick Estrin & The Nightcats have created one of the blues' most instantly recognizable sounds and no-holds-barred styles. With the world-class talents of harmonica master, songwriter and vocalist Rick Estrin, guitar wunderkind Chris "Kid" Andersen, keyboard wizard Lorenzo Farrell and dynamic drummer Alex Pettersen, Rick Estrin & The Nightcats serve up sharp and incisive original blues and gritty roadhouse rock 'n' roll.
With his wily and unforgettable original songs and his hipster, street-smart vocals, no one on the blues scene writes or sings like Rick Estrin. Years of worldwide touring and a series of critically acclaimed recordings has earned Estrin five Blues Music Awards, including two nods for Song Of The Year (1994 and 2018), Best Instrumentalist-Harmonica (2013) and Traditional Blues Male Artist Of The Year (2018). DownBeat says, "Rick Estrin sings and writes songs like the brightest wiseguy in all of bluesland and blows harmonica as if he learned at the knee of Little Walter." Live, the band is simply unbeatable, as evidenced by the band's 2018 win for the highly coveted Blues Music Award for Band Of The Year. They deliver a high-energy show capable of bringing any audience to its feet. According to Living Blues magazine, they play "captivating, powerful blues and roots rock with a wickedly cool and otherworldly twist on tradition....Intelligently conceived and executed…hugely entertaining."
Groovin' In Greaseland features 13 original songs, 11 by Estrin (including one co-write with Andersen) and one each by Andersen and Farrell. From the true life wisdom of The Blues Ain't Going Nowhere (the 2018 BMA-winning Song Of The Year) to the rambunctious Hot In Here to the humorous, semi-autobiographical Dissed Again to the hard luck Living Hand To Mouth, the album delivers one winning performance after another. The band's dazzling performances bring the songs to life as richly detailed characters spill their secrets and share their stories. One listen makes it clear that this is one of the tightest and most original groups in any genre, constantly inspiring each other to new heights. Groovin' In Greaseland was produced by Andersen and Estrin and recorded at Andersen's soon-to-be legendary Greaseland Studio in San Jose, California.
Besides Estrin's celebrated songwriting and musical skills, he and the band are among the most entertaining and colorful showmen around. Estrin's flashing harmonica solos, quick wit and signature look and Andersen's off-the-cuff guitar acrobatics add even more spontaneous fun to their live performances. "People don't go out to see people who look like themselves," says Estrin. "They want to see something special. I was schooled in this business to be a showman, and that's what you get when you come to see us perform. We know how to put on a show."
---
The article continues after this ad
---
---
For more than 30 years and nine albums, Rick fronted Little Charlie & The Nightcats, flawlessly combining his songs, vocals and harmonica with Little Charlie Baty's one-of-a-kind guitar excursions. The band won international acclaim and toured the world repeatedly. They were nominated four times for the prestigious Blues Music Award for Band Of The Year. With Charlie's retirement from touring in 2008, Rick took over leadership of the band. He knew the only way to replace Baty's mind-melting mashup of blues, jazz and roots rock was to find someone with an equally insane and daredevil guitar approach. Rick knew that would be a tall order to fill. As luck would have it, Kid Andersen, who had been working with another harp legend, Charlie Musselwhite, became available. "Kid's a fearless nut on the guitar," says Estrin. "He's really the only guy who could fit in with us." The new band charged out of the gate with Twisted in 2009, One Wrong Turn in 2012 and You Asked For It...Live! in 2014.
Rick Estrin & The Nightcats have not only picked up where Little Charlie & The Nightcats left off, they've taken everything to the next level. Now, with Groovin' In Greaseland they prove yet again why DownBeat calls them "marvelous and crowd-pleasing." Rick Estrin & The Nightcats continue to set the bar high, proving it night after night on stage somewhere around the country or around the world. Billboard called them "fabulous, remarkable and original." According to Blues Revue, "It just doesn't get any better."
The Turning Point is located at  468 Piermont Avenue in Piermont, New York.