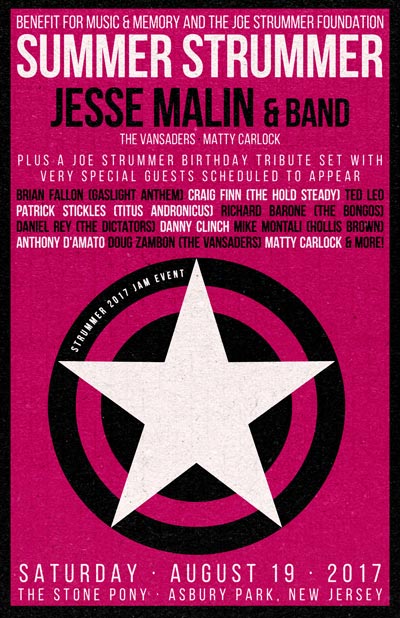 (ASBURY PARK, NJ) -- Jesse Malin & Jeff Raspe present "Summer Strummer" at The Stone Pony in Asbury Park NJ on Saturday August 19, 2017. Featuring performances by Jesse Malin & band, The Vansaders, Matty Carlock and a Joe Strummer birthday tribute set with special guests. "Summer Strummer" will benefit Music & Memory and The Joe Strummer Foundation and will be an official StrummerJam 2017 event. Joe Strummer, former frontman for The Clash and The Mescaleros, who passed away in 2002, would have celebrated his 65th birthday August 21. 
Guests scheduled to appear during the Joe Strummer/The Clash tribute set include Brian Fallon of Gaslight Anthem, Craig Finn of The Hold Steady, Ted Leo, Patrick Stickles of Titus Andronicus, Richard Barone of The Bongos, Daniel Rey of The Dictators, Mike Montali of Hollis Brown, Anthony D'Amato, Danny Clinch, Doug Zambon of The Vansaders, Matty Carlock and more.
Jesse Malin began his music career at the age of 12, in the seminal NYC hardcore band Heart Attack. Following that band's end in 1984, Jesse worked on several other projects before joining D Generation. D Generation released three albums before disbanding in 1999. In 2002, Ryan Adams, who'd been a friend of Malin's since the D Generation days, produced his debut solo album, The Fine Art of Self Destruction. In 2010, Malin released an album called Love It To Life; the title comes from a quote by Joe Strummer. His latest release, the EP Meet Me At The End Of The World, was released in June 2017 through One Little Indian/Velvet Elk Records.
Jeff Raspe is the Music Director at non-commercial radio station WBJB-FM (Brookdale Public Radio/90.5 The Night) in Lincroft NJ. Prior to joining WBJB, he was a DJ at WHTG-FM, FM106.3. While there he hosted the new music show called "The Underground."
StrummerJam is a fundraising event presented by The Joe Strummer Foundation. Throughout the month of August 2017 StrummerJam events are held around the world to celebrate the life, music and memory of Joe Strummer and to help raise funds for music non-profits. Events are independently organized by musicians, promoters, venues, record labels, DJs, artists and music fans. It is a DIY global fundraising campaign that unites people so that together we can help change the world through music, as Joe said "without people, you're nothing."
---
The article continues after this ad
---
---
Music & Memory is a non-profit organization that brings personalized music into the lives of the elderly or infirmed through digital music technology, vastly improving quality of life. They train nursing home staff and other elder care professionals, as well as family caregivers, how to create and provide personalized playlists using iPods and related digital audio systems that enable those struggling with Alzheimer's, dementia and other cognitive and physical challenges to reconnect with the world through music-triggered memories.
The Joe Strummer Foundation's mission is to provide opportunities to musicians and support to projects around the world that create empowerment through music.
The Stone Pony is located at 913 Ocean Avenue in Asbury Park, New Jersey.