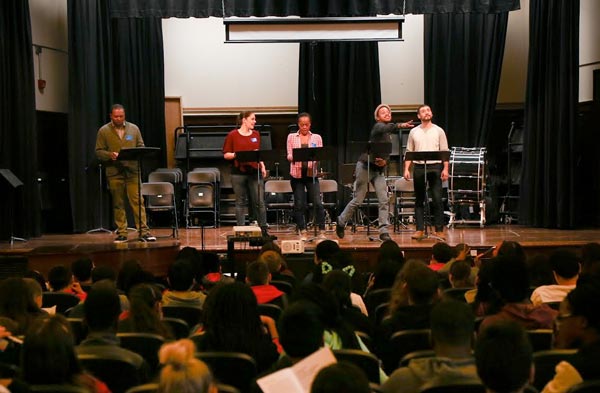 (UNION, NJ) -- Premiere Stages, the professional theatre company in residence at Kean University, recently completed two playwriting residencies in the Rahway School District, graciously funded by The Northfield Bank Foundation. Over the course of seven weeks, students in Ms. Kristyn Suckow's 7th Grade English & Language Arts class at Rahway Academy and Ms. Jennifer Cirillo's 6th Grade Language Arts & Social Studies class at Roosevelt Elementary School learned the basics of playwriting and collaborated to write original short plays for the stage. Both residencies culminated in schoolwide assemblies of the student-written work performed by professional actors.
"It was an incredible experience to see their faces glowing with pride for each other, and for themselves, during the performance on March 7," stated Ms. Cirillo. "Students, parents, administrators, supervisors, and staff reached out to tell me how much they enjoyed watching the performances. This experience will forever be remembered by me, as well as the students."
Premiere Stages' residencies are specifically designed to support classroom learning objectives and are designed to support New Jersey Student Learning standards, reinforcing literacy skills, encouraging creativity and collaboration, and bolstering student self-esteem. Professional teaching artists work closely with classroom teachers to specifically tailor each residency to the needs of the students. Ms. Suckow's 7th graders at Rahway Academy developed scenes about their own lives inspired by The New York Times bestseller, We Beat the Street by Sampson Davis, George W. Jenkins, Rameck Hunt, and Sharon Draper, while Ms. Cirillo's 6th grade students at Roosevelt Elementary drew inspiration from the Newbery Award-winning Hatchet by Gary Paulsen.
"All the ideas and topics presented were generated by the students with very little restraint," said lead teaching artist Brandon Rubin. "This is a reflection of today's youth, what they are thinking and seeing in the world, as well as where they see themselves in the world. Sometimes these stories are silly and sometimes they are heartbreaking, but they are all brave explorations into our students' creativity, and I am proud of their work during our time together."
"We are thrilled that The Northfield Bank Foundation sponsored our third return to Rahway," said Premiere Stages Producing Associate Courtney Little. "Sharing the magic of theatre and playwriting is essential to our mission and we are proud to offer the students an opportunity to tell their stories through a creative outlet."
---
The article continues after this ad
---
---
The residencies are just one facet of Premiere's larger educational initiative, known as the Play Factory. Play Factory programming also includes Camp Premiere, a summer theatre arts program for students entering Grades 6 - 12, and the Play Factory Performance Series, an annual summer performance series featuring dynamic, professional theatre presentations designed specifically for young audiences.
Premiere Stages offers affordable prices, air-conditioned facilities and free parking close to the theatre. Premiere Stages also provides free or discounted tickets to patrons with disabilities. All Premiere Stages facilities are fully accessible spaces, and companion seating is available for patrons with disabilities. Assistive listening devices and large print programs are available at all times; publications in alternate formats are available with advanced notice. Please call (908) 737-4092 for a list of sign-interpreted, audio-described or open-captioned performances. For more information, visit Premiere Stages online at www.kean.edu/premierestages.
Premiere Stages is also made possible in part through funding from The New Jersey State Council on the Arts, The Shubert Foundation, The Geraldine R. Dodge Foundation, The Northfield Bank Foundation, The Wallerstein Foundation for Geriatric Life Improvement, The Hyde and Watson Foundation, The Union Foundation, E.J. Grassmann Trust, The New Jersey Theatre Alliance's Stages Festival and through the generous support of individual patrons. Discover Jersey Arts is our marketing partner. Visit www.JerseyArts.com for more information about other arts programming happening around the Garden State.
PHOTO: Actors Brandon Rubin, Emily Conklin, Aaliyah Habeeb, Donnell E. Smith, and Mitchell Gordon performed short plays written by students in the Rahway School District on March 7. Photo by Patti Banks.