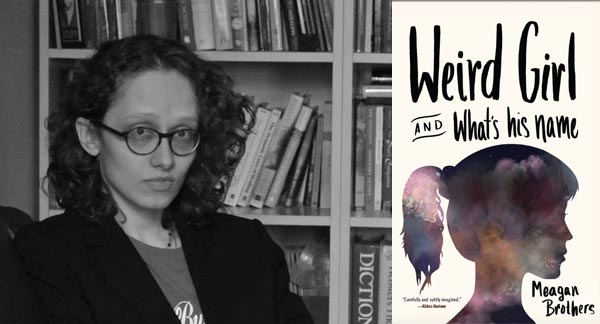 Meagan Brothers is the author of the young adult novels Supergirl Mixtapes, which was a 2012 YALSA Best Fiction for Young Adults nomination; Debbie Harry Sings in French, which was an ALA Best Book for Young Adults, won a GLBT Round Table ALA Award, and was named a New York Public Library Book for the Teen Age; and her latest, Weird Girl and What's His Name.
A native Carolinian, Meagan currently lives in New York City.  She formerly lived in Monmouth County, NJ, and played guitar for the punk rock band, Steel Pier Sinners.
New Jersey Stage caught up with Meagan to learn more about her latest novel, which is getting great reviews.
Tell me about Weird Girl.

Weird Girl and What's His Name is about a pair of best friends, Rory and Lula, who are uncool sci-fi nerds.  Rory's gay, which Lula knows, and he's dating his boss, which she doesn't.  When she finds out, they have a huge fight, and then she goes missing.  The first half is told from his perspective, the second is from hers.  They're both on the precipice of trying to figure out all this adult stuff – identity, sexual identity, family relationships, romantic relationships, friendships.
This story deals with a girl in a small North Carolina town and an obsession with the X-Files…. sounds like things you know quite a bit about.  Are these characters based on people you knew in real life?

Yeah, it's true, I grew up in North and South Carolina.  And a couple of weeks ago over at Videology in Brooklyn, I totally killed it on X-Files trivia night.  But, ultimately, this is a work of fiction.  None of my friends or I were having affairs with our bosses or disappearing in the night like the kids in this book.  My real life is way too boring to write about!  
---
The article continues after this ad
---
---
I've heard other authors say the best way to write for young audiences was to treat them as a regular audience instead of talking down to them.  Is that how you feel?

Absolutely.  I hate books that talk down to teenagers – or to anybody, really.  Not that curse words are particularly sophisticated, but I think that, when you're a teenager, you want to be an adult, and I know for my friends and I growing up, our impression was that being an adult meant peppering your speech with a lot of "colorful metaphors" (as Mr. Spock would say.)  Of course, then you actually grow up and realize that the adult world, linguistically speaking, is not necessarily the Reservoir Dogs scenario you'd imagined.  (Unless you end up working in a urologists' office, in which case it's much, much worse.)
How did you get into writing young adult novels? Are there any books you read as a kid that truly stuck with you?
I have to admit, I sort of stumbled into it.  I wrote what I thought was a comedic coming-of-age story, and my agent was the one who told me it was YA.  I was pretty young myself at that point, and I just wasn't savvy enough to say "oh, of course we should market this book about teenagers for teenagers."  It all seems obvious in retrospect, but with the first book, I didn't sit down and say "and now I shall write YA."  I thought I was writing a zany Catcher in the Rye.  Or, like, a book version of "Rock and Roll High School."
But then as I approached rewrites, yeah, I started thinking back to the YA books that really made an impression on me as a kid.  I was a huge fan of Cynthia Voigt's Tillerman books when I was young, as well as Gordon Korman, Francesca Lia Block, Judy Blume, Norma Fox Mazer, Margaret Willey, Lois Lowry.  JD Salinger is a big touchstone, all of his Glass family stories, and Ray Bradbury, too.  One of my absolute favorite YA books is Midnight Hour Encores by Bruce Brooks, which I still go back to for inspiration.  It's a book about a very self-assured young cellist being raised by her hippie father, and she's had all this success, but she's never met her mother.  I'm always hoping that, one of these days, I'm going to write a book half as good as Midnight Hour Encores.
I've written an "adult" novel, but it didn't sell – yet!  I like writing YA – I like the lack of cynicism.  And, in YA, my chronic immaturity is finally an asset!
I first met you from your days in Steel Pier Sinners.  Do you still play music - solo or with a band - these days? If not, do you miss it?
I'm still playing a little, but just in my apartment.  The neighbors are thrilled.  Yeah, I miss the camaraderie of playing in bands, and the traveling was fun, but I don't miss lugging amps through the snow and getting paid in beer tickets.
If you could be your choice of a rock and roll star, famous poet, or a best-selling author… which would you choose?
Hey, I'm already all of those things and a medical receptionist.  I'm the total package!  Well, "best-selling" is a bit of a stretch, and fame is relative, but you feel me.  I've done it all.  And what a life it's been!  Frankly, I'm ready to retire to a life of sun worship and golf in Miami Beach like my hero, Iggy Pop.
---
Gary Wien has been covering the arts since 2001 and has had work published with Jersey Arts, Elmore Magazine, Princeton Magazine, Backstreets and other publications. He is a three-time winner of the Asbury Music Award for Top Music Journalist and the author of
Beyond the Palace
(the first book on the history of rock and roll in Asbury Park) and
Are You Listening? The Top 100 Albums of 2001-2010 by New Jersey Artists
. In addition, he runs New Jersey Stage and the online radio station
Asbury Music
. He can be contacted at
gary@newjerseystage.com
.
---