By Gary Wien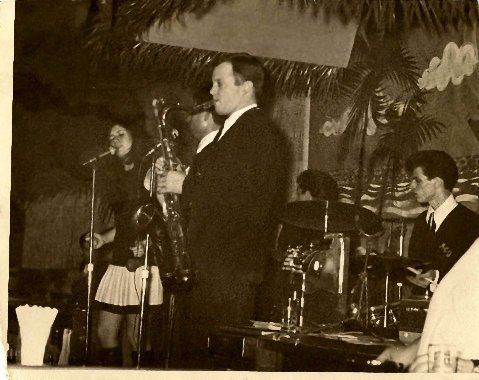 (ASBURY PARK, NJ) - The Asbury Park music scene, which lost two of its biggest fans earlier in the year, recently lost one of its founders. Larry "The Great" Gadsby, a member of The Jaywalkers -- one of the scene's most popular bands in the 1960's -- and one of the names honored on the Sound of Asbury Park memorial plaque, passed away.

During their heyday, The Jaywalkers routinely packed bars and clubs throughout the area like Steve Brody's, Groh's, Candy Cane Lounge, and Mrs. Jay's. Gadsby played saxophone and was one of the musicians who helped build the horn-based R&B sound that became synonymous with the Jersey Shore.

"Larry was one of the originators of the sound that so many claimed in the late 70's and 80's," said Doc Holiday. "He was there when it all began in the late 50's and 60's to set the ground work for what was to be known as 'The Sound Of Asbury Park'. His participation in The Jersey Shore's legendary 'Jaywalkers' will never be forgotten".

Gadsby's name can be found on a plaque located on the boardwalk next to Convention Hall that honors the pioneers of the Asbury Park music scene. He was last seen by many at the 2006 dedication to the monument and the Creators of S.O.A.P. (Sound of Asbury Park) concert at The Stone Pony in Asbury Park that followed.

"As I recall, Larry started as a sax player with John Shaw, Jim Cattanach (Jack Valentine), John Consoli (Cos) and Richard Hetherton (Fletcher Henderson)," said Jim (Jack Valentine) Cattanach. "The group was called the Tokays and we worked the Belmar Canteen in the basement of the Belmar Borough Hall behind what used to be Pat's Diner. That was as early as 1955 or 1956 and we were all in school together at Manasquan High. The Tokays were the forerunner of the infamous Jaywalkers, and for several years after those early days we all worked together at one time or the other. Cos, Fletch, Larry and myself were all in the MHS marching band, which led to our forming the group. Larry, John and I met for lunch here in South Florida just before John's passing. Larry (The Great Gadsby) was a great friend and a great guy He will be sorely missed."

Billy Ryan and many other pioneers of the Asbury Park music scene echo those sentiments. "He will be missed as will all of our fallen brothers," said Ryan. "I remember his tireless enthusiasm and great humility, he was an inspiration to me and everyone he came in contact. Great singer, he sang 'Devil with the Blue Dress On' in Michigan at the Shamrock -- one of our big tunes of the day."

"In 1968, I had the honor of playing in the band 'Peaches and Cream' with the Great Gadsby," recalled Mike Totaro. "We played many of the clubs in the Asbury, Belmar, and Long Branch area. I was a fan of Larry's since his time with 'The Jaywalkers.' He was not only a great sax player that lent to that great 'Jaywalker sound,' Larry was intelligent, witty, and loved to tell jokes. There was never a dull moment when he was around."

"Gadsby" was my type of musician. A very reliable horn man with a great sense of humor; He always dressed well on stage and looked and sounded professional. Job well done, RIP," said Kenny "Popeye" Pentifallo.

"Larry Gadsby was a true gentleman and pioneer of the music from Asbury Park," added Vini "Maddog" Lopez. "It was good to see him in 2006. He will be missed by all that knew him. My prayers are with him and his family at this time; May God Bless him."

The original plaque honoring the creators of the Sound of Asbury Park was dedicated on December 9, 2006 and included the names: The Johnny Shaw, Billy Ryan, Bruce Springsteen, Garry Tallent, Steve Van Zandt, Mickey Holiday, "Stormin'" Norman Seldin, Vini "Maddog" Lopez, Fast Eddie "Doc Holiday" Wohanka, Billy "CherryBomb" Lucia, Clarence Clemons, Nicky Addeo, Donnie Lowell, Jim "Jack Valentine" Cattanach, Ken "Popeye" Pentifallo, Jay Pilling, John "Cos" Consoli, Gary "A" Arntz, Larry "The Great" Gadsby, Steve "Mole" Wells, Ray Dahrouge, Johnny "A" Arntz, David Sancious, Margaret Potter, Tom Potter, Sonny Kenn, Tom Wuorio, Rick DeSarno, Southside Johnny Lyon, Leon Trent, Buzzy Lubinsky, Danny Federici, Bill Chinnock., Patsy Siciliano, Sam Siciliano.

An additional plaque was added on August 29, 2008 honoring John Luraschi, Carl "Tinker" West, George Theiss, Vinnie Roslin, Mike Totaro, Lenny Welch, Steve Lusardi, and Johnny Petillo.

---
Gary Wien has been covering the arts since 2001 and has had work published with Jersey Arts, Elmore Magazine, Princeton Magazine, Backstreets and other publications. He is a three-time winner of the Asbury Music Award for Top Music Journalist and the author of Beyond the Palace (the first book on the history of rock and roll in Asbury Park) and Are You Listening? The Top 100 Albums of 2001-2010 by New Jersey Artists. In addition, he runs New Jersey Stage and the online radio station The Penguin Rocks. He can be contacted at gary@newjerseystage.com.
---