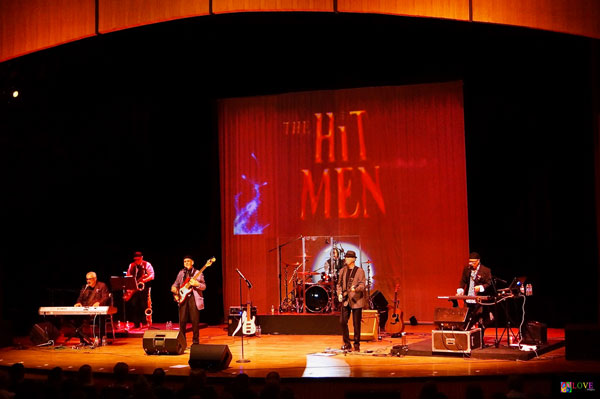 It's a scorcher of a summer's eve as we arrive at Deal Park, NJ's refreshingly cool Axelrod Performing Arts Center on Thursday, July 20, 2017.
As we sit in the venue's air-conditioned lobby, we come upon guitarist Jimmy Ryan of The Hit Men who invites us inside the auditorium to watch the filming of their new music video, "You Can't Fight Love."
Written by Ryan, the band runs through "You Can't Fight Love" three times — first, filming from a trio of cameras set up on stage left, then from stage right, and then from the center. Each time they roll we get to hear the song again, so by the time The Hit Men have wrapped, we can't stop humming the tune!
For those who are unfamiliar with The Hit Men, they are a group of talented musicians who have performed on dozens of hit records. Like Motown's Funk Brothers and LA's Wrecking Crew, The Hit Men helped to rocket a huge number of songs straight to the top of the Billboard charts.
Individually, the five current members of The Hit Men — guitarist Jimmy Ryan, keyboardist Lee Shapiro, bassist Jeff Ganz, vocalist Russ Velazquez, and drummer Steve Murphy — have appeared on over 85 albums and, as a result of their work, they've been rewarded with multiple Gold and Platinum recordings.
---
Lead guitarist and vocalist Jimmy Ryan started out as a musician with the '60s band, The Critters, who scored with "Mr. Dieingly Sad," a Top 20 hit from 1966. Working with Carly Simon, Ryan arranged, co-wrote, and performed on some of her greatest recordings including "Anticipation" and "Let The River Run." In addition, Ryan also worked with such world-class artists as Cat Stevens, Jim Croce, Rod Stewart, Elton John, and Paul McCartney.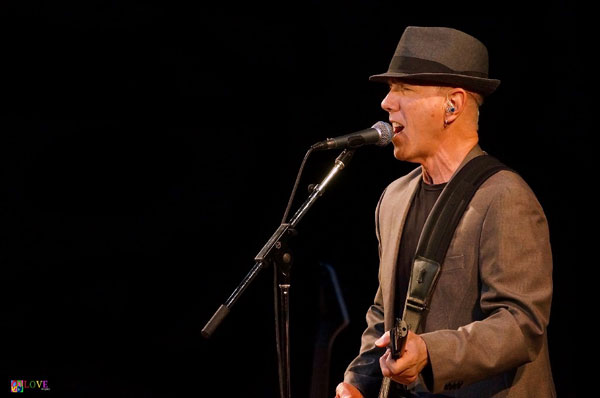 Keyboardist Lee Shapiro is the founding member of The Hit Men. Lee was responsible for the arrangements on some of the biggest recordings by Frankie Valli and The Four Seasons. He also collaborated with the likes of Barry Manilow, Tony Orlando, and Tommy James.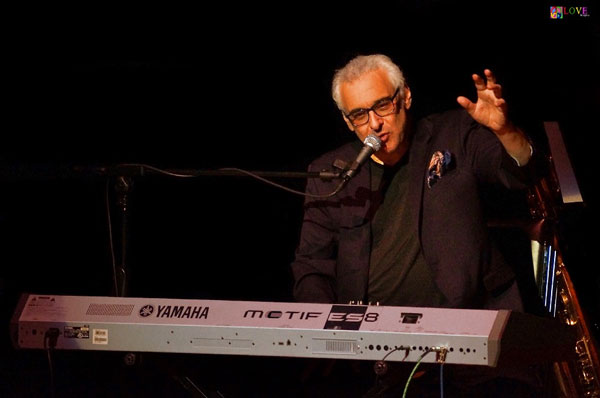 Bassist Jeff Ganz recorded and toured with such well-known artists as Chuck Berry, Johnny Winter, Southside Johnny and the Asbury Jukes, Vanilla Fudge, Blood, Sweat and Tears, and Cheap Trick.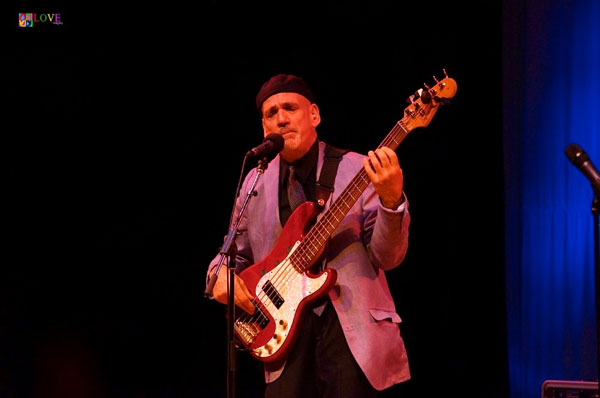 Vocalist and keyboardist Russ Velazquez collaborated with Sting, the Ramones, LL Cool J, Luther Vandross, Paula Abdul, and Korn, among others.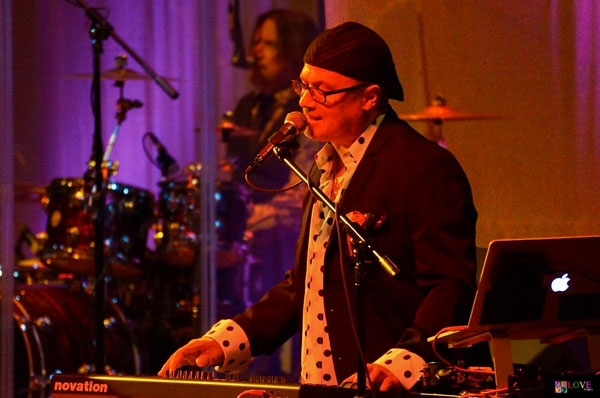 Lastly, drummer and vocalist Steve Murphy worked as a singer, producer, engineer, and musician for such artists as The Alan Parsons Project, Eric Burdon and the Animals, Three Dog Night's Chuck Negron, Todd Rundgren, Mickey Dolenz, Gary Puckett, and Mitch Ryder.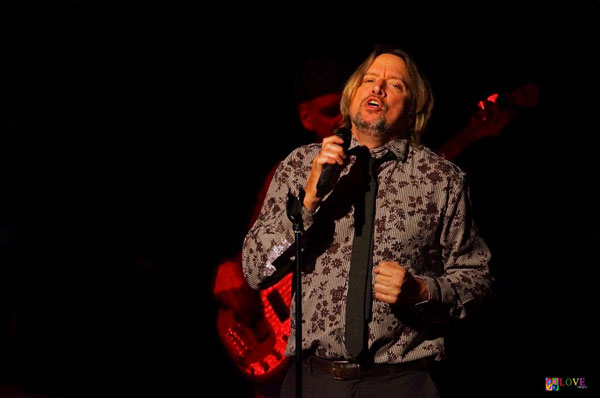 As we wait for the show to begin, we take a moment to chat with several friends of Hit Men guitarist Jimmy Ryan who came to see him perform tonight at Axelrod PAC.
Paul from Manchester tells us he went to NJ's Westfield High School with Jimmy.
According to Paul, he was a member of the band, The Vibratones — a group which had recently lost their lead guitarist — when Jimmy first got to town.
Asking Jimmy to audition by playing The Ventures' "Guitar Boogie Shuffle," Paul says, "Jimmy just aced it," at which point they immediately informed him, "You're in the band!"
Describing Ryan as "a great musician — not just a great guitar player" — Paul says about his old pal, "He is a great performer — he can play exactly what is needed — which makes him one of the most gifted session players ever, and his work exhibits some of the best production values you'll ever see."
As the lights go down and the spotlights come up, Axelrod Performing Arts Center CEO Jess Levy takes the stage to welcome the packed house to tonight's concert by The Hit Men.
The audience cheers as The Hit Men take the stage!
Opening their high-powered set with Journey's "Don't Stop Believin,'" drummer Steve Murphy steps out in front to sing a commanding lead vocal before making his way back to the drums to lay down the famous rock anthem's solid beat.
Moving on to a medley of Frankie Valli and The Four Seasons' hits including "Workin' My Way Back to You," "Rag Doll," and "Ronnie," outstanding five-part vocal harmonies fill the auditorium and get audience members' heads nodding in time.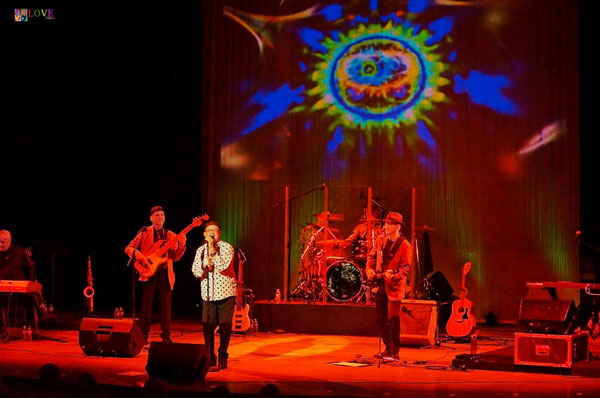 Following enthusiastic applause, keyboardist Lee Shapiro greets the crowd saying, "What's up, New Jersey?"
As the audience responds with a cheer, Shapiro states, "I want to hear you, Jersey people!"
Explaining how he became a member of The Four Seasons upon taking over songwriter/producer Bob Gaudio's spot in the group, The Hit Men launch into an exciting version of "Who Loves You" featuring sideman Mark Feinberg on tenor saxophone. Strumming along on his guitar, Jimmy Ryan and his talented band of hitmakers sing and play their hearts out to cheers and applause from the Jersey crowd.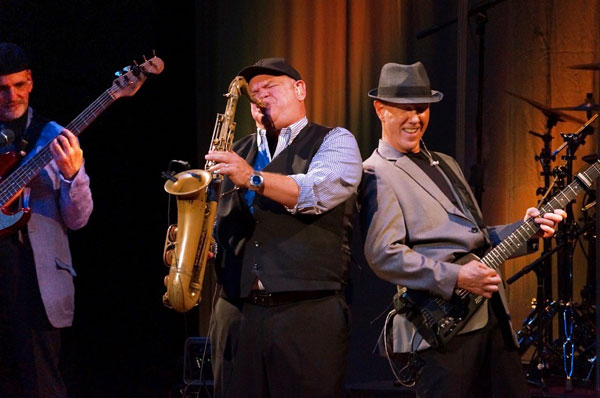 After vocalist and keyboardist Russ Velazquez talks about performing with The Young Rascals' Felix Cavalieri and Gene Cornish, he takes over the lead vocals with an electifying rendition of The Rascals' "Good Lovin.'"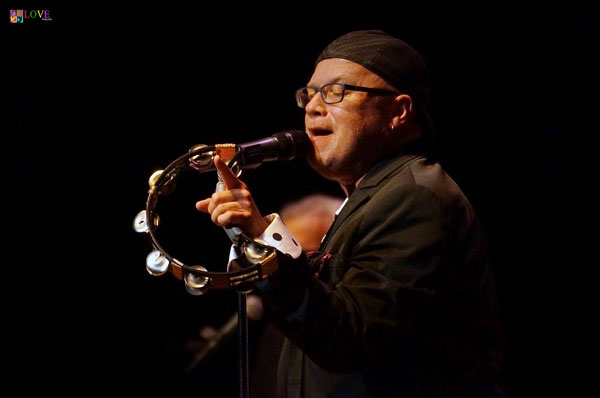 Next, Jimmy Ryan talks about working on several well-known Jim Croce recordings with a college buddy, Tommy West. The group follows with a medley of two Croce hits, "Bad, Bad Leroy Brown" and "You Don't Mess Around with Jim" — featuring Jimmy on vocals and Jeff Ganz on bass — as audience members sing along to the classic 70's sound.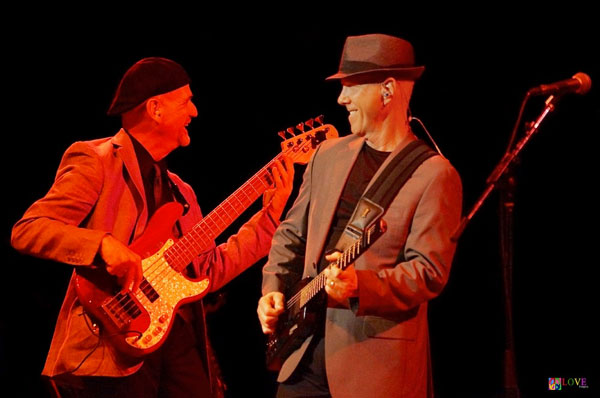 Drummer Steve Murphy takes center stage again and performs a dynamic lead vocal on Foreigner's "I Want to Know What Love Is."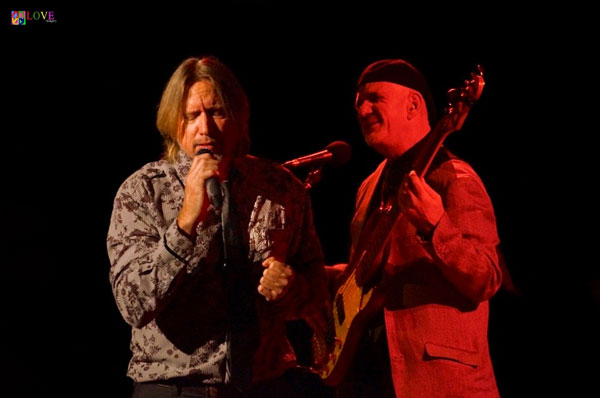 The crowd stands and cheers at the end of this rock ballad in appreciation of Murphy and the band's soulful and powerful sound.
Velazquez introduces the next number, which he says was written by a musician with whom he performed — Carole King. Explaining that King's babysitter, Little Eva, originally recorded the tune, Velazquez invites the audience to "sing, clap, stamp your feet, or dance," on King's 1962 composition, "The Locomotion."
Many in the audience happily sing along on The Hit Men's rendition of The Turtles' anthem, "Happy Together," led by drummer Steve Murphy, who spent time touring with the group as a part of their popular Happy Together Tour.
To the audience's delight, Lee Shapiro acknowledges to the crowd that he left Frankie Valli and The Four Seasons "for a couple of years to become a Shondell!"
Explaining how Tommy James got the idea for "Mony, Mony" upon seeing Manhattan's famous Mutual Of New York sign, Russ teases the audience before singing lead on the tune when he asks, "Jersey, are you kidding me? How are you doing? I want to hear you, Jersey!"
The crowd joyfully parties with Russ as he lights up the stage with his potent rendition of this classic party song!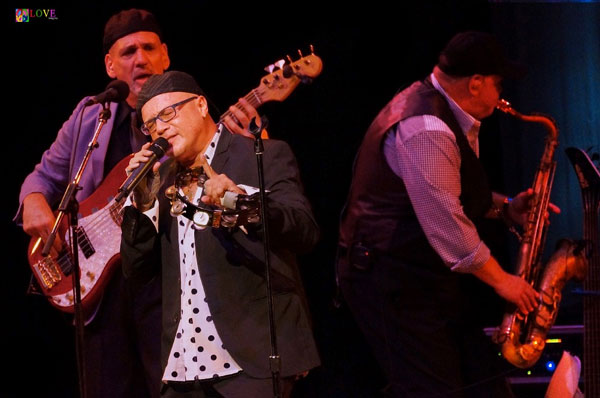 To honor Check Berry, The Hit Men invite a special guest star from the audience on to the stage — Tommy McDonnell, from Manahawkin NJ — who is a member of the original Blues Brothers band and who also appeared in the Hollywood film, Blues Brothers 2000.
McDonnell and The Hit Men rock the house with their Chuck Berry tribute, which also features a thrilling baritone sax solo by Mark Feinbern.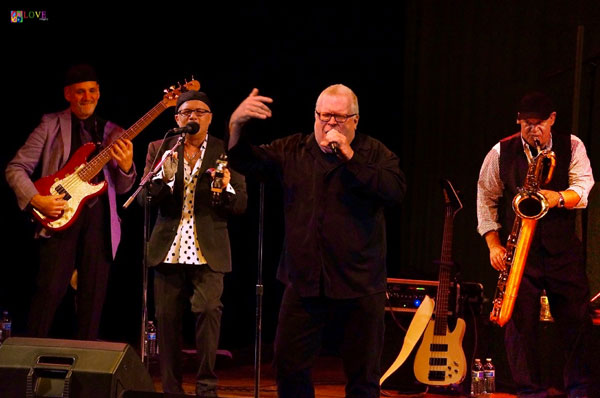 Russ Velazquez follows up by singing lead on a rollicking rendition of Frankie Valli and The Four Seasons' catchy "Let's Hang On."
After telling a story about how he met Carly Simon at a New York City music store, Jimmy Ryan and The Hit Men perform Simon's classic, "You're So Vain." A highlight of tonight's concert is Ryan's performance of the guitar solo he originally created for the 1972 hit record as a video overhead shows him playing the exact same solo several decades ago!
Another highlight of the show is the group's sizzling version of Three Dog Night's "Joy to the World." With Russ Velazquez jangling his tambourine while handling the lead, Jimmy Ryan rocks out on guitar, and the audience claps and sings along on this feel-good pop tune.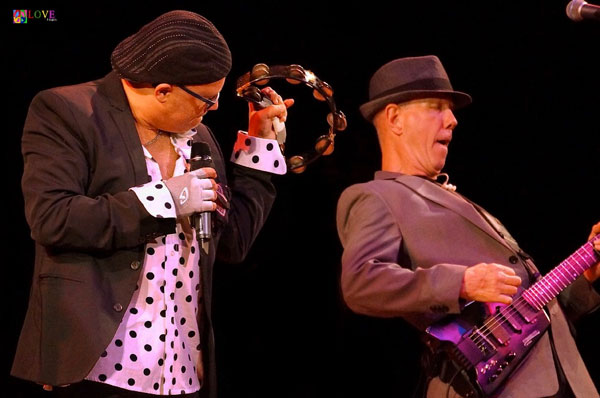 Jimmy tells the audience about a time when he worked on a recording with Cat Stevens. According to Ryan, Stevens told all of the musicians in the studio to put down their instruments and just sit and listen as he sang them his latest tune. After listening intently, the musicians eventually started to join in, and that is how they created the Hit Men's next number, "Peace Train."
Following a medley of Elton John hits — including "Crocodile Rock" and "Saturday Night's Alright For Fighting" — The Hit Men impress the avid crowd with their rendition of The Who's "Pinball Wizard." Featuring a bass solo by Jeff Ganz and an impressive drum solo by Steve Murphy, the musicians inspire the audience members to rise to their feet!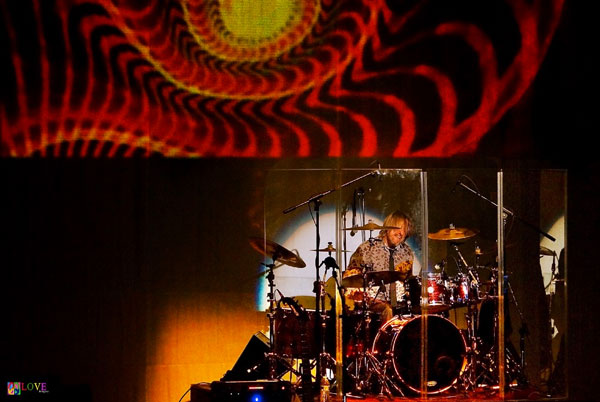 Taking a moment to slow things down, the men perform an unplugged tribute to the late Orleans singer, Larry Hoppen. Accompanied only by acoustic guitar and shaker, vocal harmonies dominate on 1975's "Dance With Me."

 

Ramping things back up again, The Hit Men perform an oustanding version of one of the greatest hits Lee Shapiro helped to create, Frankie Valli and The Four Seasons' "December, 1963 (Oh, What a Night)" — and oh, what a night it is as audience members dance in the aisles and sing along to this infectious tune!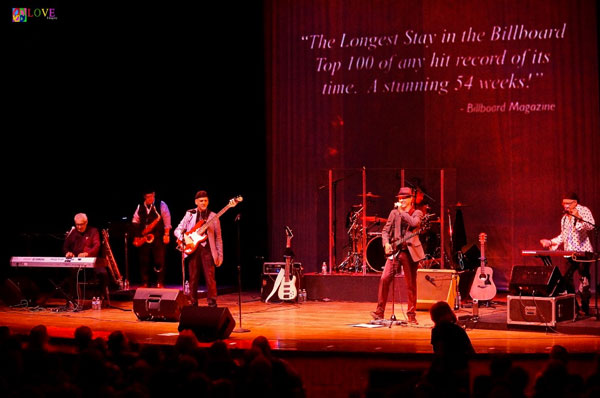 Following a energetic standing ovation, The Hit Men return to the stage for a stellar encore featuring a second Four Seasons' medley of hits including "Sherry," "Walk Like A Man," "Big Girls Don't Cry," and "Bye Bye Baby," leaving the crowd cheering on its feet!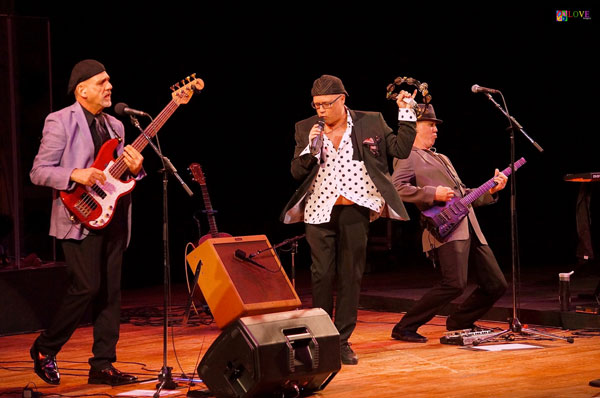 Following huge applause, we make our way back out into the lobby where we take a moment to chat with tonight's special musical guest star, Tommy McDonnell.
McDonnell, who travels the world over performing with The Blues Brothers, tells us he spent many years singing jingles.
Calling The Hit Men "tremendous," Tommy asserts with a smile, "It was a lot of fun singing with them tonight — even though this was supposed to be a night off with my wife!"
We also get a moment to talk with other happy audience members.
Carl from Brick tells us, "I loved hearing the stories about the different artists the band members performed with over the years, and Jimmy Ryan's guitar solo on 'You're So Vain' was classic!"
Tracey from Atlantic Highlands says she's seen The Hit Men three times, calling them, "wonderful!" before adding, "They were even better than the last time I saw them — and I really loved 'Pinball Wizard!'"
Likewise, Sue from West Long Branch discloses she's also seen the group three times. Calling tonight's show, "excellent," Sue reveals, "I just loved it when they did 'Sherry.'"
Lastly, Helen from Atlantic Highlands comments, "I've seen The Hit Men four times. My mom — who's 87, but couldn't be here tonight — has even seen them three times," before exclaiming, " We LOVE them!"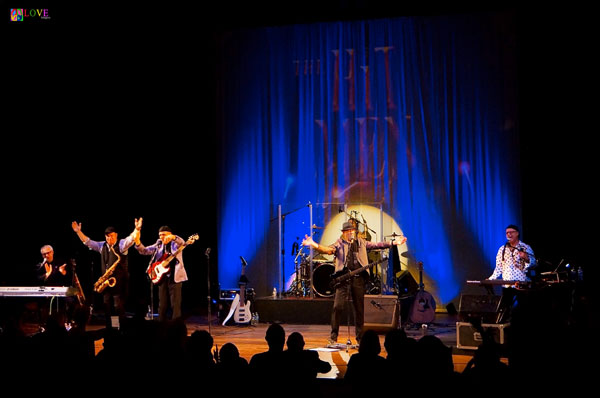 For more on The Hit Men — including information on their upcoming October 21, 2017 performance at Lakewood, NJ's Strand Theater — please go to thehitmenlive.com.
To learn more about future performances at Deal Park, NJ's Axelrod Performing Arts Center — including Jersey "soul sensation" Remember Jones on August 24, Manhattan Transfer's Janis Seigel on August 30, and Broadway's Kelli O'Hara on October 28 — please click on axelrodartscenter.com.
Photos by Love Imagery
Spotlight Central. Your source for Jersey entertainment news and reviews
Love Imagery Fine Art Photography. all you need. peace/love/flower/power