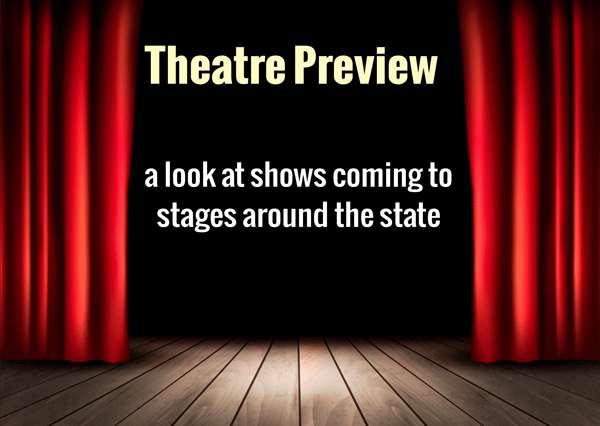 Dracula: The Journal of Jonathan Harker

Mile Square Theatre - 1400 Clinton Street, Hoboken
Sent to Castle Dracula to deliver deeds to the infamous Count, Jonathan Harker has no idea what he's getting himself into in this tour-de-force thrill ride. Once he arrives, Jonathan finds himself being held captive by the eerie and cryptic Count, discovering horrific sights behind some of the castle's closed doors. Only after he escapes is his worst fear confirmed: Count Dracula is an undead creature of the night. With the help of Van Helsing and other friends, Jonathan sets off on a mission to find and destroy the Count before he becomes more powerful than ever, risking his life to save the lives of those he loves.  The production runs from October 12 through October 30.
---
Disgraced

McCarter Theatre - 91 University Place, Princeton
Ayad Akhtar's fierce and provocative Pulitzer Prize-winning, Tony Award nominated drama which took Broadway by storm will keep you on the edge of your seat and inspire debate long after you leave the theater. Amir Kapoor is a successful lawyer at a prestigious Manhattan law firm. He is married to a beautiful woman and is just trying to live a good life. When conversations at a dinner party turn confrontational, racial and religious tension forces him to face his own ambition and stifled cultural identity. The production runs from October 11 through October 30 and stars Maboud Ebrahimzadeh, Caroline Kaplan, Adit Dileep, Kevin Isola, and Austene Van.
---
King Of The Mountains

Luna Stage Company - 555 Valley Road, West Orange
---
For three days in May of 1903, President Teddy Roosevelt and the naturalist John Muir camped alone together in the Yosemite. One expected to be paid homage, revered for his accomplishments, and praised for his wilderness prowess. The other desired to have his voice heard, his philosophy followed, and his wisdom sought. The problem was, both men wanted to do all the talking. A complex look at the ongoing battle over what to do with our public lands told through the unique wit and whimsy of Luna favorite Ben Clawson, directed by Cheryl Katz, and starring Ian Gould and Rik Walter. The production runs from October 6 through October 30.
---
Richard III

The Shakespeare Theatre of NJ - 3 Vreeland Road, Florham Park
Since the recent discovery of the remains of the real Richard III, both the real life monarch and Shakespeare's monstrous version of him have been much talked about — his arch-villain of all villains — the intense, discontented, crippled, larger than life "protagonist," Richard, Duke of Gloucester dominates this seething history from start to finish. Paul Mullins who played the title role ten years ago, directs. This production will be running in conjunction with the First Folio exhibit in on Drew University in October. Directed by Paul Mullins, the Shakespeare Theatre of New Jersey Presents Richard III from October 5 through November 6.
---
Mama's Boy

George Street Playhouse - 9 Livingston Avenue, New Brunswick
She never believed her son was a monster - but was she the cause? Marguerite Oswald was domineering, obsessive and desperate in her need to be loved by her younger son, Lee Harvey. A chilling glimpse into what may have happened in the Oswald household during the months leading up to that fateful Nomveber morning in Dallas. "A gripping family drama that illuminates history by adding a touch of humanity." Press Herald. Mama's Boy was written by Rob Urbinati.  George Street's production is directed by David Saint and stars Betsy Aidem, Laurel Casillo, Michael Goldsmith,  and Miles G. Jackson. Performances run September 18 through November 6.
---
Buyer & Cellar

Cape May Stage - 405 Lafayette Street, Cape May
Buyer and Cellar, by Jonathan Tolins, is the fictional account of a struggling actor in L.A. who takes a job working in the Malibu basement of a beloved megastar.  It's an outrageous comedy about the price of fame, the cost of things and the oddest of odd jobs. Directed by Roy Steinberg, Cape May Stage's production stars Trey Gerrald. Buyer and Cellar was the winner of the 2013 Drama Desk Award. Performances run October 19 through November 18.
---
Mad Love

New Jersey Repertory Company - 179 Broadway, Long Branch
A new comedy by Marisa Smith. Sloane Hudson, a rich, beautiful recent Ivy League graduate and product of the campus hook up culture and frat basement pong tournaments, doesn't believe in love or marriage. She does believe in babies and wants one soon so her tummy can bounce back and she can still wear a bikini. The problem is she needs a sperm donor who passes muster. Enter Brandon, who's got the right stats but the wrong attitude. Brandon has enough on his plate already and lives with brother Doug, the infamous "De-Fenestrator" who just fell in love with Katerina, the hooker from the Ukraine. The production runs October 20 through November 20.
---
Out of The City

Passage Theatre Company - 205 East Front Street, Trenton
Can one kiss change the whole picture? When two married couples in their 60s take a trip to celebrate a milestone birthday, they start pondering elusive romance and what comes next. This unorthodox romantic comedy proves that rejuvenation can be found at any age. See what happens in Out of the City by Leslie Ayvazian.  Directed by Murphy Davis, the play features Leslie Ayvazian (Nine Armenians), June Ballinger (Pack of Lies), Ken Land (Promises, Promises), and Grant Shaud (TV's Murphy Brown). The production runs October 20 through November 20.
---
CSC Fringe: Kick

Centenary Stage Company - 400 Jefferson Street, Hackettstown
Fringe Theater returns to Centenary Stage Company with the New Jersey premiere of Kick. "It's not how high - it's how strong".  On her way to her first big New York audition, dancer Bernie O'Connell is tricked into a car and attacked in a vacant lot off the Brooklyn Queens Expressway.  Kick follows Bernie from a kick-line to "A Chorus Line" to Hollywood and back as she picks up the pieces and finds the glue to put herself back together.  Hailed as "riveting and truly worth seeing" by Kathryn Kitt of centerontheaisle.com. Written and performed by actor playwright and New Jersey native Joanna Rush.  Performances run October 27 through October 30.
---
The Last Hipster in Brooklyn

Art House Productions - 136 Magnolia, Jersey City
By weaving a story that blends theater, spoken-word and hip-hop storytelling, self-professed hipster Nick E. Finn takes on multiple perspectives and characters – both Brooklyn natives and transplants – to tell the story of 2016 Brooklyn.  As both a satirical exploration of the Hipster Subculture and a sincere ode to Brooklyn, Nick falls in love with BK but then is forced to confront his own role in the borough's gentrification and its rapidly changing identity.  Cutting social commentary blends with comedy, romance, and adventure in this slice of our time. Art House presents Brooklyn Gypsies' The Last Hipster in Brooklyn October 28-30.
---
CSC Fringe: Hard Travelin' With Woody

Centenary Stage Company - 400 Jefferson Street, Hackettstown
 Iconic folksinger Woody Guthrie is memorialized in this critically acclaimed, award-winning multimedia solo show packed with Guthrie's spirit, music, and artworks. Centenary Stage Company's Fringe Festival production runs November 10 through November 13.
---
Godspell

Eagle Theatre - 208 Vine Street, Hammonton
GODSPELL modernizes a series of parables by using a wide variety of games, storytelling techniques, and hefty dose of comic timing. Crafted to thrill and inspire, this unique theatrical reflection preaches the eloquence of love, loyalty, and freedom! Presented "in the round"! The production runs November 4 through December 11.
---
The Lion In Winter

Two River Theatre - 21 Bridge Avenue, Red Bank
Doesn't every family Christmas end in war? "Well-what shall we hang?  The holly or each other?"  Set during Christmas 1183, this great American classic--filled with ruthless schemeing, deception and romance--is the ultimate fight for the throne.  Join Henry II of England, his wife Eleanor of Aquitaine, and their three sons for a sharp-tongued and witty look at how dysfunctional the royal family can be. Starring Noah Averbach-Katz, Michael Cumpsty, Dee Hoty, KeiLyn Durrel Jones, Ronald Peet, Hubert Point-Du Jour, and Madeleine Rogers. Performances run November 12 through December 4.