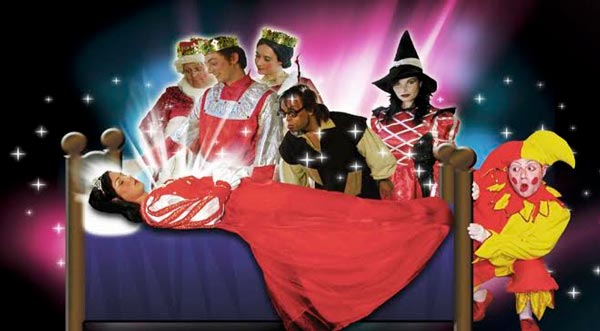 (NEWTON, NJ) -- The Newton Theatre presents the classic Sleeping Beauty with two performances on Sunday, October 15, 2017 at 1:30pm and 4:30pm. How will Princess Aurora be awoken from the evil spell? Find out in this magical tale filled with music, humor and enchantment! Current hit songs will have everyone singing along! This show is packed with fun for families and kids of all ages. 
King Humphrey and Queen Bea are so delighted at the birth of their daughter, Aurora, that they throw the biggest party the kingdom has ever seen! However, when they forget to invite the land's most powerful sorceress, Vestra, their happiness soon turns sour.
Vestra casts a spell on the baby, proclaiming that on her 18th birthday, she will prick her finger on a spinning wheel and die! The spell is so strong that the comical Fairy Nuff can only reduce its power by declaring that Aurora will fall asleep for 100 years. 
Join Giggles the Jester and his friends for this magical tale!  Tickets cost $12 and $15  and may be purchased by visiting www.thenewtontheatre.com or contacting the Box Office at 973-383-3700.
The historic Newton Theatre, located at 234 Spring Street in Newton, NJ, was founded in 1924. Revitalized and fully renovated, Sussex County's premier entertainment venue reopened in 2011 as a 605 seat capacity live performing arts center. With it's rich history and diverse programming The Newton Theatre is essential to the buoyancy of New Jersey's Skylands region. 
---