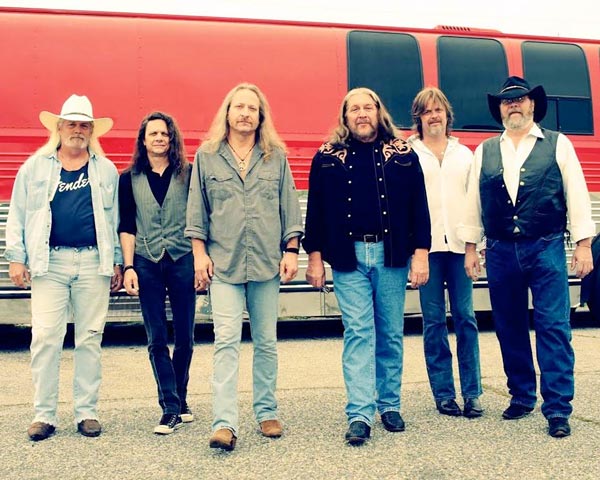 (ENGLEWOOD, NJ) -- Bergen Performing Arts Center presents The Marshall Tucker Band on Wednesday, February 22, 2017 at 8:00pm. You'll hear hit singles like "Heard It In a Love Song," "Fire On The Mountain," "Can't You See," and "Take The Highway," from the band's seven gold and three platinum albums. Tickets range from $29 to $59.
When The Marshall Tucker Band first got together in their native Spartanburg, SC back in 1972 they were rehearsing in an old warehouse. They had yet to decide on a name and were discussing what they should call themselves one evening. Someone looked at the tag on the key and it said "Marshall Tucker" and it was suggested they call themselves the Marshall Tucker Band, not knowing it was a real person's name. Because it was time to go to dinner and everyone was hungry they said "sounds great" and the rest is history.
A few years later they found out that Marshall Tucker was the name of the person who rented the building before them. His name was still on the key tag because the warehouse owner hadn't changed it yet. Mr. Tucker was a blind piano tuner, who, along with his partner, used the building for their piano business.
Still led today by founding member and lead singer Doug Gray, the Marshall Tucker Band represents a time and place in music that will never be duplicated. Gray is quick to credit the band's current dynamic members with carrying on the timeless essence of the Marshall Tucker Band sound. Current members include the highly respected drummer B.B. Borden, a former member of both Mother's Finest and The Outlaws, multi-instrumentalist Marcus Henderson plays flute, saxophone and keyboards in addition to lead and background vocals, Pat Elwood on bass guitar, and Rick Willis on lead guitar and vocals are disciples of the Caldwell Brothers. Acclaimed lead guitarist and vocalist Chris Hicks recently rejoined the band after a two-year absence. Together they present a powerful stage presence as they continue to tour the country and be a powerful force in the world of music.
Years of rigorous tour schedules earned the band the respect of critics and countless dedicated fans.  During the 90's, the Marshall Tucker Band scored four hit singles on Billboard's country chart and one on Billboard's gospel chart. Their music has also been featured on the soundtracks of movies such as Smokey and the Bandit, Blow, The Pursuit of D.B. Cooper, Shipwrecked, Crank 2, Don't Mess with Zohan, Stop Loss, Swing Vote, Taking Chance and many others as well as many TV Shows.
---
For forty years, The Marshall Tucker Band has wowed critics and influenced major country acts like Alabama, The Kentucky Headhunters, Confederate Railroad, and Travis Tritt with its definitive blend of rock, rhythm & blues, jazz, country, and gospel. Now, thanks to the expanding scope of today's music, a new generation of fans is learning what the rest of their fans have known for so long- that good music knows no boundaries. Along the way, the band has recorded twenty two studio albums, three DVDs, three live albums and many compilations.
Tickets are available at: www.ticketmaster.com or by calling the Box Office (201) 227-1030.
bergenPAC is located at 30 North Van Brunt Street in Englewood, NJ.