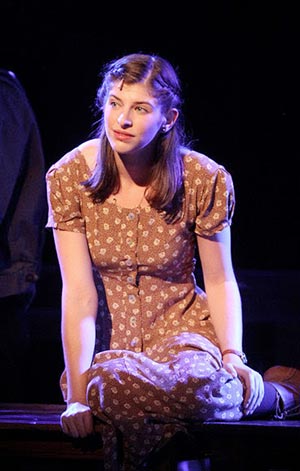 (PRINCETON, NJ) -- The Lewis Center for the Arts' Program in Theater at Princeton University will present Study of a Daughter, A Solo Show by Maddie Meyers devised by senior Maddie Meyers and directed by Nehassaiu deGannes on January 12, 13 and 14 at 8 p.m. and January 15 at 2 p.m. and 8 p.m. Performances will take place in the Class of 1970 Theater at Whitman College on the Princeton campus. A talkback discussion with Professor of Theater Stacy Wolf, deGannes and Meyers will follow the January 14 performance. 
Study of a Daughter is a deeply personal, humorous and poignant, autobiographical solo show written by Meyers about mother/daughter relationships and coming-of-age of the millennial generation. Meyers weaves together monologues drawn from her relationship to her family in order to present a universal picture of the special but sometimes contentious bond between a young adult, her family, and her past. Drawing from her background in art history and American studies, the show presents several ways of looking at the experience of a 21-year old American daughter in the 21stcentury.
For her senior thesis in theater, Meyers wanted to tackle a challenging project that she was not sure she could pull off – writing and performing an autobiographical show. The art history major from the Bronx, New York, has experience writing and performing a solo show. In high school, she wrote a 15-minute monologue about a 30-something single woman living in New York City. The piece was picked up by Tony Shalhoub for production at the 2013 Berkshire Playwrights Lab at the Berkshire Theater Festival performed by Meyers, the youngest playwright to be featured, where she was described as "a talented young emerging actor and playwright."
Meyers, who is also pursuing certificates in music theater studies, gender and sexuality studies, and American studies in addition to theater and her degree in art history, began writing Study of a Daughter last spring, and met with deGannes over the summer to get the director's perspective on the work's development. Playwright and Professor of Theater R.N. Sandberg is serving as Meyer's writing advisor on the new work. The show connects to Meyer's junior paper in art history, which was a study of American portraits of mothers painted by male artists. Her senior thesis in art history focuses on the work of Georgia O'Keefe and O'Keefe's move to the West in the context of American abstraction.
Meyers has been an active member of Princeton's theater community. She has written for All-Nighter, Princeton's student-produced late night talk show. In November she appeared as the female lead in the Lewis Center's production of the Tony Award-winning musical Once, previously appeared as Wendla in the Lewis Center's production of the musical Spring Awakening, and stage-managed Madman Robertson, also an original solo show devised by Jake Robertson, Class of 2015. She has acted in shows produced by both Princeton University Players and Theater Intime, and currently works as a research assistant for Wolf, who directs the Program in Music Theater. She plans to pursue acting and writing professionally after graduation.
Guest director deGannes is an actor, writer, and poet. She has appeared in a range of classic and contemporary roles at theaters in New York City, regionally and internationally including Chicago Shakespeare Theater, the Stratford Festival, and Trinity Rep. Written works for the theatre include The Frangipani Door, winner of the Perishable Theatre's International Women Playwrights Award; Dreaming The Differential, produced at Providence Black Rep and Trinity Rep Conservatory Short-Play Festival; and Pressure Quest: Who Am I?, commissioned by Rhode Island All Children's Theatre with a school tour directed by Jen Bloom. Her poetry chapbook Undressing The River won the 2011 Center For Book Arts Letterpress Chapbook Award. Her earlier collection Percussion, Salt & Honey was selected by Michael Harper for the Philbrick Poetry Prize for New England Poets.
Rounding out the production's team are Jared Hopper, serving as stage manager, and lighting design by Sam Gravitte, Meyers' costar in Once.
Study of a Daughter is free and open to the public; no reservations are required.
PHOTO: Senior Maddie Meyers as Girl in a recent Lewis Center production of Once. Photo by Frank Wojciechowski.