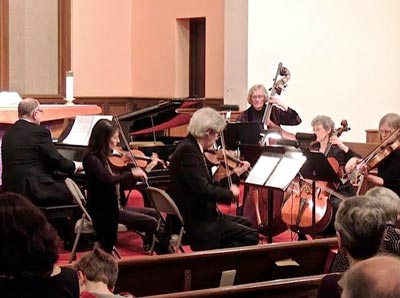 (LEONIA,NJ) -- The Leonia Chamber Musicians Society, Inc. will perform the second of a three concert series on Sunday, February 5, 2017 at 4:00pm at All Saints Episcopal Church in Leonia, NJ.  The riveting concert, 'Spanish Flavor', will showcase music by Spanish composer Joaquín Turina, as well as Italian composers Luigi Boccherini and Mario Castelnuovo-Tedesco.
The program will feature Cynthia Phelps, Principal Violist of the New York Philharmonic, joining The Leonia Chamber Musicians Society again to perform in Turina's romantic Scène andalouse for Solo Viola, Piano and String Quartet.  Acclaimed Spanish and Baroque choreographer and dancer Carlos Fittante from the Boston Early Music Festival and Artistic Director of BALAM Dance Theatre debuts with the chamber society in the spirited Fandango Quintet for Strings, Guitar and Castanets by Luigi Boccherini.
Tickets will be available for purchase at the door for $30 adults, $25 seniors, and students under age 18 will be admitted free.  All Saints Episcopal Church, located at 150 Park Avenue in Leonia, is fully handicapped accessible.
The Leonia Chamber Musicians Society's members performing in this concert are Theresa Norris, flute; Marsha Heller, oboe; and Daryl Goldberg, cello.  They will be joined by prominent musicians Scott Kuney, guitar; Roy Lewis and Cenovia Cummins, violins; Maggie Speier, viola; and Yi-Fang Huang, piano.  The program will also present the charming and delightful Eclogues by Mario Castelnuovo-Tedesco for flute, English horn and guitar evoking the pastoral Italian countryside.  A second piece, La Oración del Torero (The bullfighter's prayer) for String Quartet also composed by Turina, expresses the passion and emotion of his homeland.
The season will close Sunday, April 23, 2017, at 7:30pm, at All Saints Episcopal Church.  By audience members' popular request, the music will feature the Schubert Trout Quintet.  For more information, contact Daryl Goldberg at 201-947-3923 or dgcello@aol.com.  This program has been made possible in part by a grant administered by the Bergen County Department of Parks, Division of Cultural and Historic Affairs from funds granted by the New Jersey State Council on the Arts.
---
The Leonia Chamber Musicians Society, Inc., a nonprofit, tax-exempt organization, welcomes contributions to the organization to continue the tradition of quality concerts at affordable prices in the community.  Donations are tax-deductible as permitted by law.