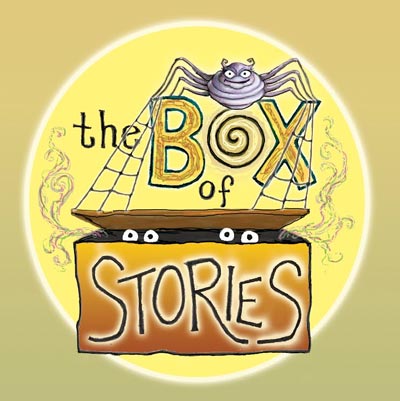 (NETCONG, NJ) -- The Growing Stage, The Children's Theatre of New Jersey, presents the world premiere production of The Box of Stories from February 10th through 19th with performances Friday evenings at 7:30 PM, Saturday and Sunday matinees at 4:00 PM. Written by J.S. Puller, The Box of Stories was the winner of the theatre's 2016 New Play-Reading Festival. This production is under the direction of Stephen L. Fredericks, The Growing Stage's Executive Director.
Storytelling is the native language of all human beings. But what would the world have become without stories? The Box of Stories presents a world that might have been. When the trickster gods Coyote, Loki, and Anansi steal the art of storytelling from mankind, sealing away stories into a magical box, it is a young girl without a name that rises to become a hero. Upon finding the box, she uses the stories inside to reintroduce mankind to civilization. Spanning the realms of Native American, Norse, African, Greek, Indian, Vietnamese, Celtic, and Middle Eastern mythology, this play demonstrates the power of the spoken word and the ability of mankind to grow, learn, and survive.
The Box of Stories features the talents of four professional equity performers.  Ashley Leone of Lodi, recently appeared in A Christmas Carol, plays Anansi the Spider; Cara Ganski of Avenel, who graced our stage in Disney's The Little Mermaid, James And The Giant Peach and A Christmas Carol, plays Jenna; Davis Cameron Lemley of Cedar Grove, familiar to our audiences as Peter in Peter And The Starcatcher, plays Coyote; Marcelo Leal of Jersey City, last seen in A Christmas Carol, plays Loki.  Rounding out the cast is young performer, Caitlin Menber of Lake Hopatcong, who's making her Growing Stage debut as Imra.
Enhance your theatergoing experience with pre and post show-activities.  During Opening Weekend (February 10th through the 12th) the theatre will hold post-show talkback sessions with the playwright and creative team.  The Growing Stage continues FUN-tastic Fridays with all tickets $15! Saturday and Sunday tickets are $25 for adults, $20 for seniors and $15 for children.  To purchase tickets, please visit www.growingstage.com or contact the Box Office at (973) 347-4946.  Group rates and Birthday Party packages are available.
The Growing Stage is located in the Historic Palace Theatre on Route 183 in Netcong, NJ.
---