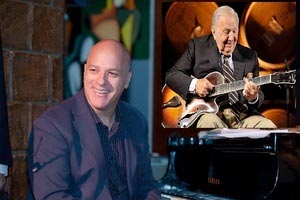 (NEW YORK, NY) -- Bucky Pizzarelli will be a special guest of the John Colianni Jazz Orchestra as he celebrates his 91st birthday at The Cutting Room on Thursday, January 12 at 7:00pm.  Tickets to celebrate with the New Jersey legendary artist are $30 in advance and $35 at the door.
For more than seven decades, the legendary Bucky Pizzarelli has had a stellar career.  "The complete jazz musician" Bucky has been a fixture in jazz and the studios since the early '50s. The list of big bands and vocalists with whom Bucky has performed and recorded reads like a veritable Who's Who of Jazz,  playing and touring with Benny Goodman, Zoot Sims, Bud Freeman, and Stephanne Grappelli, and later recording with George Van Eps, Carl Kress and George Barnes.  One of the most solid rhythm players of any era, his superior mastery of the seven-string guitar is unparalleled.
John Colianni is a world renowned jazz pianist appreciated for his bluesy virtuosic and hard swinging style. The fact that the pianists he is most often compared to are Art Tatum and Oscar Peterson should tell you all you need to know about his musicianship. He cites Teddy Wilson, George Shearing, and Ahmad Jamal as other influences, and above all, Duke Ellington his musical muse.
From the time he began working professionally as a high school teenager in the Washington D.C. area, John attracted the attention of jazz royalty.
At the age of 18, he got himself invited to a jam session with Lionel Hampton, who hired him on the spot as his regular pianist world touring with the Hampton band.
---
John's association with jazz greats continued with a 5 year association with the great Mel Torme in the 1990's, who referred to John quite simply as "the best you'll ever hear".
A long term engagement as the pianist for the Les Paul Trio and the ongoing "Les Paul Mondays" tribute at the Iridium brought John exposure to a large audience and to collaborations with a vast cast of luninaries  in  both the jazz and rock world.  It led, as well to the formation of the John Colianni Quintet which helped to establish Colianni's unique talents as an arranger, composer and bandleader.
Today, we have the most dazzling example yet of this multi-talented musician's creativity, with the debut of the fresh and exciting 17-piece John Colianni Jazz Orchestra. More than just another jazz repertory big band, the JC jazz orchestra brings to life the timeless essence of the jazz big band tradition – great musicianship, solid blues feeling, harmonic inventiveness, and ferocious swing in a program of original compositions, and creative new arrangements of classics. This is music that is inspired by tradition, but not an imitation of it.
The Cutting Room is located at 44 E. 32nd Street in New York, NY.