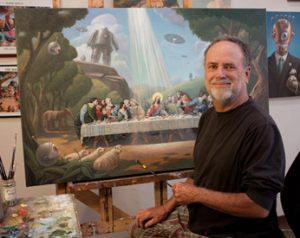 As a child of the Fifties and Sixties, born and raised in Southern California, Bryan could not avoid soaking up the pop culture and angst of that time and place. He was fascinated by cheesy Sci-Fi and horror movies, super hero comics, Mad Magazine, Salvador Dali, The Twilight zone, Zap Comics, etc.  All of those influences plus the "duck and cover" mentality of the Red Scare had their shots at a sensitive mind.
In addition to the constant threat of atomic annihilation, the Civil Rights Movement, Vietnam War, and the Kennedy and King assassinations further provoked a political awareness and a sense that all is not right with the human species. At an early age art became a way for Bryan to deal with and make sense of the world.
Wars, terrorism, political hi-jinks, and the deteriorating environment have only reinforced his early perspective and provide a never ending supply of subject matter to work with.   He doesn't solely deal with politics topics, but his work featuring President George W. Bush was seen around the world and recent paintings satirizing President Trump have struck a chord with the public as well. The tradition continues...
Click here for a slideshow of his political art from New Jersey Stage magazine.
---