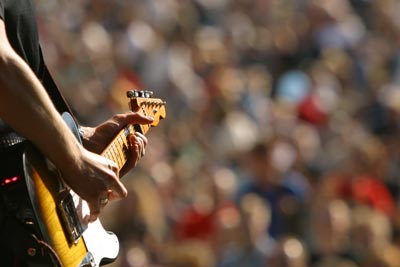 It's been two years since we first set foot in Nashville, Tennessee - country music capital of the world - so that's good enough reason for us to highlight two amazing female musicians from town who are vying to become the next big Music City star. We also have some classic rockers and current acts to showcase who are all planting their flag in the ground with powerful new musical statements. Sit back and relax! Things are heating up now with these great offerings.
From revival to rollicking - Robert Randolph and The Family Band are back with their fifth studio release, Got Soul. The group continues to build on a diverse and solid catalogue that blends the best of gospel, funk, rock and soul. As much as rhythm propels their music, it is Robert's unique approach to the pedal steel guitar that gives The Family an energetic, engaging style that nods to the past but is very much in the present. Robert has shown the world that the steel goes well beyond country music. Their 12-track CD opens strong with the pairing of the spirited "Got Soul" and "She Got Soul" featuring Anthony Hamilton. The tempo slows for "Love Do What It Do" with Darius Rucker handling lead vocals. The danceable "Shake It" will have you shaking as will their creative cover of ZZ Top's "Thank You." The instrumental "Heaven's Calling" along with "Find A Way" finds Robert Randolph exploring a wide range of textures and tones. The group closes with the lively "Lovesick" followed by the hopeful "Gonna Be All Right." Robert Randolph and The Family Band testify that they Got Soul and more on this distinctive and divine CD.
It's a bit of a curiosity that the classic rockers Styx have re-entered the fold as a recording act with a concept album since the last time they attempted such a feat it sent everyone packing - band members and fans alike. But, their first album in 14 years tells the tale of a different kind of packing as the boys lift off on a thrilling trip to the red planet. On The Mission we find a modern-era Styx reaching way back to their earliest Stygian influences from their Wooden Nickel days to firmly plant their flag in this new era. The opener is "Overture" with 70's era keys and Roboto-esque mechanical voices before lifting off on the fast paced "Gone Gone Gone" with its fiery guitar driven backbeat. Tommy Shaw is the driving force behind this project and he takes over to captain "Hundred Million Miles from Home" with his familiar and confident vocals pushing the effort in the right direction. But there are more hands on deck and James "JY" Young introduces us to the "Trouble at the Big Show" that is powered by the famous Styx backing vocals that elevate a good song even higher at warp speed. Lawrence Gowan takes a lead role here, too, even if many fans object to his having been beamed onboard to replace Dennis DeYoung nearly two decades ago. Early press says that the album is a deep, conceptual, and cinematic epic that offers listeners a thrilling emotional journey facilitated by a suite of songs and some thematic connectors. If Styx set out to reclaim their glory years complete with radio-friendly singles and multi-platinum albums they may have missed the mark with this one. If their goal was to re-establish themselves as recording artists after a long self-imposed hiatus then we can safely say - mission complete. What's of more interest to us now is after conquering the Red Planet where do they go from here?
We're a little late to the party but we are now big fans of the talented Maggie Rose. We first saw her live act when she held a CD release event for her latest EP Dreams > Dollars and then again at the recently concluded CMA Fest. They say good things come in small packages and this diminutive singer is a powerhouse talent with great promise. She's been honing her songwriting craft in Nashville for the past decade and now she's being hailed as the next big thing and that sounds about right. The songs on her new one are a deft mix of country, pop and rock with more hooks than a slaughterhouse. She kills it on them all but especially when the heat is turned up on the sultry "Body On Fire." Maggie Rose is all beauty and no thorn and she's been picked by Tim McGraw & Faith Hill to open select dates on their summer tour so it looks like things are in full bloom for her at the moment - and it's all very well deserved.
Rachel Price was born and raised in Nebraska but as an aspiring singer/songwriter she realized that her home state might not be a musical mecca. About three years ago Rachel moved to Nashville, Tennessee to pursue her dreams. Home, the new EP from this talented up-and-coming artist represents both her present and past with six songs that are personal, poetic and filled with potential. The set opens with the flavorful "Lemonade" which flows on a sort of clapping rhythm paired with a catchy chorus. "Falling Off The Earth" has an edgier vibe followed by the snappy and smart "Stop Signs." The last three tunes also feature fine song craft that reveal melodic maturity from this young artist. Rachel Price is an expressive vocalist able to bring varied moods to her compelling compositions. Home is a potent, well-produced start for Ms. Price to move beyond her home towns to achieve a more widespread recognition.
---
Amazingly, The Rolling Stones conquered new territory when they touched down in Latin America in 2016. Ole Ole Ole: A Trip Across Latin America expertly documents this excursion as they work to plot their first ever concert in Cuba. The movie opens with the last day of rehearsals complete with family and pets lingering on and around the stage. The Glimmer Twins and company sounded nice and warmed up with the legendary Keith Richards adding that all that was needed now "was an audience." Soon, the Stones land in Argentina where they are more than just your average cultural icons - they are the influential inspiration to a whole subsection of society who are proud to call themselves "rolingas." Many of these fervent followers were introduced to be way more than your typical fan. Instead, they strut around like the non-genetic offspring of the boys who act and dress with Jagger swagger as they live out the rock and roll lifestyle on the streets of Buenos Aires. Throughout the film, stunning scenery and sights of the overcrowded cities and towns in Latin America filled the big screen. Clearly, many of these areas are still impoverished and it's from these downtrodden places that the Stones are drawing some of their most zealous and dedicated fans in the world as Ole Ole Ole clearly illustrates. You'll have to watch the film to find out why the spirit is celebratory throughout. Want reason to be even more joyous? There's seven full-length bonus performances on the DVD that show the legendary rockers in all their glory.
The Cranberries recently released Something Else, a new record featuring re-worked renditions of their best-known songs along with brand new material. Cranberry classics such as "Linger," the still haunting "Zombie," "Dreams," and "Ode To My Family" have been revised in acoustic and orchestral arrangements. Something Else is also a celebration of the band's 25th anniversary. The 13-track CD opens with "Linger." Singer-songwriter Dolores O' Riordan recalls "It was the first song The Cranberries ever wrote together. I was 17, and the youngest member of the band was 15 at the time. We never imagined it'd be such a big hit, but soon us teenagers found ourselves on our first flight to the United States to shoot the video in Downtown LA. That video would introduce us to American households, in the good old days of MTV! The bittersweet love song still holds all that sentimentality for us personally, which is why we had to include it on this project. Universally, I think its message remains timeless and relevant, never going out of fashion, yet never quite in fashion. It's amazing to have a song hold up 25 years later, and I hope this acoustic version allows our fans to hear a Cranberries classic in a new way." In many ways Dolores' comment applies to this whole album as the group brings more experience and maturity to the music with the help of the Irish Chamber Orchestra. Strings add somber and spirited tones to compositions that run the range from pensive to peppy. The newer tracks tackled serious topics. "Rupture" is about depression, about being in that black hole and finding it hard to get out of it and the single "Why?" was written soon after O' Riordan's father had passed away. Something Else has something for anyone looking for compelling, well-crafted songs.
Yes, there have been a number of rock operas released over the years but not all of them come with a novella with the lyrics woven into the storyline. Cue the music for Franky And The Band who present to you Austin Texas The Rock Opera. This 13-track concept album is a love story and a love letter to Austin, Texas - "Live Music Capital" a rousing horn driven shout out to the city. Fehmi Nuhoglu (Franky) an engineer by day and artist at night declares "Austin Texas is a deep source of inspiration with its diversity in music, unique lifestyle, and tranquillity." His record reflects these sentiments with a wide range of musical styles including ballads, blues, country, rock and even the Latin infused "Amor Amor Amor." This was a labor of love for Franky who found a versatile group of musicians to bring "A Texas Love Story" to life. Guitars, horns, slide and strings add accents to Franky's tale of Travis (named after the county Austin is in) a rancher with dreams of becoming a musician. At the country flavored "Austin Rodeo" he rescues and falls in love at first sight with Texy a pretty cowgirl whose mother is protective and wealthy. She sends the two to the Shadow Queen presuming the fortune teller will discourage the young couple. Although the Shadow Queen does not paint a rosy picture for the two she tells them in a rocking blues way that their relationship is like "Texas Weather" - to find out whether or not they stick together check out Austin Texas The Rock Opera.
Brand-new from Audio Fidelity is the self-titled debut album from the legendary Leon Russell on striking 180 gram blue virgin vinyl. AF produces beautifully designed packages that are faithful to the original releases with even more of the best classic recorded concert and studio performances of all time slated to receive their treatment. Even though Leon left us last year his music lives on through this amazing repackaging job that is sure to please audiophiles the world over. Russell's first entry into the marketplace was called one of the most startlingly original debut albums ever and it was the culmination of many years' apprenticeship behind-the-scenes of the music business. As one of the most accomplished musicians to emerge from the '60s music scene, Leon Russell proved equally accomplished as a singer, guitarist, keyboard player, composer and producer. On this album he's joined by none other than George Harrison, Ringo Starr, Eric Clapton, Steve Winwood, Joe Cocker, and many more as they tear through the rockin' and piano infused "A Song For You" and "Delta Lady" that sound even better today than ever before - thanks to the care taken by Marshall Blonstein and his team at Audio Fidelity.
Soul rocker Kwame Binea Shakedown was born in West London with native origins in Ghana. Kwame's music is culturally diverse with a heavy dose of funk, rock, roots and soul. His debut album Roots Rock N Universal Love has all of these elements in songs that are catchy and compelling often punctuated by horns. This ten-track CD was produced by Vernon Reid of Living Colour who also co-wrote and plays on the lively "Love Surreal". Other highlights include the up-tempo opener "Ain't Your Woman," the masterful "Mona Lisa" and the closer "Universal Love" by Jimmy Cliff where Shakedown brings new hope and perspective to this classic song. Kwame Binea has an expressive range that can go from smoking to smooth which adds more layers to his already soulful sound that is packed with good grooves. Commenting on Roots Rock N Universal Love Kwame says, "The concept behind the new album is essentially to make music that makes you dance and also makes you think. To me music should not only make you move but it should also inspire and educate." Shakedown has achieved that on his stellar debut release.
 For the first time since 1968 the complete original album that accompanied the 60's documentary Tonite Let's All Make Love In London is now available from Immediate Records.  The soundtrack features Pink Floyd and other icons from the decade and fans can now be transported back in time on CD and limited edition pink vinyl. Featuring interviews with a diverse selection of iconic figures in British and international pop culture - from artists such as David Hockney and Alan Aldridge, through to actors such as Michael Caine and Julie Christie, the author Edna O'Brien, Beat Poet and writer Allen Ginsberg, and Rolling Stones manager and founder of Immediate Records, Andrew Loog Oldham, the movie is rightly regarded as both a celebration and critique of the London "Summer of Love." At its heart was a soundtrack album which featured renditions of "Interstellar Overdrive" by Pink Floyd, "Here Come The Nice" by Small Faces, and contributions from the enigmatic Vashti Bunyan, Brit blue-eyed soulster Chris Farlowe and vocal duo Twice As Much. Newly remastered from the original master tape, the album brilliantly captures the overheated atmosphere and ferocious pace of the times.
Eighties icons Warrant ruled the day when pretty boy Jani Lane captained their ship rising on the charts on the strength of songs like "Heaven," "Sometimes She Cries," and "Down Boys." His unfortunate and untimely death has required the band to regroup. With new singer Robert Mason taking over the captain's chair the direction changes a bit on Louder Harder Faster. When you drop the needle on this 11-track collection the spinning slab of muscular hard rock definitely turns back the clock to a time when hair metal was on top of the world. There is one problem though. The current era of nostalgia for this musical genre has seen dozens of bands from the era release new material in a sustained manner that is now going on longer that their original time in the sun. Perhaps it's too much of a good thing? The output sounds a bit dated and there's no real arresting tracks here to grabyou. It would be more interesting if these legacy acts would evolve with the times instead of feeling compelled to relive their glory days by rehashing the past. Does this one warrant another listen? We'll leave that up to you.
EVEN MORE NOTABLE RELEASES! It wouldn't be the first time a major movement has been started in Israel. The Corridors create a lush soundscape as they unveil a contemporary upbeat mix that sounds like a slightly ethnic take on The Church fronted by a parallel universe Billy Corgan. With a new message song called "End Of The Times" they have cast their net and are seeking followers…
Nashville is known for a lot of musical styles including country and bluegrass. Now, Uber wants you to think of psychedelic jam, too, when Music City comes to mind. Sharing their name with the car service and co-produced by Allman Brother Johnny Neel their righteous romp through "What Do You Want To Do" is sure to give you a lift anytime you want one... 
Justin C. Cross would be the first to tell you he had a restrictive religious upbringing. It was so stifling that he eventually had to choose music at the expense of losing his family, friends and community overnight. The drama of that decision and the stark reality of his circumstance has found its way into the music on his brand new EP called Fiction of the Mind. On it, he skillfully shifts between indie rock, funk, Americana, blues, soul, and even hip hop while telling true stories of his fundamentalist upbringing clashing with rock star life. Cross has made a brave and consequence ridden decision to follow his dream. Too bad there's people in his life that would crucify him for doing so... 
Southern California-based Meresha calls her style "alien music" and that's appropriate mostly because she's about to make her presence known just like the visitors in Close Encounters. That is, in a big, bold, colorful and musical way. She's a hybrid of dance and rock with a pleasing soulful throwback voice and she's going to captivate you with her latest EP called Enter the Dreamland. A quick probe reveals a lot of intelligence and life behind her quirky sonic vision that often draws comparisons to Björk or Lorde or Perry or Lennox. I'm ready to climb on board... 
We're warming up to the 20-year-old Anja Kotar and her new single, "How To Be Cool." The track, which is laden with electronic 80's drums inspired by Phil Collins, Prince vocal filters, The Weeknd synths, and Lana Del Rey lyricism and finds her pushing the boundaries on what pop music should sound like on her debut album, NOMAD. The Slovenia native is infectious, bouyant and piercing and she's sure to freeze you in your tracks with her latest entry into the pop market... 
Ethos hail from Rome, Georgia and they get dark and dirty on their upcoming Shade & Soil that does nothing but portray this talented three-piece in a very positive light. The band is known for their fusion of heavy rock riffs, classical piano, syncopated rhythms, and melodic vocals and finds reaching out to fans of Alternative rock, Progressive rock, and Post-metal with their technically rich yet accessible sound. Think the complexity of Dream Theater mixed with 80's Rush and that is where the guys are digging into with their latest effort... 
If you're willing to take a chance on something slightly different Montreal's Chances invite you to "Leave the Light On," a song about trusting that you've got some things to learn along the way from the connections in life that may be fleeting yet beautiful. It describes going ahead with something or someone, even when you know right from the start that it may not take you all the way to the finish line. This one has been called ethereal bliss for the way it features a rhythmic counter-play between the melody and percussion complete with uplifting vocals infused with a feeling of hope and possibility. We call it enlightening... 
See ya next month!
---
Richard J. Lynch and Laura Turner Lynch are the founders of SoundPress.net, an Internet-based music industry magazine and review site, online since 1999. Laura is a published author of the inspirational Positive Power Secrets From A to Z ( www.positivepowersecrets.net ). Rich regularly interviews famous rock stars for the site's radio show and he has recently launched his own recording career at ( www.richlynchband.com ).
---
---
Richard J. Lynch and Laura Turner Lynch are the founders of
SoundPress.net
, an Internet-based music industry magazine and review site, online since 1999. Laura is a published author of the inspirational (
Positive Power Secrets From A to Z
). Rich regularly interviews famous rock stars for the site's radio show and he has recently launched his own recording career at (
www.richlynchband.com
)
---