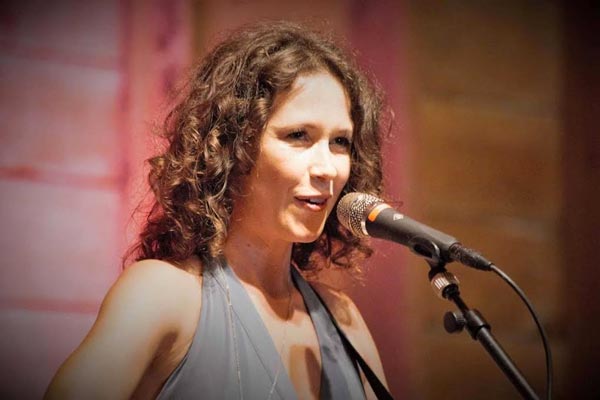 There was a time when Sarah Lee Guthrie was a shy figure on a stage—avoiding eye contact with the audience as she sang and strummed Pete Seeger's "Sailing Down My Golden River."
There will be none of that reticence when the folk artist—now seasoned and poised—makes two appearances in New Jersey this month.
She will join her famous dad, Arlo Guthrie, at 8 p.m. July 19 at Cape May's Convention Hall, and then do a solo show at 8 p.m. July 20 at The Vault at Victor Records in Berlin in Camden County.
She will also team up with her father and her brother, keyboardist Abe Guthrie, on a national "Re:Generation Tour" beginning this fall, including a show at the Mayo Performing Arts Center in Morristown in May. 
How long did it take for her to be at ease before a crowd?
---
"All this time," she said with a laugh in a call from her home in Massachusetts. "I'm still getting comfortable."
In this as in many things related to her work, she refers to the wisdom of the late Pete Seeger, a close friend and mentor of the musical Guthries, who told her that if she didn't get a little nervous before a show, something would be wrong.
And she's OK with that. 
"I think there's something to just being available," she said, "to never close yourself to the possibility of being more comfortable, or being better; so, I strive for that. I strive for finding the vulnerabilities and using them. I feel that I'm getting closer, but I hope I never arrive."
Sarah Lee Guthrie, 38, emerged as a singer while working with Arlo, and her career has developed in solo gigs; shows and recordings with her singer-songwriter husband, Johnny Irion; and family combos such as the upcoming tour.
Indeed, at times the whole Guthrie family—dad, siblings, children, and grandchildren—have crowded the stage.
And while Sarah Lee works on developing herself as a writer, singer, and musician, she says she is fortunate to be doing it within the context of a close-knit family.
"The music is definitely a part of it," she said, "to have that sacred space, the stage, where we can let go of our egos and our selves and be completely transparent to the audience and to our family members.
"The more we can be real among each other, the closer we get, because there's nothing to hide, no deception."
Guthrie does not take for granted the opportunities she and her brother and sisters, Annie and Cathy, have had to appear with their father in venues like Carnegie Hall.
"Dad has been so gracious," she said. "A lot of singer-songwriters would never let their children on stage, especially to make the mistakes that we've made.
"We sang out of tune, we played out of tune, but he was never one to turn to us and make us feel bad about it. He just threw it off as not a big deal, and that allowed us to grow without fear."
Arlo Guthrie likes to joke during his concerts that he and his ensemble haven't prepared and don't know what they're going to play next.
However true that may be, Sarah Lee says she is a bit more structured
"I have what I call the master list," she said, "so I don't go blank. I also have an outline. I know what I like to do in the beginning, middle, end. 
"Still, I don't like anything set in stone, because I like to flow with the energy."
Working out a program with Arlo, she said, is a kick for her.
"We have a fun time making set lists with each other. We have an understanding of the journey of the show. Just doing this with him, I have learned so much. I ask, 'What ride are we going to take tonight, Dad?' "
Cape May Convention Center - 714 Beach Avenue, Cape May, NJ 08204 Phone: (609) 884-9565
Tickets: $42
---
The Vault at Victor Records - 150 S. White Horse Pike,  Berlin, NJ 08009  Phone: (844) 802-2557
Unreserved/Standing Room: $15; Reserved: $25
Preferred seating, Pre-show meet, greet, and with the artist; guided tour: $40