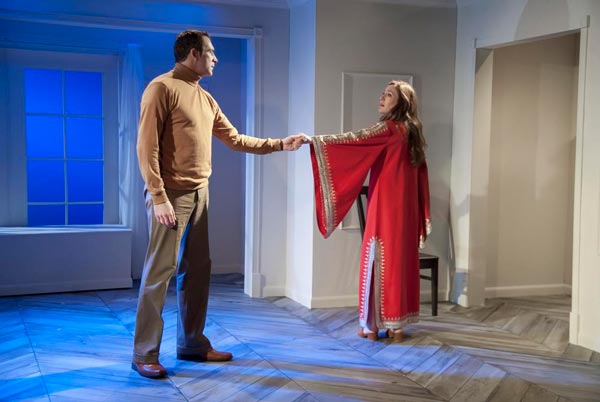 Mile Square Theatre's expertly realized revival of the 1978 "Betrayal" — Harold Pinter's brief, biting, time-reversed drama about two marriages and the seven-year-long affair that intersects them — you begin to sense there is something a good deal more profound at work.  This is a master class in restraint, grace, and nuanced acting. 
All stories of betrayal end in the death and devaluation of love and truth. And this raises the question: Is the temporary excitement of betrayal worth the ultimate price that is invariably exacted by it?  No one writes  like Pinter, with a combination of icy, sardonic brilliance that imperceptibly morphs into barely suppressed rage and pain veiled by a brittle protective layer of wicked wit.  Director Chris O'Connor keeps the pace tight with his three actors so intimate with one another and the audience the tension and discomfort in each scene is palatable.  This is the perfect play for the intimacy of the Mile Square Theater and with such a naturalistic script and expert performances, one feels like they are eavesdropping – yet you can't look away.  Call it emotional sadism.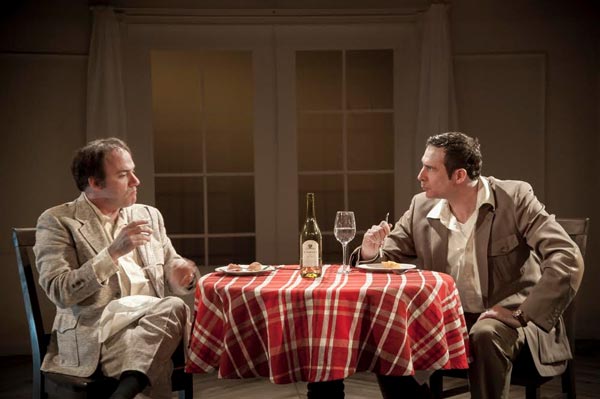 Structured in nine brief, airtight scenes that consume barely 80 minutes in two acts, the play begins in the spring of 1977 and works its way backward to a party during the winter of 1968. That is when Jerry (Aidan Redmond), a literary agent, initiates what will be an initially passionate affair with Emma (Dena Tyler), the beautiful woman married to Robert (Matthew Lawler), a publisher who just happens to be Jerry's good friend, professional colleague, and best man at the couple's wedding.
The affair, which Jerry and Emma would like to believe is totally clandestine, is carried on in a rented flat where the two meet during the afternoon. Jerry is married to a doctor who he believes is monogamous, and happy with her demanding job and two children. Robert and Emma also have two children, although the paternity of their youngest child is briefly put in doubt.
By the time Jerry and Emma meet in a pub in 1977 their affair has been over for two years, and Emma has moved on to another liaison — this time with Casey, an author with whom both Jerry and Robert are connected. Emma, who still is attracted to Jerry, reveals certain things to him that he might not have suspected. When the two men meet for lunch later that day, there are more revelations, with all the "gentlemanly" jousts of jealousy, competition, pain and rage (and, yes, a betrayal of male "friendship") in full play.  One can picture how bloody their discussed games of squash would be – with their own passions, jealousy – playing out.  Again, this speaks to the craft and delicate touch of the actors, director and playwright. 
---
Betrayal's strength and power lies in the unspoken – the expressive naturalistic performances.  Still, Betrayal is interesting, as stories of love triangles often are, and the acting alone is reason to buy a ticket. As Emma, the highly talented Tyler turns in a wonderful performance; she looks so trapped and frightened when it occurs to her that her husband has discovered her cheating, no dialogue is necessary: her worried face speaks volumes.  Lawler adds to the spare dialogue a look of largely-suppressed anguish that makes us wonder what unruly fires lie beneath his outward calm. He is tightly wound and clearly wounded.  One can easily question the accusation of affairs of his own.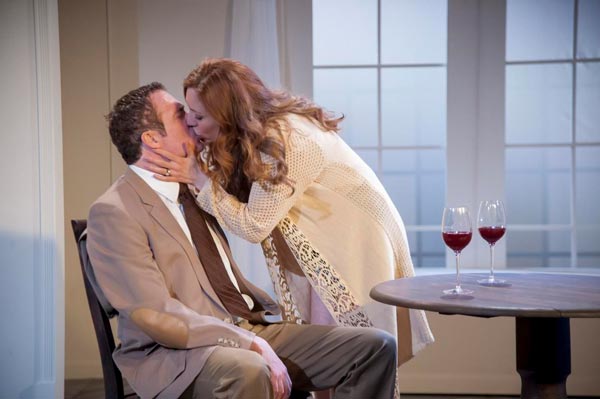 Redmond bathes in restraint and clear desire for Tyler and perhaps to break out of his life's frame.  O'Connor's staging is perfectly tense and timed.  It wracks the audience in anxiety as we are slowly drawn into these three lives. 
Tyler radiates and one can easily see how Jerry and Robert would be intrigued by her.  She is lovely, and only allows herself moments of wallowing.  And this is Pinter, O'Connor and the actors gift – allowing them space to create an emotional life that plants seeds in the audience's mind creating a deeply affecting play. 
The production plays through April 23rd.  More information and tickets at milesquaretheatre.org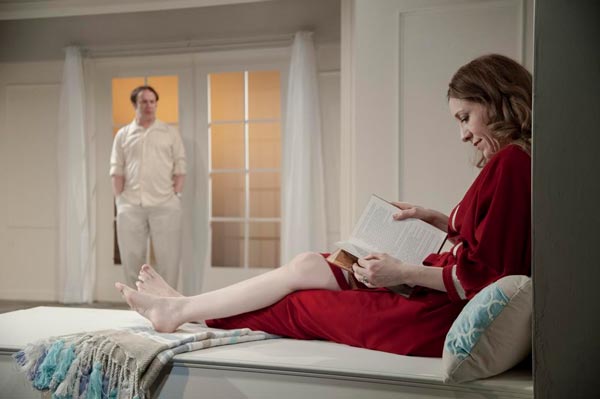 Photos by Joe Epstein