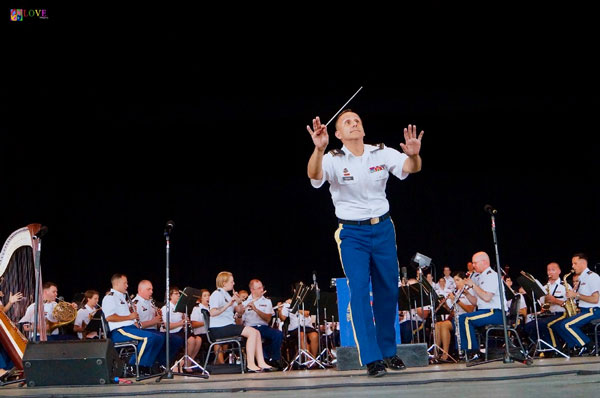 The PNC Bank Arts Center in Holmdel, NJ is bustling with activity backstage on this gorgeous June 29, 2017 afternoon.
A trumpeter sits behind the stage and warms up by playing scales on his instrument.
Singers test out their wireless microphones.
A pair of dancers practices their steps.
One thing that is unique about all of these talented performers is that even though their show is about to start in approximately 20 minutes, none of them are wearing stage costumes.
---
Instead, all proudly wear the uniform of the US Army Field Band and Soldiers' Chorus.
As several thousand Garden State residents 55 and older wait for this special program to begin, we take a moment to chat behind the curtain with Master Sgt. Rose Ryon, from Delmont, NJ. Ryon is not only the road manager for the US Army Field Band, but she is also the Chorus' soprano section leader.
Filling us in on some information about the band, Ryon explains, "Our mission is to connect the American public with our American soldiers."
Founded in 1946, the US Army Field Band has performed in all 50 states and 25 foreign countries for audiences totaling more than 100 million people!
The 65-members of this elite musical group have appeared in a wide variety of settings, from high school gymnasiums and state fairgrounds to world-famous concert venues including Carnegie Hall. The organization has also performed joint programs with many of the nation's leading orchestras, notably the Boston Pops and the Detroit Symphony.
According to Ryon, the members of the US Army Field Band travel over 15,000 miles per year making 175–180 concert appearances. Many of these shows— like the one here today at the PNC Bank Arts Center — also feature the Soldiers' Chorus, a mixed choral ensemble consisting of up to 29 members who perform music from Broadway, opera, barbershop quartet, and Americana.
In addition to the US Army Field Band and Soldiers' Chorus, Ryon reveals there are two more military-based performing groups who also serve as "musical ambassadors" for the US Army across the country and around the world. These groups include the Jazz Ambassadors, "America's big band," and The Six-String Soldiers, an acoustic group known for their skillful playing of Americana, folk, blue grass, and Irish music.
According to Ryon, her favorite thing about being a part of this noteworthy performing organization is getting an opportunity to meet audience members after each show and "see the impact we have on them directly."
Ryon also enjoys being able to see high school and college friends whenever she returns to the Garden State to perform; as she explains, "It's amazing how one can reconnect so easily with people here in New Jersey!"
Just moments before the show is about to begin, we get an opportunity to chat with the US Army Field Band's top-notch conductor, Col. Jim Keene.
Keene, who has been in the military for 23 years, tells us why he is proud to be the leader of this illustrious musical ensemble, revealing, "This group gets to do what all Americans should get to do — travel and meet Americans in their own backyards, hear their stories, and realize the humanity and connectivity that we all have. It's powerful."
Often asked why the US Army has performing groups like this one, Keene explains, "Music is storytelling — it's communication — and our performing groups connect America with its Army. When we travel overseas and see how other societies live, we realize we have something spectacular in this great country. Also, at our concerts, so many veterans have an opportunity to tell us how our music makes them feel young again, and the public constantly tells us that seeing our band perform makes them feel proud."
As we make our way into the PNC Bank Arts Center's spacious amphitheater, we notice several thousand members of the public in the audience today. Among them, some are holding American flags, whereas others are wearing caps identifying their branch of US military service.
Directly in front of us, the stage is now set with a full concert band, including a bassist and a harpist. The musicians begin to tune their instruments to the first clarinet's tuning note as the members of the Soldiers' Chorus make their way onto the stage.
Garden State Arts Center Foundation commissioner Ron Gravino welcomes the crowd to the PNC Bank Arts Center to this afternoon's free concert for New Jersey residents aged 55 and older.
Proudly introducing these service men and women to the audience, Gravino states, "I am more than incredibly grateful for the US Army Field Band and Chorus to be here today — especially on this 2017 Fourth of July weekend!"
The concert begins with Col. Jim Keene conducting the audience as they sing along to a stirring rendition of "The Star-Spangled Banner" performed by the members of the US Army Field Band and Chorus.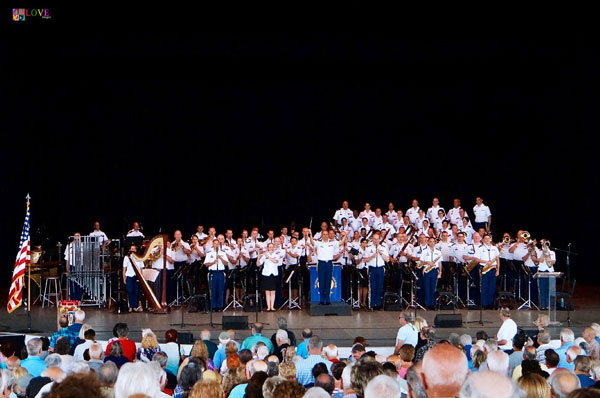 Following huge applause, under the direction of Col. Keene, the concert band performs their rendition of "Thunder and Lightning Polka." As the cymbals crash, the timpani drums punctuate this lively instrumental piece to grand applause.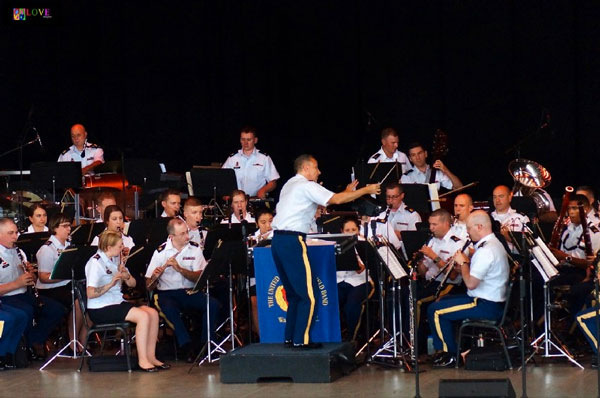 On the group's next number, "Chimes of Liberty," the chimes ring out a catchy melody, and a piccolo sings above the band like a beautiful bird.
The music changes from fast and furious to soft and flowing responding to Col. Keene's direction on the band's next selection, "Godspeed."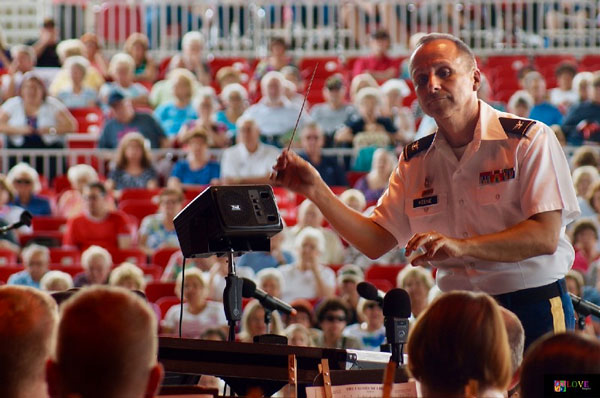 Just as the breeze flowing through the open-air ampitheater picks up, the woodwind section plays a gentle melody that leads into a rousing section which ends with a flourish as the band rises to the crowd's heavy applause.
Upon hearing its famous tin whistle opening refrain, Col. Keene encourages audience members to clap along to "Garryowen" — a catchy Irish tune frequently used by army bands in several countries around the world.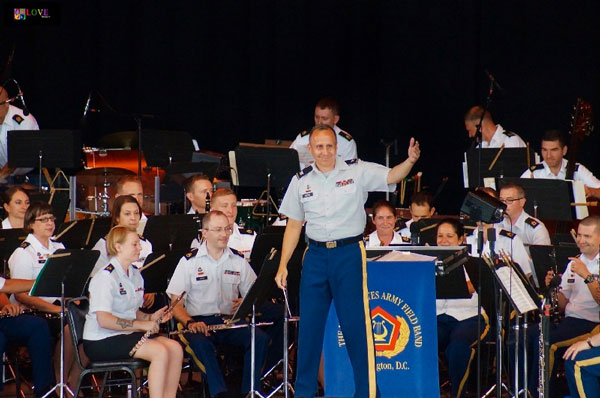 This is followed by Lt. Alexandra Borja who takes the stage to lead the group as they perform "Doughboy Tribute," a medley of old-time favorites including "Hinky Dinky Parlez-Vous," "My Buddy" — featuring a vocal solo by Staff Sgt. Timothy Coombs — and a spirited rendition of "Pack Up Your Troubles in Your Old Kit-Bag (and Smile, Smile, Smile)."
Next up is a lively medley consisting of two Cole Porter songs — "It's De-Lovely" and "So in Love," both featuring soprano Sgt. First Class Charis Strange and vocalist/trombonist Sgt. First Class Carmen Russo.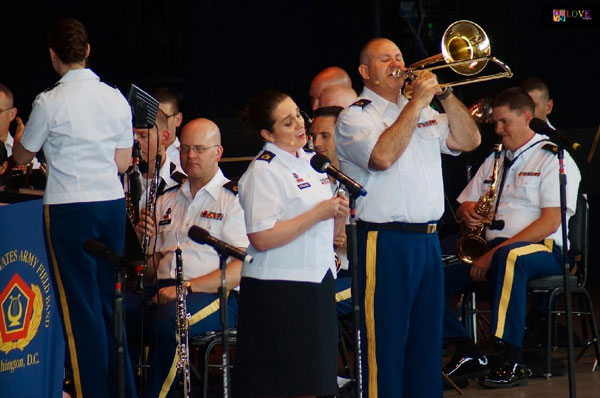 Act I wraps up with the band performing "Light Calvary Overture." On this piece, the melody jumps and runs with familiarity, inviting the audience to clap along, ultimately finishing with audience cheers and whistles at the end.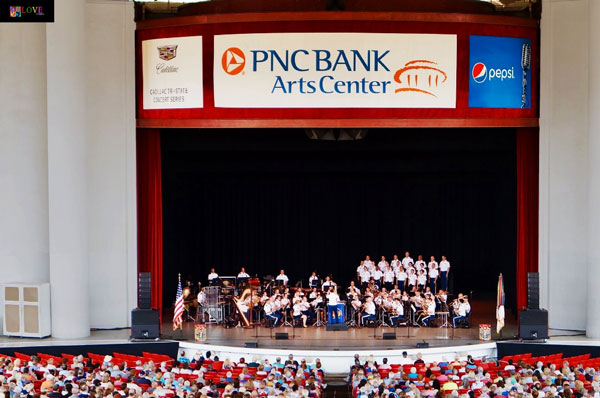 Act II begins with the Soldiers' Chorus, under the direction of Lt. Borja performing an a cappella selection of pieces which show the versatility and musicianship of these talented singers. Included are such classics as "Soldier, Soldier Will You Marry Me?," in addition to the stirring "This is My Country," which elicits a hearty round of applause!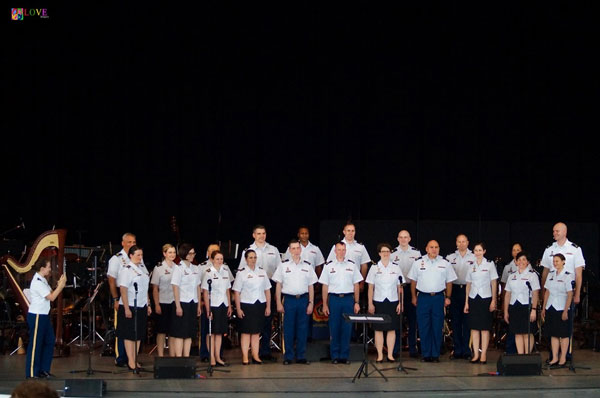 In a tribute to the Ringling Bros. Circus, the US Army Field Band performs "Thunder and Blazes," making some audience members feel like they're under the circus big top right here at the PNC Bank Arts Center!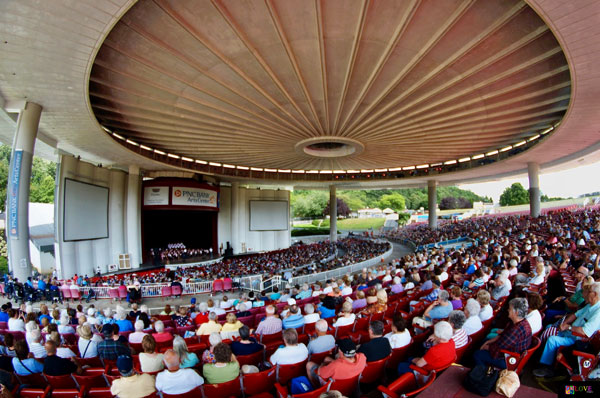 One particular musical highlight of this afternoon's concert is a medley of tunes including "The Girl from Ipanema," which has soloists from the chorus softly serenading the crowd. This is followed by the band performing a soulful rendition of "Oye Como Va," featuring a dancing couple doing the samba as the audience sways along on this upbeat number.
In recognition of our WWI heroes, the US Army Field Band performs a Glenn Miller staple which, we're told, contains the "oldest continuously operating phone number in the world, 'Pennsylvania 6–5000.'"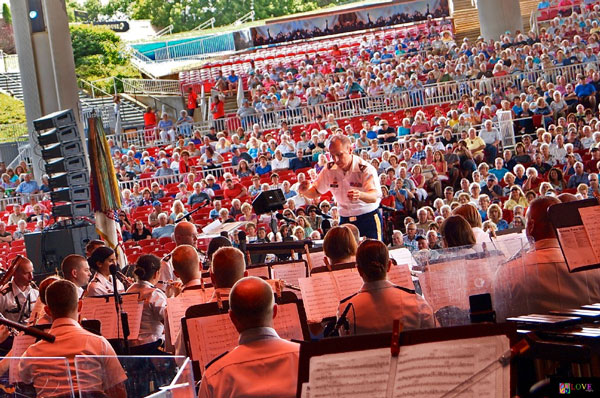 This tune features the trumpets and saxophones trading turns soloing on their instruments.
Then, on another highlight of the program, the musicians perform a collection of armed service theme songs in a piece entitled "Armed Forces Salute." On this rousing medley, the band and chorus honor audience members associated with the Coast Guard, Air Force, Navy, Marine Corps, and the Army. Asking them to stand when they hear their special song, each group receives recognition for their service from these currently-serving men and women of the military.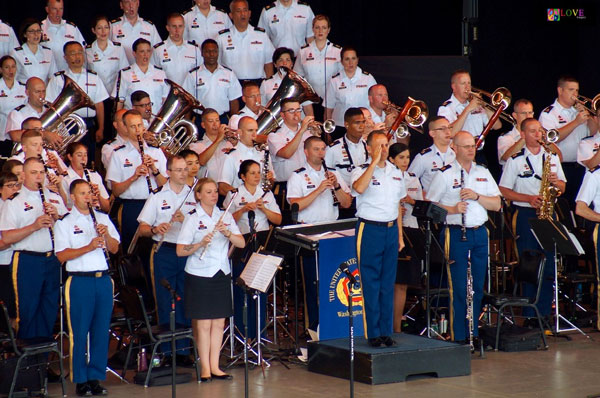 Yet another musical highlight of the afternoon's performance is an outstanding rendition of Tchaikovsky's "1812 Overture," with all its grandness and glory bringing the crowd cheering to its feet!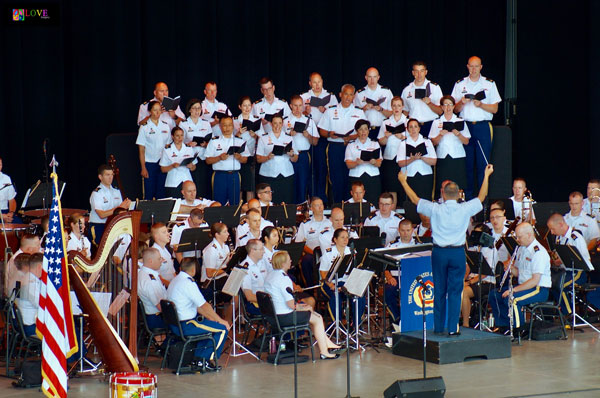 Ending with John Philip Sousa's "Stars and Stripes Forever," the audience joyfully claps along to Col. Keene's baton.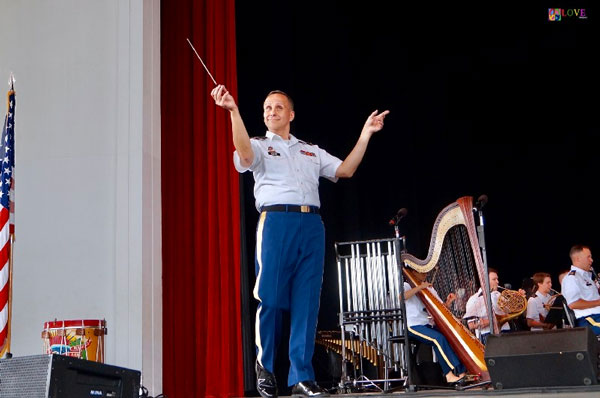 Four piccolos take front and center to play the happy countermelody.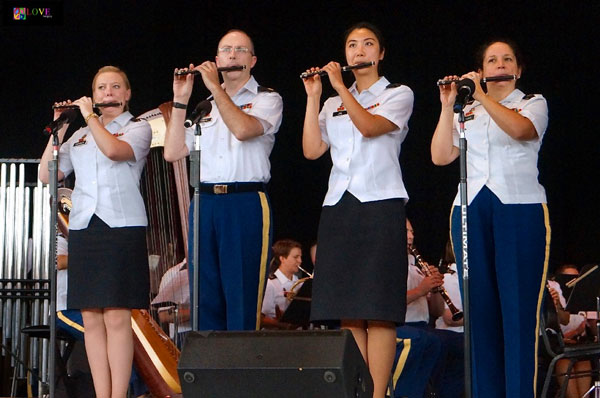 Following a standing ovation, for an encore, the band and chorus perform a moving rendition of the powerful Frank Sinatra song, "The House I Live In." The piece features chorus member, Sgt. Maj. William Gabbard, who is making his last tour with The US Army Field Band and Soldiers' Chorus before retirement following 30 years of service.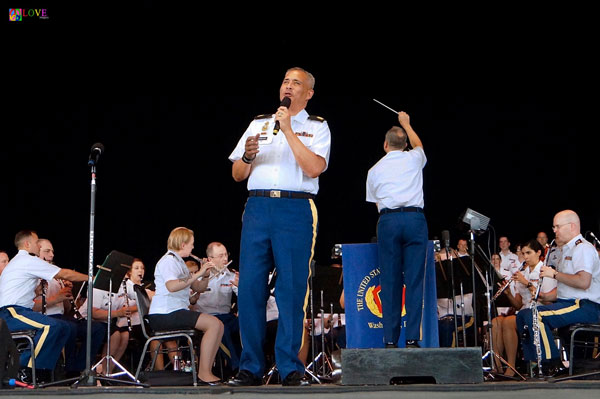 Once Gabbard sings, "What is America to me?," he answers with lyrics which include, "The people that I meet/The children in the playground, the faces that I see/All races and religions, that's America to me."
This moving number brings people to their feet one last time in appreciation for this entire talented cadre of musicians!
Following the performance, we get an opportunity to chat with several members of the group.
Staff Sgt. Derek Stults from West Windsor is a percussionist with the band. Stults credits his success as a musician to "the music program in the West Windsor/Plainsboro district," which he says, "was always supported by the community."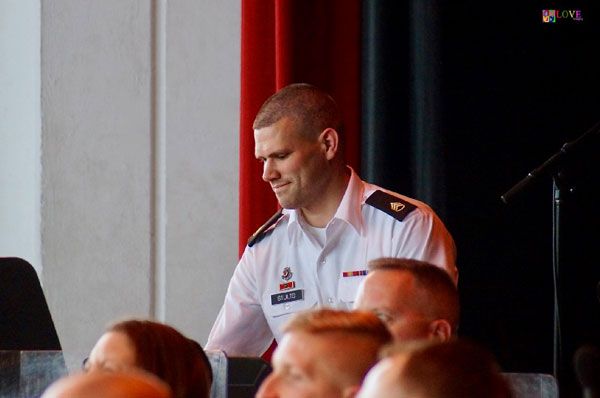 "I am blessed to be a part of this group," comments Stults. "We do this to make high-quality music and share it with people, as we're on the road over one hundred days a year."
But when he's traveling, just what does Stults miss most about New Jersey?
Asserts Stults, "I miss Hoagie Haven in Princeton! If I'm ever within 30 miles of it, I will find a way to get there for a hoagie."
"Also," he adds, "the Jersey Shore is a jewel."
We additionally chat with Staff Sgt. Rachel Rose Farber from Somers Point who is a soprano singer and violinist with the US Army Field Band and Chorus.
Since most concert bands consist of brass, woodwind, and percussion instruments, Farber explains that the US Army Field Band is somewhat unique when she says, "We actually have several string players in our band — bass, violin, and harp."
Farber credits her success as a musician to her musical mentors in the Garden State — Sandy Miller and Nancy Fox — acknowledging, "I owe everything to them."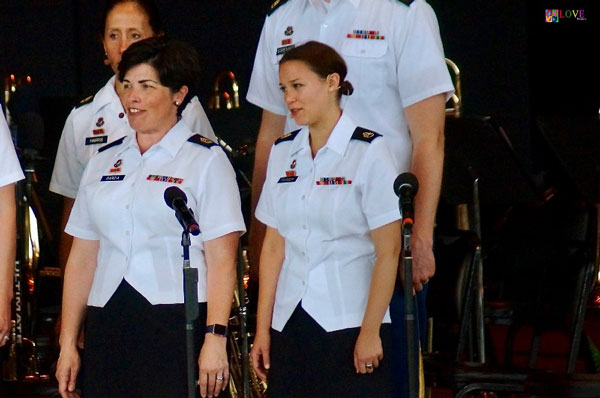 Farber tells us she loves coming back to perform in her home state from her current residence in Maryland because, as she reveals, "You can't get a good bagel in Baltimore, so when I come to Jersey, I always get a bunch to take home with me!"
Lastly, we chat with Staff Sgt. Timothy Coombs from South Brunswick who, earlier, sang the tenor solo on the song, "My Buddy."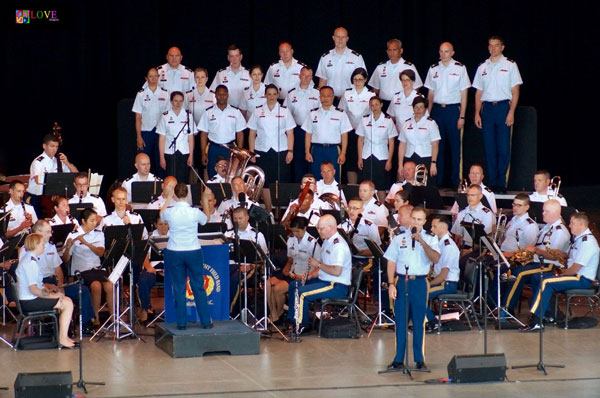 Coombs — who especially loves meeting people when the group tours on the road — admits, "Sometimes, it's hard to sing when I choke up seeing the audience stand during our patriotic songs."
Coombs tells us he saw his very first concert, The Beach Boys, right here at the PNC Bank Arts Center. As such, he's very proud to have his mom and his future in-laws in the audience today to see him perform at this noted home state venue.
Coombs is also glad to be back in the Garden State because, as he explains, "I can always ask in a restaurant, 'What do you have with pork roll on it?'"
In addition to interviewing these fine musicians and soldiers, we also take a moment to chat with several audience members regarding their experiences enjoying today's performance.
Heddy from Oak Ridge exclaims, "It was terrific!"
Heddy's husband, Ernie, says, "I was a Marine. I liked it when we got to stand up during our anthem. It was inspiring music — especially for those of us in the military," going on to add, "If they need me, I'm ready to sign back up!"
Charlie from Clark reveals, "I played hooky from work to come see this concert," before emphatically exclaiming, "and I loved it!"
Rose from Lawrence Harbor brought a flag to wave during Sousa's "Stars and Stripes Forever." Rose is from a Navy family who proudly stood up for the playing of the Navy song.
Her good friend, Susan from Garwood, also brought a flag to wave today, as well.
Reveals Susan, "We come to a lot of concerts here at the PNC Bank Arts Center. I especially love the patriotic shows."
And capturing the emotions of many in the audience for the US Army Field Band and Soldiers' Chorus concert today, Susan concludes by asserting, "They make me feel proud of my country!"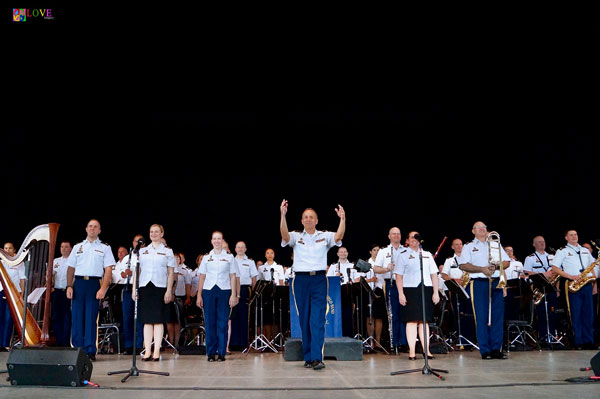 To learn more about the US Army Field Band and Soldiers' Chorus, please go to armyfieldband.com. For more information on future free Garden State Arts Center Foundation concerts for New Jersey residents aged 55 and older — including From Broadway to Hollywood with Richard Glazier on Sept. 6, Bobby Rydell on Sept. 19, and The Cameos on Sept. 26 — please go to gsafoundation.org.
Photos by Love Imagery
Spotlight Central. Your source for Jersey entertainment news and reviews
Love Imagery Fine Art Photography. all you need. peace/love/flower/power