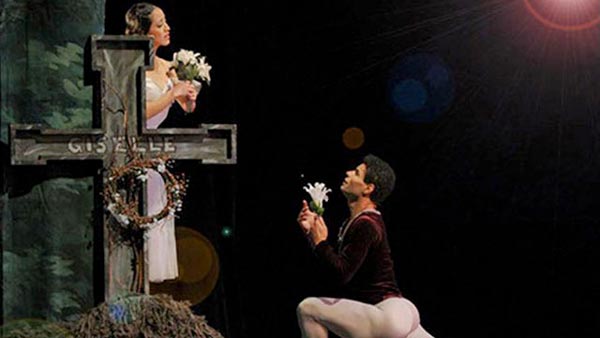 (MORRISTOWN, NJ) -- New Jersey Ballet returns to Mayo Performing Arts Center for a weekend of performances for ballet fans young and old. Saturday, May 20, it presents Giselle. Sunday, May 21, it presents ballet for children, the stories of Beauty and the Beast and Peter and the Wolf. Tickets for Giselle are $29-59; Beauty and the Beast: $15-25.
Since 1841, when Giselle first appeared on the stage of the Paris Opera, she has protected her faithless lover from certain death countless times in theaters across the world. Giselle on one of the most popular ballets in the classical repertory, and its leading role is among the most sought-after in ballet.
The Sunday children's ballet presents two one-act ballets based on classic stories. Goodness and love turn an ugly beast into a handsome prince in Beauty and the Beast, set to the music of Ravel. A plucky boy saves his animal friends from a wicked wolf in the Russian folk tale Peter and the Wolf, featuring the witty Prokofiev score. Ages 4 and up.
For more than half a century, New Jersey Ballet has thrilled audiences from Bergen to Cape May with top quality professional ballet and has given hundreds of thousands of adults and children their first introduction to ballet and inspired in many a lifelong love of the arts.
The founding of New Jersey Ballet created a profound change in the cultural landscape of New Jersey. Over the years, New Jersey Ballet has brought the magic of dance theatre to countless students, little children, senior citizens and adults of all ages. During its 26 week season, New Jersey Ballet performs a variety of works from classical, contemporary and jazz ballet at 10 venues throughout the state, and has toured nationally and around the world.
---
Mayo Performing Arts Center is located at 100 South Street in Morristown, NJ.