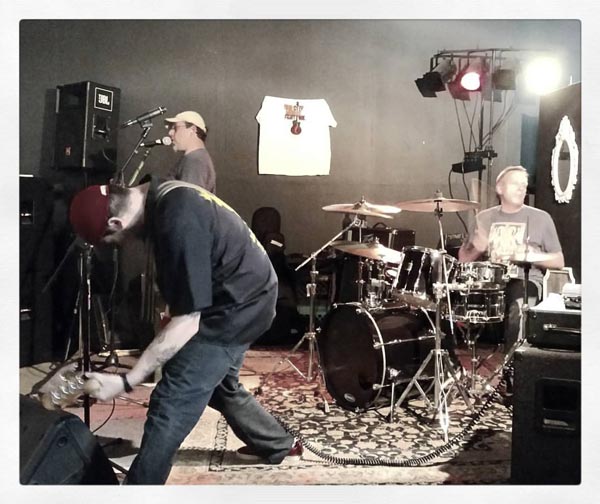 Featuring ex-members of Buzzkill, Boss Jim Gettys and Good Clean Fun, the local super group Atom Driver have released their second in EP in six monthswith the aptly titled "In the West" in honor of the positive experience they had making the five-song collection at the Hub City studio on Jersey Avenue.
The grungy opener "Mamouskha" kicks things off nicely with a nod to the fuzzy chunk of Hawkwind and the snotty spout of Dead Kennedys. The entertaining sonic onslaught continues with the Fugazi-like barrage of "Wournous." The primal tempo flirt of "All This and More" would shake the plaster from the basement of any New Brunswick show house. The same is true of "Toetapper's Revenge."
The closing "Play Dead" reminds me of Nudeswirl, the New Brunswick grunge act whose early '90s appearance on MTV's "Beavis and Butt-Head" finally brought the Hub City scene the national attention it deserved. Unfortunately, the show also forced Butthead to change their name to Buzzkill, but that worked with a record deal from Jello Biafra's Alternative Tentacles.
I'm happy that "In the West" continues in the tradition of those great New Brunswick bands. Available only on Bandcamp, the music also can be heard at Atom Driver's release party on Aug. 26 at Pino's in Highland Park with Mr. Payday, who also will celebrate the release of a new album (see a review in a couple of weeks), plus Sux, featuring ex-members of Adrenaline O.D., and Little Dickman recording act Dentist. Atom Driver also will play Sept. 2 at Meatlocker in Montclair and Sept. 16 at Millhill Basement in Trenton with World Sucks.
Bob Makin is the reporter for www.MyCentralJersey.com/entertainment and a former managing editor and still a contributor to The Aquarian Weekly, which launched this column in 1988. Contact him at makinwaves64@yahoo.com. Like Makin Waves at www.facebook.com/makinwavescolumn.