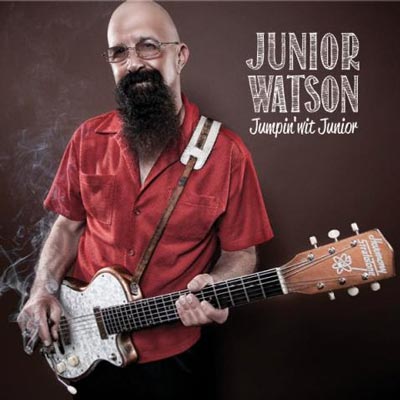 (TUCKERTON, NJ) -- The Lizzie Rose Music Room presents Junior Watson with Dean Shot and the Soul Senders & Johnny Childs live in Tuckerton on Thursday, August 3 at 7:30pm.  Tickets are $30 in advance and $35 at the show.
With nearly thirty years of experience, Junior Watson has reached cult status. Junior has done what all great artists have done: melting diverse styles to create a style all his own. With influences as diverse as Tiny Grimes, Oscar Moore, Bill Jennings, Rene Hall, Robert Jr. Lockwood, Jimmy Rogers, Eddie Taylor, Guitar Slim, Earl Hooker and others he has truly created one of the most unique and original guitar voices to come along in years. Besides his mastery of blues and swing he often adds his own cartoon-like twist to everything he plays. You'll never know what he will do and when asked he doesn't know himself. His energy and playing gives you a feeling of reckless abandonment. As he was once quoted "like a train off the tracks".
His artist resume is as large as it is impressive. A founding member of The Mighty Flyers he stayed with the band for ten years. He then left to join Canned Heat for ten years. He then toured for a while with LA-based harmonica player/vocalist Lynwood Slim. All along the way he has backed up and recorded with the who's-who of the blues. His list of musical endeavors include backing up and recording with Big Mama Thorton, George Smith, Jimmy Rogers, Shakey Jake, Luther Tucker, Charlie Musselwhite, Kim Wilson, William Clark and there's more. Suffice to say the list is very extensive.
Vocalist and Guitarist Dean Shot is and has been for many years one of the east coast's premiere authentic blues artists.  If you took Hubert Sumlin, Albert King, Chuck Berry, Link Wray, Louis Prima, Tiny Grimes, Robert Jr. Lockwood, Willie Johnson, Howlin Wolf, Eddie Cochran, Frank Sinatra, Freddie King and Slim Gailliard and put them in a big bowl of mmm mmmm gooood with some garlic and hot sauce on em....that's what you get with Dean Shot.  He spent almost 6 years playing with Hubert Sumlin, then went on to play with Big Jack Johnson, David Maxwell, Greg Piccolo, Paul Oscher, Steve Guyger, Deak Harp, Dennis Gruenling, Mikey Junior, The Gas House Gorillas, JB Lawson, Floyd Phillips, Lonnie Youngblood, Studebaker John, Eddie Shaw, Carl Weathersby, John Primer and many more.
Johnny Childs is an American Blues musician and bandleader of The Johnny Childs Band based in New York City. Johnny is an acclaimed blues guitar virtuoso, singer, songwriter and star of the award winning documentary film "The Junkman's Son".  Born into an impoverished, ultra orthodox Jewish family of ten siblings, Johnny left home at the tender age of 8.  His storied life as chronicled in the film "The Junkman's Son" has been called "nothing short of astonishing!"  [Billboard Magazine]. Johnny spent the better part of the past two decades honing his musical skills, performing in various countries and many cities across the U.S.  His musical development includes a 12 year stint in Los Angeles learning from the many west coast masters and players coming through, ultimately solidifying his own musical voice and moving back to New York City in 2006.
---
The Lizzie Rose Music Room is located at 217 East Main Street in Tuckerton, New Jersey (Exit 58 off the Garden State Pkwy).  Free parking is available and the facility is handicapped accessible.  BYOB.