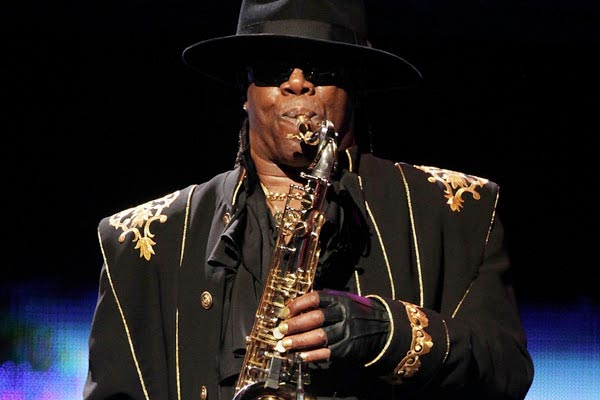 (NEW YORK CITY, NY) -- A very special Light of Day Winterfest 2017 show will celebrate the life and birthday of Clarence Clemons on Wednesday, January 11, 2017 at The Cutting Room in New York City.  The show's lineup includes The Soul Cruisers featuring JT Bowen (lead singer with Clarence Clemons and the Red Bank Rockers), Willie Nile, Jeffrey Gaines & Chuck Prophet, Joe D'Urso and Stone Caravan, The Weeklings, and Hollis Brown, with a special guest appearance by Jake Clemons and His Band.
Showtime is 6:45 p.m.  Tickets are $45 for general admission table seats; $75 for upfront VIP seats at www.thecuttingroomnyc.com  (44 E. 32nd Street in New York City) or call 212-691-1900.  Proceeds go towards the goal of topping last year's record-breaking $525,000 raised in its ongoing battle against Parkinson's disease.  This show is part of a 10-day Light of Day Winterfest, which will bring over 150 music acts to 30 venues in three New Jersey cities, New York City, and Philadelphia, from January 6-16, 2017.
---
INSIDE THE LINEUP: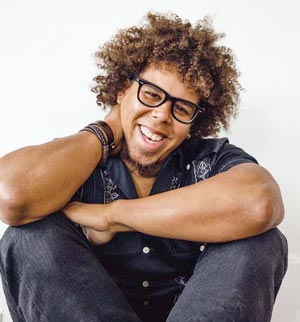 There's the hair, then there are the glasses, but ultimately there is a person who is a magnet for positive energy, emotion, and creating stories. While he feels a deep connection to his past – Jake Clemons continues to make a deep connection in the present by living life to its fullest through a musical journey that has led him to be spending the last five years playing the tenor and baritone saxophone performing with Bruce Springsteen & The E Street Band. When not on stage with Bruce, Jake is touring the world with his band or solo, bringing his own music to his legions of fans in most corners of the planet. Or you may see him sitting in with Glen Hansard, Swell Season, The Roots, Eddie Vedder, Tom Morello's Prophets of Rage or Roger Waters. Jake sings, and plays the guitar, sax, piano, and drums. He writes his own music and he loves rock 'n roll. Jake is very excited to be sharing the new songs from his latest solo album, "Fear & Love."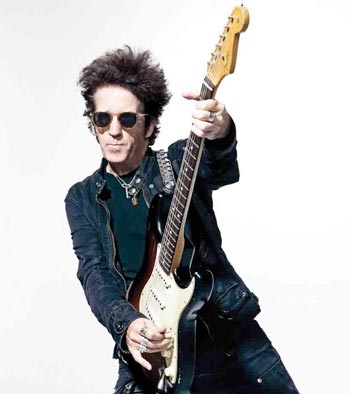 The New York Times called Buffalo, NY born Willie Nile "one of the most gifted singer-songwriters to emerge from the New York scene in years." Uncut Magazine called him "A one-man Clash." His album Streets Of New York was hailed as "a platter for the ages" by Uncut. Rolling Stone listed The Innocent Ones as one of the "Top Ten Best Under-The-Radar Albums of 2011" and BBC Radio called it "THE rock 'n' roll album of the year." His single from that album, "One Guitar" has become an unofficial anthem at Light of Day concert events. And it's no wonder: Willie is one of the few artists to have participated in Light of Day every year since the beginning. In fact, a portion of proceeds from his latest album, World War Willie, are being donated to Light of Day.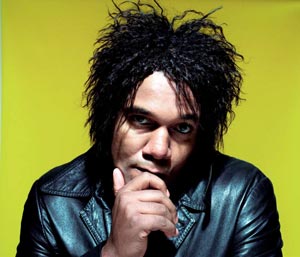 Returning to the East Coast from Light of Day Europe, Jeffrey Gaines has been heralded for his soul-searching lyrics and powerful live performances. With only his voice and a guitar for accompaniment, the longtime Philly-based singer-songwriter has earned a reputation as a captivating performer, entertaining audiences everywhere he goes. Raised by parents more inclined to spin soul classics by Aretha and Otis than the New Wave and Brit Rock blasting from their son's room, a teenaged Gaines began singing and playing guitar in several local garage bands. He soon decided to set out on his own and quickly landed a record deal, releasing Jeffrey Gaines. Throughout his career, Gaines has built a rapport with his fans unlike any other in popular music today. he goes as far as letting his fans influence the songs he performs each night. "Someone may yell a song," he says, "and I'm like 'Exactly! Good call.'"  JG's 2016 return to Europe with LIGHT OF DAY was accompanied with long-awaited new music, with a release to follow in early 2017.
---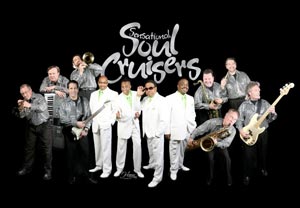 The Sensational Soul Cruisers are an 11-man horn group fronted by four soulful vocalists who pay homage and tribute to classic performers from Otis Redding and the Drifters to Barry White and the Commodores. With a lifetime of study and hard work, this group captures and emulates the distinctive style, skill and choreography of a classic show band. With gruff-voiced shouter John "JT" Bowen out front, it will be like re-living Clarence's classic band, The Red Bank Rockers, and together, they'll be performing the Red Bank Rockers' debut album, Rescue, in its entirety, for a sizzling set of neo-'60s R&B ravers.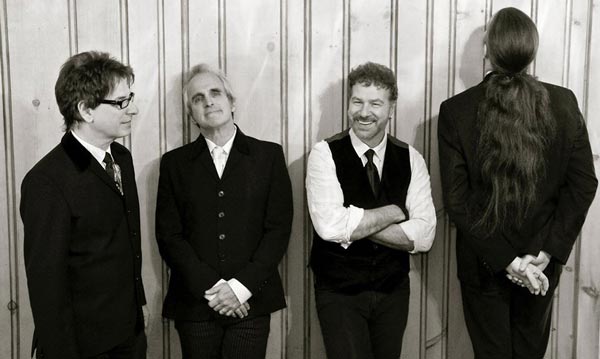 The quartet known as The Weeklings, featuring Jersey rock icon Glen Burtnik and fellow Jersey Shore gold record songwriter Bob Burger, perform Beatles-inspired power pop music with infectious passion and enthusiasm. As professional musicians that have appeared and collaborated with many high profile national artists, they bring a level of precision and authenticity rarely matched in any performance of '60s rock and roll.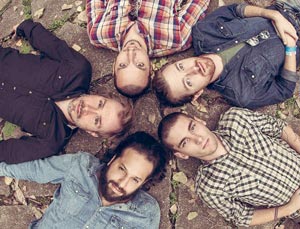 Hollis Brown is an American Rock 'n' Roll band. Named after a Bob Dylan song ("The Ballad of Hollis Brown"), the band was formed by Queens-natives and songwriters Mike Montali (lead vocals/guitar) and Jonathan Bonilla (lead guitar), both 2nd-generation immigrants (Italian-American and Puerto Rican-American, respectively).The edgy, roots-rock indie band is known for its adrenaline fueled performances, recently wrapped 40+ amphitheater shows across America supporting Counting Crows and Citizen Cope last Summer/Fall, followed by a month-long headline tour in the UK and Europe.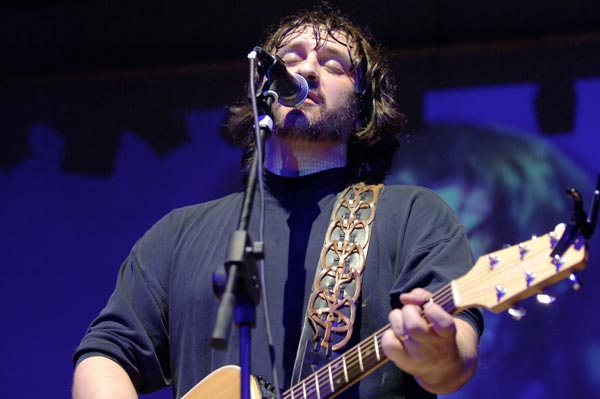 Also just returning from Light of Day Europe, Joe D'Urso is a Light of Day fixture who, like Willie Nile, has played Winterfest every year since its inception. An Americana/Jersey Shore style roots rocker who tours and records extensively, Joe began rollicking in the early '90s. His raw style is keenly similar to the likes of fellow rockers John Mellencamp, Tom Petty, Bruce Springsteen and Bob Dylan. Joe has been critically acclaimed for being a passionate songwriter and an earnest performer with a deep love for making music. He and his band independently released their debut, Rock-Land, in 1993 and since then have released 12 more albums including Glow (1998), Rock and Roll Station (2000) and the most recent Sway (2013).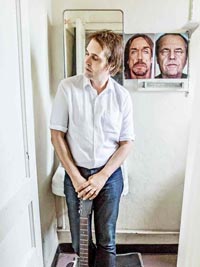 Since emerging onto the music scene at age 18 as a member of the seminal rock band Green on Red, Chuck Prophet has collaborated with everyone from Warren Zevon and Kelly Willis to Jim Dickinson and Lucinda Williams among many others. In recent years, Prophet's music has been featured in several hit television series including HBO's True Blood, Showtime's Californication, and FX's Sons of Anarchy. He also co-wrote all the songs on Alejandro Escovedo's 2008 critically acclaimed album Real Animal.
Light of Day WinterFest has gained international notoriety for surprise performances by Bruce Springsteen in 11 of the previous 16 years. In his new autobiography, Born to Run, which just topped the New York Times Best Sellers List as well as in several countries worldwide, Springsteen revealed that his father suffered from Parkinson's Disease. 
In 2015, Billboard Magazine presented the Humanitarian Award to Bob Benjamin and the Light of Day Foundation at the Billboard Talent & Touring Conference & Awards "for their 15 years of bringing awareness and support for Parkinson's disease through live music events." Benjamin, an artist manager and music industry veteran, has been living with Parkinson's since 1996, two years before he co-founded Light of Day with Executive Director Tony Pallagrosi, whose mother, Dolores, died in 2002 from the effects of PSP.
For a full listing of Light of Day shows visit www.lightofday.org