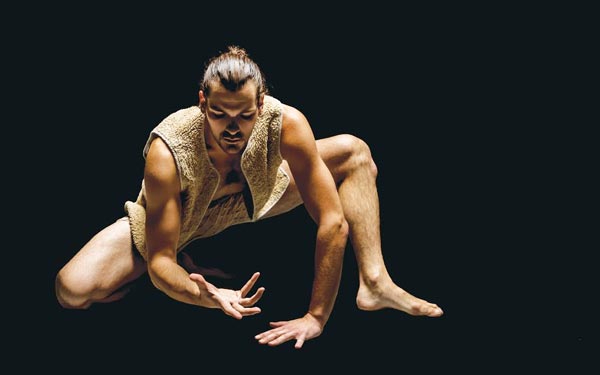 (WEST LONG BRANCH, NJ) --  The Center for the Arts at Monmouth University presents the Koresh Dance Company on February 18, 2017 at 8:00pm. The show represents a milestone for the organization founded in 1991 by artistic director Ronen "Roni" Koresh — as well as the Philadelphia-based troupe's first excursion to the recently renovated Pollak Theatre. The enlarged stage area, improved sight lines and nearly 700 new seats of Monmouth's flagship auditorium promise to provide a friendly port of call to what's been hailed as "an exciting company, with choreography full of surprises and dancers equipped to execute the often-stunning shifts in dynamic and mood."
Continuing a Silver Anniversary tour schedule that began in the 25th birthday year of 2016, Koresh Dance presents a retrospective program of highlights from more than 60 works created by the Israeli-born visionary. It's an evening of "Classic Koresh" that stands on a quarter-century foundation of innovative artistry, even as it heralds an exciting next step into the future for the celebrated company.
The evening is a "classic" in another engaging way, as the selections from the Koresh repertoire are performed to a soundtrack of well-known compositions by the world's most instantly recognizable masters. Such audience favorites as Beethoven's "Moonlight Sonata" and Ravel's "Bolero" are juxtaposed with the bracingly modern visual compositions of Koresh, in a marriage of the old and the new that serves to illuminate each aspect of the experience.
A centerpiece of the "Classic Koresh" program, commissioned especially for the occasion, is "23: Deconstructing Mozart," a new spin on W.A. Mozart's Piano Concerto No. 23 that marks a collaboration between the choreographer and the multimedia hip-hop innovator Paul D. Miller — who in the guise of "DJ Spooky, That Subliminal Kid" has teamed on projects with artists as diverse as Patti Smith, avant garde composer Iannis Xenakis, filmmaker Bernardo Bertolucci, and Texas-based Ballet Austin. A touring troupe assembled from Koresh's company of ten full-time professionals brings the era-spanning mix of sound and vision to passionate life — a must-see for dance aficionados, and, for the coastal New Jersey audience, a dazzling introduction to the world of Koresh.
Tickets are priced at $35 and $48, with attendees invited to take part in a talk-back session with the featured company members following the performance. Reservations are available through the Monmouth University Performing Arts Box Office at 732-263-6889, or online at www.monmouth.edu/arts.
---
The Pollak Theatre is located on the campus of Monmouth University in West Long Branch, NJ.