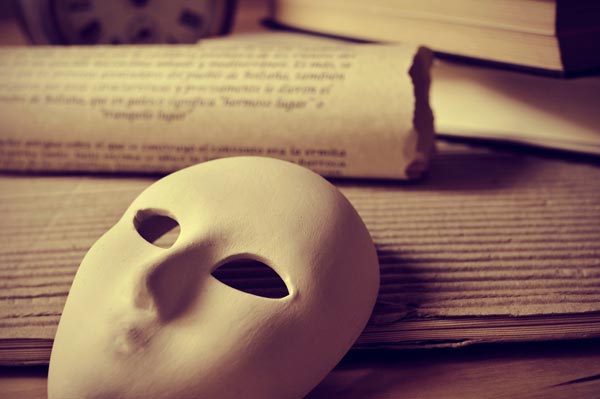 (JERSEY CITY, NJ) -- Jersey City Theater Center (JCTC) presents the first annual New Play Festival, a series of staged readings of new plays by established and emerging playwrights held in Jersey City. The inaugural New Play Festival, a partnership between the Writers Theatre of New Jersey, runs February 9 through March 25.
The New Play Festival begins February 9, Fourth Planet by Dano Madden, about an astronaut deciding between relationships on earth and becoming the first woman on Mars, setting a tone for a cluster of plays that defy genre, embrace diversity, and explore important issues of our times.
"As a presenting venue, JCTC is committed to nurturing new voices in American theatre," said Olga Levina, Artistic Director.  "It is urgent, because of the times we live in now, that we listen to each other so can we fully analyze our current situation and build our future together. These playwrights represent the voices of people from a cross-section of society.
We need a theater that is inclusive, that enables audiences to listen to voices from many different theaters. With the New Play Festival, we are bringing plays of artistic excellence so audiences can experience quality work, many of which seem destined to become full-scale productions."
"The New Play Festival at JCTC provides a valuable new play development opportunity for local playwrights.," said Lia Romeo, New Play Reading Coordinator, JCTC. "Before new plays come to the stage in a full production, it's incredibly helpful for playwrights to hear them in front of an audience in a "reading" format, and get a sense of what's working and what isn't. It also provides an opportunity for audience members to give feedback and get involved with the development of a new work of art."
---
"The women's marches on January 21 were truly borderless events, occurring in almost every state and on every continent," said John Pietrowski, Artistic Director, Writers Theatre  of New Jersey. "March is Women's History Month, and the plays Writers Theatre are offering as part of the New Play Festival celebrate the resilience and determination of women; from the large historical canvas of the Paterson Silk Strikes, to the quiet fortitude that holds a family together in Newark during the Depression and World War II, to women incarcerated in the American prison system, or struggling to find a spiritual and moral center against impossible odds."
Bringing new audiences to emerging artists and enabling new artistic voices to be heard not only is in keeping with JCTC's mission, but is an artistic endeavor that seems more necessary today than ever before. "Supporting  emerging artists and new voices is especially important now, at a time when the arts aren't highly valued by the political administration," said Romeo, who is also an accomplished playwright. "There are programs like this in New York, but few in Hudson County. There's an incredibly smart, diverse, cultured audience in Jersey City that's hungry for this kind of thing. JCTC is a hub for the local arts scene and working with emerging theater artists on new and innovative works is a huge part of that."
All New Play Festival readings are held at Merseles Studios in Jersey City and are free ($5 suggested donation) and open to the public.
For more information or to purchase tickets visit  jctcenter.org 
Jersey City Theater Center Merseles Studios is located at 339 Newark Avenue in Jersey City, NJ.
---
NEW PLAY FESTIVAL SCHEDULE
Thursday, Feb 9th • 7:00pm New Play Festival/Staged Reading Fourth Planet by Dano Madden. As Dr. Violet Garcia attempts to be chosen for the first human mission to Mars, she is forced to confront the possibility of losing her most important relationships on Earth. Fourth Planet is a play about the future of humanity and what scientific advancement and sacrifice looks like through a very personal lens. – reading followed by Talk-Back.
Wed, March 8 • 7:30pm New Play Festival/Staged Reading Paterson Falls by Rosemary McLaughlin. This is the play investigates the Paterson Silk Strikes in 1912-13. Rosemary McLaughlin is a NJSCA Literary Fellow in Playwriting and this reading is part of the Literary Artist Fellowship Award.
Thurs, March 16 • 7:30pm New Play Festival/Staged Reading Run On Sentence by Stacie Lents. In 2016, Stacie Lents spent over 70 hours interviewing women prisoners at the Women's Reception, Diagnostic and Correctional Center (WERDCC) in Vandalia, Missouri as part of a commission for Prison Performing Arts. Run On Sentence is a work of fiction based on those interviews. The play is an astute and often humorous look at the lives of these women as they deal with issues associated with their incarceration.
Sat., March 18 • 7:30pm New Play Festival/Staged Reading The Messenger by Phoebe Farber. Trish is living as a caretaker in her brother's house while teaching at a local nursery school. When some work needs to be done on the house, she hires Oren, an itinerant handyman who turns out to have come to earth on a mission of healing. The Messenger is a triangle play that looks at issues of global and minuscule proportion: how does one live one's life in the presence of loss, helplessness and impotence?
Wed, March 22 • 7:30pm New Play Festival/Staged Reading Diagonal Trilogy by Vita Morales. It 1939, and in the shadow of the newly-built Pulaski Skyway (then called The Diagonal), Gianni Finti has drowned swimming in the debris-strewn Passaic River. His cousin Carlie tries in vain to save him. His perceived failure and the anguish of Gianni's death opens a box of secrets that reveals Carlie's true identity and triggers a lifelong quest for forgiveness. Based on a true story, The Diagonal Trilogy is a sensitive look at life in Newark before and after the Second World War.
Thur, March 23 • 7:00 pm New Play Festival/Staged Reading Tiene Duende by Cecilia Copeland. An American flamenco dancer of mixed heritage longs to master her art, but must deal with cultural and romantic difficulties along the way. –Followed by Talk-Back.
Sat., March 25 • 7:00 pm New Play Festival/Staged Reading Like Saltwater by Pia Wilson. A bipolar, African-American woman named Ailyn is locked in a room with her husband's childhood friend, would-be lover, and now priest, Richard while her husband John is dying in their bedroom.

 

Funding for Borderless and the 1st annual New Play Festival was made possible by generous support from the Hudson County Office of Cultural & Heritage Affairs/Tourism Development, Thomas A. DeGise, Hudson County Executive and the Hudson County Board of Chosen Freeholders and the New Jersey State Council on the Arts.
Funding for Borderless and the 1st annual New Play Festival was also made possible through the generosity of Ben LoPiccolo Development Group, JCTC's Board of Directors, private donors and local Jersey City businesses.
Jersey City Theater Center, Inc. (JCTC) manages programming at Merseles Studios and the adjacent White Eagle Hall, currently under construction. JCTC is a nonprofit, 501c3 arts organization committed to presenting innovative and progressive performing & visual arts as well as educational arts programs that embrace the multicultural identity and preserve the rich history of Jersey City, bringing its community closer together and enhancing its quality of life.