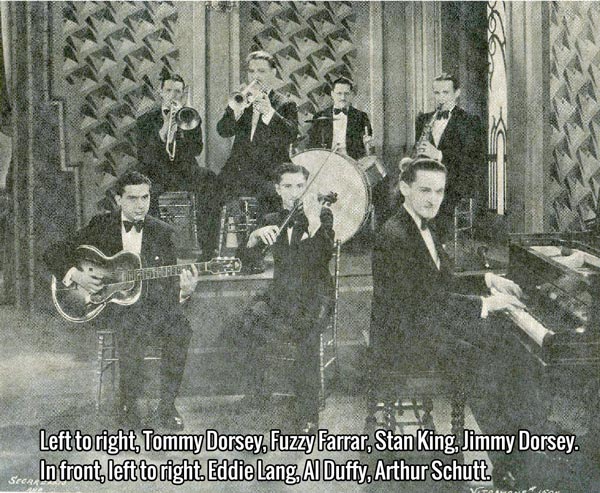 Ring!  Ring!  
Hello. Rosemary speaking.
A violin plays an entire song, then, do ya know that tune?
Yes! It's "Poor Butterfly."
How about this one....  
---
We'd play "name that tune" for 15 minutes or so, then chat. That's how it went with virtuoso violinist Aldofo Diadone, a.k.a., Al Duffy and me.
He was a sprightly 90-year-old, hanging out at a Manalapan music store when I met him. Al retired from music in 1978, and he and wife Rose moved from Brooklyn to Howell, NJ. It was just minutes away from three music stores that would become Al's haunts, as well as his support system after Rose's death in 1996.
At Musicians Workshop, Freehold Music, and Ciazzo's, Al would hang out, talking music with the staff, telling jokes, and filling up some lonely time. Sometimes he would jam with guitarists Tal Farlow, Bucky Pizzarelli and Vinnie Corrao, entertaining his fellow residents at The Villages club house. 
To be clear, the game we played on the phone wasn't just Al's way of checking the breadth of my repertoire. Nor was it just "stump the singer." I believe it was about an old and lonely artist having left behind him the kind of fulfilling music career from which artists don't fully retire. I was happy to be a playful and appreciative ear he might have needed…heart and soul. Al would play an entire song into the phone, improvise a chorus, and only then would he ask me to name it!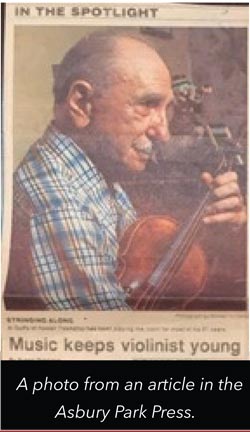 Al was the age my musician dad would have been, and I knew a lot of old songs. When I visited him at home we would jam then talk music over coffee. In his nineties, Al still had perfect pitch and amazing facility on the fiddle. He showed me pictures from his career and told me stories, like when he was 1st violin chair in the Paul Whiteman Band in the late '20s. Bing Crosby was singing on stage.  The band in the pit below. In a misstep, Bing fell off the stage and landed inside the grand piano. 
Family was as important to Al as music. He led a balanced life. No easy achievement for a professional artist. Al didn't chase fame, yet he was regarded as the Father of Jazz Violin.
On the Internet, I learned things he never told me. Al pioneered the "over the bow" technique---the Jimi Hendrix of the violin! Al won prestigious awards for outstanding artistry, played with many stars, recorded with classical and jazz ensembles as well as his own band, and was 1st violin for the Broadway run of Funny Girl. 
From his students, I learned that Al was Barbra Streisand's orchestra pit boss for 25 years.  He recorded with guitarist Django Reinhardt and gave drummer Buddy Rich his first pro gig in his band, The Rhythm Masters.  He auditioned Frank Sinatra while working in the Dorsey brother's band.  He taught comic Henny Youngman those three notes he played on violin. Les Paul made Al an "electric fiddlestick" and inscribed it: "Especially for Al Duffy." 
Ten year old Frank Cicalese met Al when he walked into Ciazzo Music one day looking for a viola teacher. Al was in his 80s then, and teaching had never been his thing. But he sensed something special in little Frankie who had no dad in his life. Frank had been playing accordion since he was three, but wanted to learn viola so he could join his school orchestra. Al took Frank under his wing from that day, giving him free lessons and bringing discipline and structure to his life. Frank studied with Al for 10 years. He said Al always amazed. Into his 90s, he could read anything, like when he transposed clefs with ease, and played the Mozart double violin concerto with Frank, flawlessly.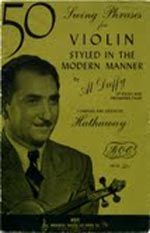 Now an ace musician/composer/technician living in Nashville, Frank told me, "Al was strict with me, accepting nothing short of what I was capable of. Hrimaly scales (specific violin exercises) were a must, as were all the typical etudes for violin. Al was a great teacher and a great artist who provided me the mentorship you would only get from a family member. I'm grateful he was in my life."
Regrettably, there was a period when I lost touch with Al, and when I called to restart "name that tune" his phone was out of service. Al died in 2006 at age 100.
An old clipping from the Asbury Park Press reported that Al seemed youthful at 87, and quoted him saying music kept him young. Conversely, I think it's the desperate pursuit of fame and riches that can hasten an artist's death. Al seemed to know that. He created balance in his life. 
You'll find 78rpm restorations of Al's recordings on YouTube. Discography and sheet music of his violin solos are online. Here is a 78rpm restoration of one such song, recorded in the late '20s or early '30s.