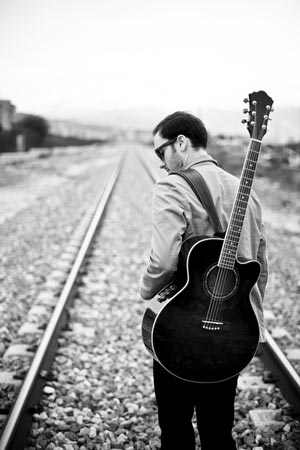 Often in a relationship with a musician, the "other woman," or the "other man" is a musician's muse; his guitar; her flute; the drug that is creative flow in the inspired minds and hearts of the people who write, sing, and play music.
Since time immemorial that "other" in the life of any kind of creative artist has often been a perceived challenge or a threat to sustaining a relationship with someone not "in the business." Conflict arises when a musician goes on tour, away from home a lot, and out late playing in local clubs. We all know what the fear is about.
Sure, cheating goes on in every profession, but not by everyone. Surely, and especially when one or both are young, an emotionally dependent partner can be torn to pieces by suspicion and worry if s/he is not prepared for a love relationship with a musician.
I wish I had a dollar for every time I read or heard people say, don't date or marry a musician. I've known parents who were happy their off-spring was dating a musician. They're fun people---smart, creative, clever and entertaining. Most people recognize that musical artists are important to our culture, so everything is cool…until co-habiting or marriage is mentioned.
It's interesting how parents' capacity for reading the future is aroused when their child's relationship with a musician turns "serious." In the case of jazz, pop and rock artists, there may be warnings of the negative kind. I think everybody knows that it's hard to make a living in music, and there isn't much room at the top. But, of course, there are exceptions to any social meme.
---
If one's son or daughter is with a musician, and if there appears a promise of rising-star status, or if the artist has already achieved fame and has the accompanying riches---well, that's a different story. Financial security is requisite for the parents' peace of mind. And as a bonus, all relatives enjoy a bit of an ego lift in the bragging rights that come with a personal connection to a well-known musical artist. (That includes singers; for they, too, are musicians.)
I think worry begins when parents imagine what they see on TV and read about in novels…a smoke-filled, darkened jazz club, and the sexy sounds of a saxophone playing in an atmosphere of loose women and horny men! Or maybe the scene is a popular bar serving up sex, drugs and rock n roll. It's cheating they fear. Parents don't want their child to suffer a broken heart. (Advertisers often provide such scenes when pitching a product or vacation get-away.) Oh, those unfair stereotypes on which we unwittingly feed!
If the classical music world and its musicians seem to the outsider above the behavior of jazz and rock musicians, I'll set you straight. In the do-it-yourself world that is today's music business, artists looking to build a lucrative career are responsible for marketing and promoting themselves and their music, unless they come from money or have negotiated a deal with angels, people who invest in them because they see the potential for a good return on their money. It behooves an artist to spend a great deal of time promoting their live performances and their records so as to earn a living for themselves and their families. But doing so can become so mentally and physically consuming that there may be little time for so-called normal family interaction, or the care and feeding of a partner who is especially needy. That "other" gets plenty of attention and blame.
A prospective spouse must accept that s/he will always be the third partner in the love triangle and be okay with it.  And so, a successful and satisfying relationship with a professional artist at any career level is possible with a partner who is emotionally mature and personally secure from the very beginning. It's important that both people have a passion…a deep interest…or an already satisfying career, so that each can focus on goals and dreams without that jealousy and resentment.
Trust is paramount in a love relationship with an artist. I believe that a healthy, strong love should set each spirit free! Free to pursue each interest, and to share the joy in each other's doing so. It's a wonderful feeling to have helped facilitate a partner's soaring. And when a couple makes the time to turn off work and be together, it will likely be all the more sweet, lovely and romantic!  Like in the lyric of My Funny Valentine, "You make me smile with my heart…and you're my favorite work of art." All this may sound uber idealistic; but I know it's possible if it's the intention of two reasonable people.
What if both parties are musicians, or one works in a complementary field? Although eternal bliss is not guaranteed, each might have a better understanding of the other. They might form a working unit that can be satisfying and financially rewarding. No life or partnership is without conflict; and conflict resolution training is readily available to--- Make Relationships Great Again!