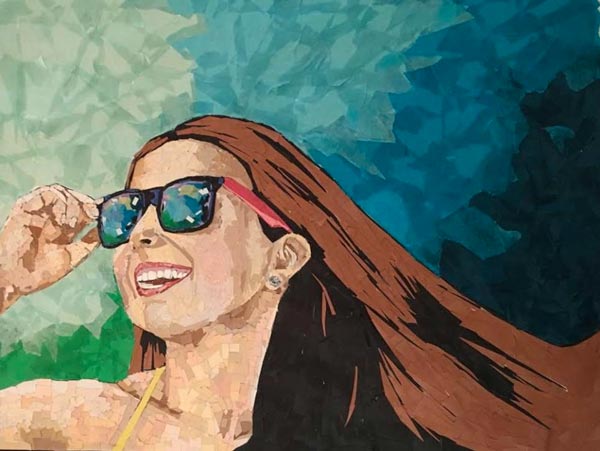 (SOUTH ORANGE, June 28, 2017) --- The Herb & Milly Iris Gallery in the South Orange Performing Arts Center presents INSPIRED MINDS: YOUNG ARTIST EXHIBITION featuring drawings, paintings, and photography by gifted young artists from Essex County high schools. On view through August 15, 2017 at SOPAC, One SOPAC Way, South Orange, NJ, the selected works were juried by a panel of distinguished artists, photographers, art collectors and museum curators and can be seen on the second and third floor gallery space in the iconic South Orange landmark.
Now in its third year, INSPIRED MINDS: YOUNG ARTIST EXHIBITION was created for the Herb & Milly Iris Gallery to celebrate the work of young visual arts, and to encourage their creativity with a professional exhibition experience. Every high school in Essex County was invited to participate and students were able to submit multiple pieces. Through the three years of the program it has grown by leaps and bounds, and in 2017 over 1,000 submissions were considered. Students from 18 high schools submitted work and the final pieces selected came from the following high schools:  Columbia High School, East Orange Campus High School, Lacordaire Academy, Livingston High School, Millburn High School, Newark Preparatory Academy, Nutley High School, and Arts High School.
INSPIRED MINDS: YOUNG ARTIST EXHIBITION provides an opportunity for the students to enjoy a comprehensive professional experience, from submission and selection through presenting in a professional gallery with the prospect of selling their art to the public. An opening reception in May brought family, friends, teachers and school administrators together to celebrate the talented students. Framing is generously donated by Chris Bobbins, owner of the South Orange Frame Shop and installation is coordinated by SOPAC's curator Jeremy Moss.
According to SOPAC Executive Director Mark Packer, "This year's exhibition is as exceptional as the students and though the jury process took some time, it was very exciting as we saw the high quality being presented. Nearly 1,000 submissions were reviewed to find the best of the best to be included in the exhibition.  The quality of work has risen through the past three years and as a result, the students procured several arts sales, a testament to the quality of these wonderful artists. We celebrate the exhibition not because these are high school artists, but because they are superb artists, period." 
Founded by Milly Iris in honor of her husband Herb iris, the mission of the Gallery is to provide opportunities for emerging artists, and coordinates with SOPAC's support of arts education. More information on the Herb & Milly Iris Gallery can be found at http://www.sopacnow.org/about/gallery.
---
Following are the names of the artists:
Columbia High School - Frances Levy, Sophia Rothstein, Lily Sickles, Leonel Soares-Neto 
East Orange Campus High School - Lud Jacques, 
Lacordaire Academy - Yamisha Braconiel, Lucia Marra    
Livingston High School - Amanda Bach, Jack Baer, Juliette Banner, Andrew Berger, Gabriel Dubinett, Emily Fidler, Serge Fils-Aimé, Colby Garfinkel, Sara Gelber, Marisa Gottlieb, Emma Greenberg, Ryan Healy, Andrew Jones, Elizabeth Kim, Noah Kudish, Anna Levy, Rachel Lieberman, Grace Lin, Emily Moskowitz, Alyssa Popper, Zoe Pritikin, Ashley Reuter, Rhea Sampat, Louis Scorciolla, Julian Sowa, Amy Wong, Tess Berkeley, Austin Chambers, Emily Culleton, Alexa Mintz, Julia Traiger
Millburn High School - Annie Beckerman, Emily Chan, Katie Darvin, Erica Einhorn, Kathleen Gao, Julia Hames, Jessica Li, Maggie Ma, Sarah Tham, Yiwen Yang   
Newark Prepartory Academy - Elvin Alicea    
Nutley High School - Zawar Ahmed, Cedric Ardente, Brina Baia, Jenny Callaghan, Kasper DellaLuna, Sayaka Imamura, Veronica Laird, Peter Lopez, Crystal Mbua 
About Jeremy Moss (Curator)
Jeremy Moss, curator of the Herb & Milly Iris Gallery since December, 2016, oversees the strategic direction of the gallery, as well as brings new exhibits to the South Orange landmark that reflect the mission of the Herb & Milly Iris Gallery: to encourage emerging artists and to bring contemporary art to a broader audience.
With a resume that reflects his eclectic approach to art, Jeremy began his career as a photographer, eventually working in fashion photography and later expanding into journalism where he shot for Business Week, The New York Times and many others. He became more active in painting and fine art, winning many prizes at juried exhibitions and leading to opportunities to expand his experience by becoming an expert art jurist himself.
Mr. Moss, who resides in Orange, works in several media including photography, mixed media and painting. His experience as an artist has given him opportunities to organize and curate festivals like the Maplewood Art Walk, and running the art show for the Hat City Street Festival for Valley Arts in Orange.
About the Herb & Milly Iris Gallery at SOPAC
The Herb & Milly Iris Gallery showcases emerging artists and brings contemporary art to a broader audience. The Gallery is designed for moviegoers, theater enthusiasts, art lovers, and all citizens of South Orange alike to have an opportunity to further enrich their cultural lives. The Gallery was the initiative of beloved SOPAC Board Member Milly Iris, a South Orange resident and arts advocate, and born out of her love of art and young people.  Mrs. Iris enjoyed an extensive personal art collection, was an art teacher and the former owner/director of South Orange's Whichcraft Studio and Gallery.  Both Milly and her husband Herb were  longtime supporters of SOPAC.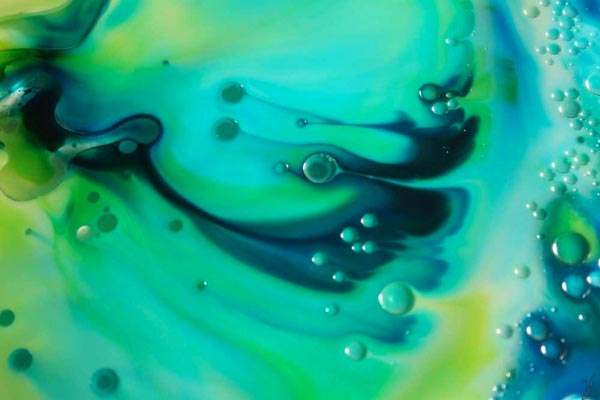 (TOP) Katie Darvin - Making Me
(BOTTOM) Veronica Laird - Blue Swirls