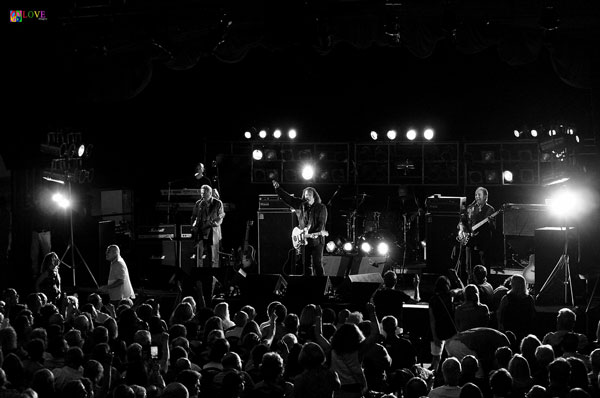 It's a beautiful evening in Cape May, NJ this Wednesday July 12, 2017. As we walk through the center of town, we hear the clip-clop of a glittering Cinderella horse and carriage decorated with flowers as it takes a young princess and her family on a magical ride.
At the outdoor mall, we see young men in the ice cream shop singing, dancing, and laughing to mid-1970's disco music as they explain to their smiling customers, "It's the hustle hour!"
Making our way over to the ocean, folks on rocking chairs sit in their Victorian front porches overlooking manicured flower beds filled with annuals and perennials in blues, pinks, purples, oranges, and yellows.
Nearer the water, little girls cartwheel on the sprawling lawn of a local inn as they wait their turn to be decorated with glitter tattoos.
Young surfers carry their boards across Beach Ave. to catch an evening wave.
---
And despite the 94-degree temperature, bicyclists — young and old — are all enjoying the cool summer breeze.
Arriving at the gleaming Cape May Convention Hall, we meet up with Jonathn Ashe, talented bass player of Tommy James and the Shondells, who happens to be standing out on the street before the show.
"This place is great!" exclaims Ashe.
"We just played St. Cloud, Minnesota and Coralville, Iowa," Ashe notes, "and now we're back here in Jersey, ready to play to a sold-out crowd!"
Outside the Hall, we also meet musician, Richie Grasso, who co-wrote the hit song, "Sweet Cherry Wine" with Tommy James.
Grasso, a Cape May resident, tells us, "I love it here — it's a great town."
Grasso goes on to fill us in on how, back in the 1960s, he and Tommy wanted to write a song like the Rascals' tune, "People Got to Be Free," which could "bring people together."
"We already had the melody and the chords," recalls Grasso, "but we needed an idea for the lyrics."
As the young men talked about their Catholic upbringing, Tommy happened to utter the phrase, "sweet cherry wine," and, asserts Grasso, "it instantly became the inspiration for the title of the song" — an unusual pop confection written in 3/4 time.
Adds Grasso, in order to avoid having the tune sound like a "waltz or a polka," when they recorded it, he told the drummer to "play a straight '3 beat' without any accent on beat 1." And once the drummer added a tambourine on top of his drum set's high hat, the classic 'Sweet Cherry Wine' rhythm sound was born."
Thanking Grasso for his unique perspective on pop songwriting history, we enter Convention Hall where we are immediately drawn to the gorgeous vista of the ocean which can be enjoyed from the building's ultra-modern lobby.
Picking up our tickets, we meet Laurie Howey Taylor, marketing director of Cape May Convention Hall, a venue which opened in 2012. Taylor tells us that in addition to Tommy James and The Shondells, this summer's season of concerts at the Hall will also feature such classic performers as Jay and the Americans, Martha Reeves and the Vandellas, Aaron Neville, Felix Cavaliere's Rascals, and Mary Wilson of The Supremes.
Further, Taylor surprises us when she informs us that even after the summer is over, activities will continue at the Hall all year long and will include everything from ballroom dancing with a live orchestra; children's programs, meetings, weddings, and private parties; and even indoor rolling skating from December to April!
We make our way into the Hall's ultra-modern auditorium where we notice '60s music playing as a friendly usher helps us to our seats.
As band members take their places on stage, Tommy James is introduced, and Jonathn Ashe's rockin' bass line has everyone instantly tapping their feet as James opens with his 1971 solo smash, "Draggin' The Line."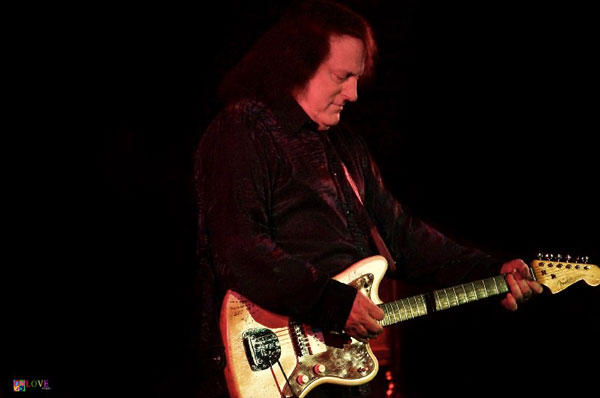 "New Jersey — how you doing?" exclaims Tommy, going on to exclaim, "I'm New Jersey proud! I'm New Jersey strong! And I'm from Exit 153!"
As a breezy tremelo electric guitar plays out, James croons the lyrics to Tommy James and The Shondells' popular Top Ten hit, "Crystal Blue Persuasion." Lights pulsate to the beat of the music and audience members gravitate to the front of the stage to get a better glimpse of their musical hero.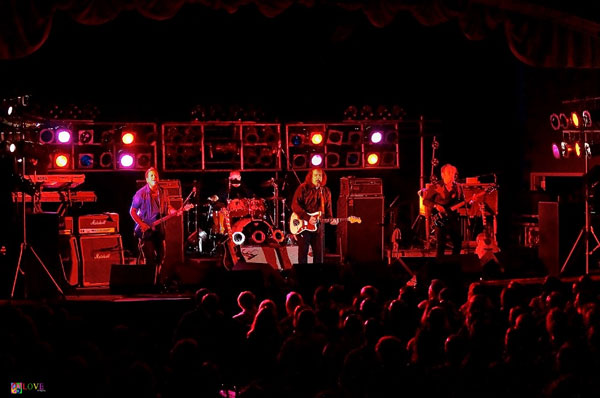 Following a trio of classic Tommy James tunes including "Say I Am," "Getting Together," and "It's Only Love" — where audience members clap their hands over their heads in rhythm to the infectious drum beat — James takes some time to tell the audience about his memoir, Me, the Mob, and the Music, a book which is set to become a major motion picture.
According to James, when he and his bandmates originally signed to their record company, Roulette, none of them had any idea it was a front for one of the most powerful organized crime families in New York City.
In the final scene of the movie script, explains James, following a tumultuous career with the label, the mobster who ran Roulette dies and a song is played where Tommy can say an "imaginary goodbye" to the man who made him and his music famous, but also, at times, made his life a terrifying ordeal.
The song?
A slow, melodious, thoughtful — and mainly "unplugged" — version of "I Think We're Alone Now," presented in the form of a contemporary power ballad.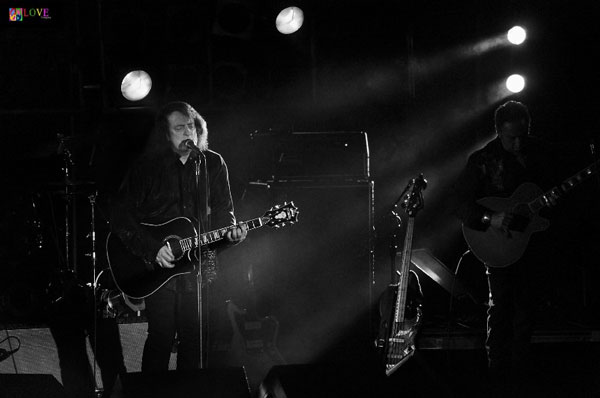 As James' voice sails out, he engages the crowd with a new way of comprehending the song's famous "running just as fast as we can" lyric. Audience members heartily sing along as well, clearly reacting to the message of James' heartfelt performance.
Following avid applause, Tommy and the band move on to another highlight of the evening, "Ball of Fire" — a song which features stunning live vocal harmonies from the band — and they follow that with a tune which James wrote and produced for the group, Alive N Kickin', back in 1970. Filled with mighty harmonies and power chords, James and The Shondells — notably John Golden who is featured on a wailing lead guitar solo — rock the house with their version of "Tighter, Tighter."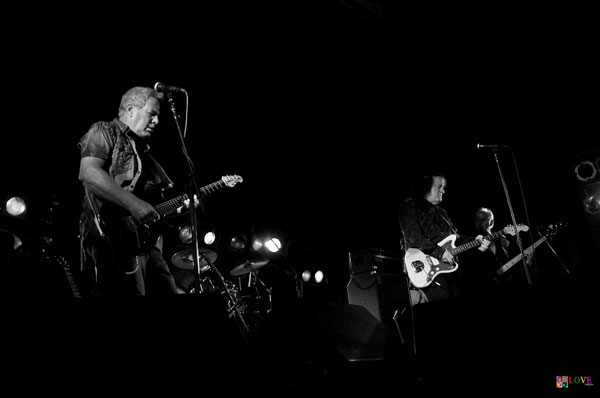 The crowd cheers as Tommy and the guys ramp things up even further with a performance of their #1 smash from 1968, the psychedelic "Crimson and Clover," a record which sold over 5 million copies.
With Tommy singing lead, accompanied by a veritable wall of sound behind him, he and the group sound like a symphony!
The famous wailing tremolo on the final refrain, "Crimson and clover, over and over," reverberates and fills the souls of the dedicated fans — both young and old — in the house "over and over," bringing the audience to its feet!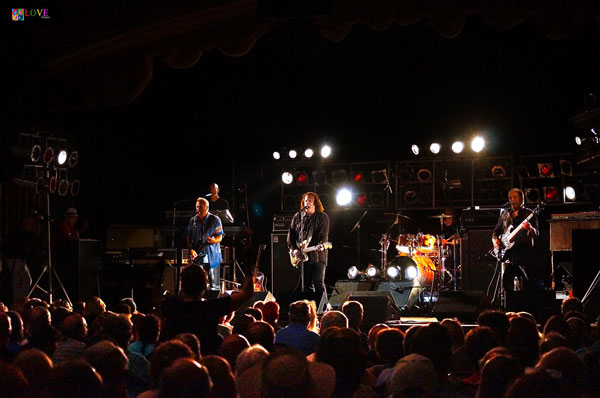 And if that's not enough, the guys' next song really gets the fans moving — TJ and the Shondells' 1966 release, "Hanky Panky."
On this number — James very first #1 hit record — couples of all ages hanky panky their way out of their seats to the front and side aisles where they sing and dance like they're at a party! As they joyfully rock and roll to the music, Tommy closes his eyes as he sings, obviously enjoying the vibe from this enthusiastic Cape May crowd.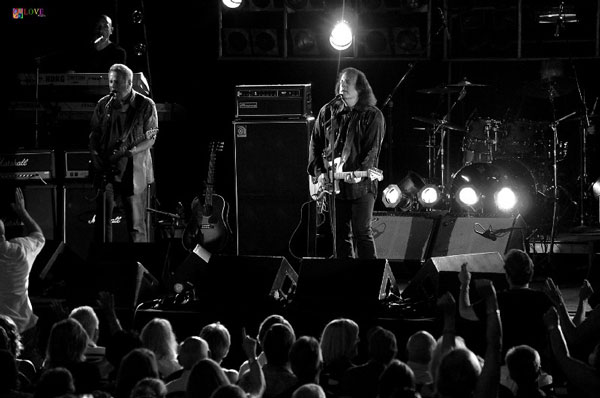 Following a second rendition of "I Think We're Alone Now" — this time, an up-tempo version like the original 1967 #4 charting '45, where dancers move under the strobe lights with their hands in the air — the band performs a spirited version of 1968's catchy "Do Something To Me." On this number, young and old dance together to a refrain which takes on a life of its own whether listeners heard it for the first time when they were kids, as teenagers, or even for the very first time tonight.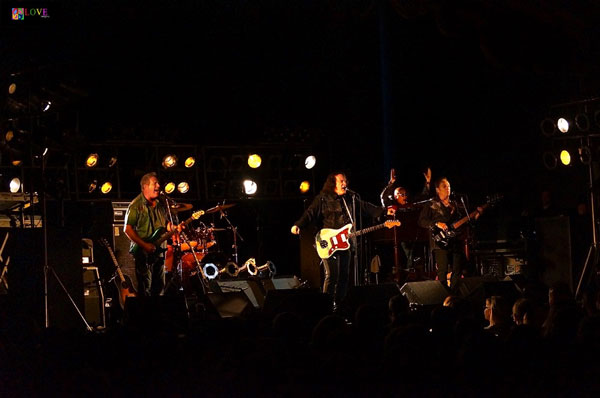 Following cheers, James and band launch into an incredible extended version of one of the greatest party songs in the history of pop music, 1968's Top Ten smash, "Mony Mony." Fists and cellphones in the air, guys and gals dance their way down to be as close as possible to the magic happening on stage.
Reminding the crowd to "keep it in the groove," the audience helps out by clapping along as James exits the stage and makes his way into the audience shaking hands. As he wanders throughout the auditorium, The Shondells play their hearts out, jamming and filling the room with swirling sound as colored lights pulse along.
As the musicians on stage sing, "You make me feel…so… good!" James certainly has to feel good meeting his fans in the audience and spending time with them in a way they will never forget until it is time for him to be escorted back up onto the stage for his final coda of "Mony Mony."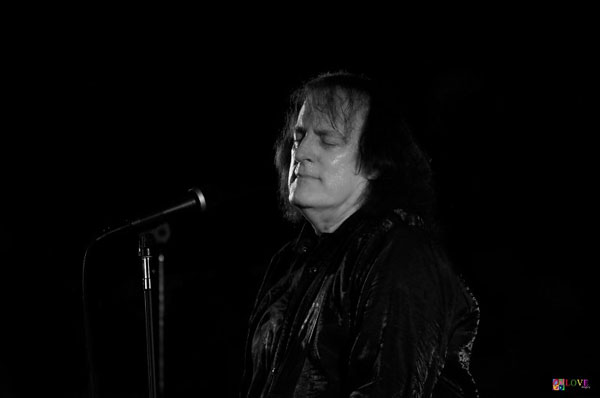 As Tommy and the band take well-deserved bows, audience members stand and scream, "One more song!" after which he and the guys oblige by performing their 1969 Top Ten hit, "Sweet Cherry Wine."
Here, Tommy introduces the audience to the song's co-writer, Richie Grasso, who waves to the crowd from the auditorium.
Following appreciative applause, the guys launch into a spirited rendition of 1967's "Mirage" and finish up with a rockin' reprise of "Mony Mony," after which the crowd leaps to its feet with applause.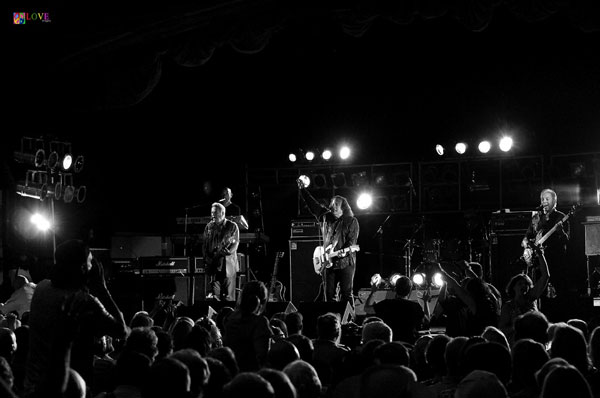 As happy music lovers begin to make their way out of the auditorium, we take a moment to chat with several of them regarding tonight's performance by Tommy James and The Shondells.
First, we talk to Jolene and Dave from Norwalk, CT who share their thoughts about this evening's concert.
"It was great!" exclaims Jolene. "It brought me back to my teenage years."
Dave agrees, adding, "We've been fans of Tommy James since the beginning, but this is the first time we've ever seen him perform live. We came all the way from Connecticut for this concert!"
We also chat with Pam and Jim from Ridley Park, PA.
Pam — proudly wearing her autographed T-shirt proclaiming, "I did the Hanky Panky with Tommy James" — reveals, "We've seen Tommy James several times, and he definitely had everyone moving in their seats tonight!"
Notes her husband, Jim, "Every time I see Tommy, I remember being a teenager with my headphones on listening to his music," going on to exclaim, "and he still sounds the same!"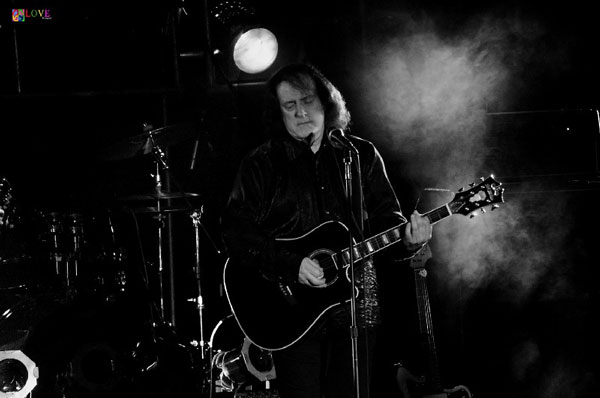 For more information on Tommy James and The Shondells please go to www.tommyjames.com. For more information on upcoming concerts at the Cape May Convention Hall — including Jay and the Americans on July 26, Martha Reeves and the Vandellas in July 31, Aaron Neville on August 9, Felix Cavaliere's Rascals on Aug. 16, and Mary Wilson of The Supremes on Aug. 23 — please go to capemay.com.
Photos by Love Imagery
Spotlight Central. Your source for Jersey entertainment news and reviews
Love Imagery Fine Art Photography. all you need. peace/love/flower/power