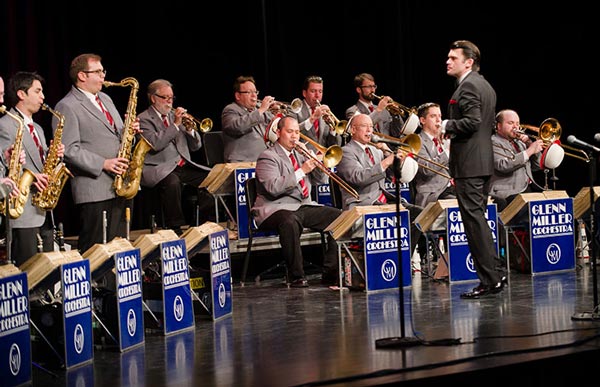 (ASBURY PARK, NJ) -- The World Famous Glenn Miller Orchestra returns to Tim McLoone's Supper Club in Asbury Park for a pair of shows on July 25-26. One of the most successful big bands of all time, the Glenn Miller Orchestra has played nearly 300 shows each year from the 1930s to today. They've played in all 50 states as well as in most countries throughout the world. Shows begin at 8:00pm, doors open at 6:00pm.
The 18 member orchestra is sanctioned and administered by the Glenn Miller estate. They play the original Miller arrangements from their road library of over 300 charts, performing a matchless string of hits including "Chattanooga Choo-Choo", "Pennsylvania 6-5000", "Moonlight Seranade", "In The Mood", "Little Brown Jug", " A String of Pearls", "Tuxedo Junction", "Don't Sit Under The Apple Tree" and much more during their 2 hour show. 
The original Glenn Miller Orchestra played Asbury Park at least twice according to reliable sources. The first known time was in September of 1938 at a dance event at the Casino. The second was in 1940 for a PBA event in Convention Hall.  
The Orchestra's "current" resurgence began in 1956 following popular demand arising from the release of the blockbuster hit film "The Glenn Miller Story" starring Jimmy Stewart and June Allison. The current touring ensemble consists of the classic Big Band complement, a music director, a male and female vocalist, 4 trumpets, 4 trombones, 5 saxes, piano, bass and drums and they play to more than a half a million people a year! Just as it was in Glenn's day, The World Famous Glenn Miller Orchestra is still the most sought after Big Band in the world and they're back once again for their annual 2 night summertime Mcloone's Super Club engagement.
Tim McLoone's Supper Club is located at 1200 Ocean Avenue in Asbury Park, New Jersey.
---