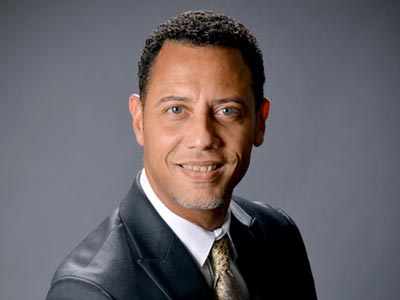 (NEW BRUNSWICK, NJ) -- George Street Playhouse will host "American Sons and Daughters: Bringing Opportunity Home," featuring guest speaker David Dante Troutt, a professor of law at Rutgers University and award-winning author of many books, scholarly articles and a variety of legal and political commentaries on race, law and equality, on Thursday, January 19, 2017, at 7:00pm. The special event is free and open to the public, but those wanting to attend should register to do so at www.georgestreetplayhouse.org.
Troutt will explore how growing inequality in America has created conflicts about core issues like policing, housing and family well-being.  While the Obama years brought swings between post-racialism and white nationalism, the Trump years suggest something more polarizing.  In our own communities, can we begin this transition on terms that are honest and constructive, yet hopeful? 
In addition to Troutt's presentation, the Playhouse Cabaret will feature a special exhibit depicting some of  the many images of our American sons. The display will remain throughout the run of American Son, a ripped-from-the-headlines drama by Christopher Demos-Brown that will be on stage February 7-26 at the New Brunswick theatre.
Troutt, a member of the Rutgers faculty since 1995, is a Justice John J. Francis Scholar and the founding director of the Rutgers Center on Law in Metropolitan Equity (CLiME), which provides a research resource for students and the public interested in the growing challenges of municipalities and families trying to sustain middle-class outcomes amid growing fiscal constraints and rapid demographic change. He teaches and writes in four areas of primary interest: the metropolitan dimensions of race, class and legal structure; intellectual property; Torts; and critical legal theory.
His books include The Price of Paradise: The Costs of Inequality and a Vision for a More Equitable America, The Monkey Suit, The Importance of Being Dangerous and After the Storm. His commentary has been published by Reuters, Politico, The Nation and Huffington Post.
---
"American Sons and Daughters: Bringing Opportunity Home" and the special exhibit were made possible by a grant from the New Jersey Council for the Humanities, a state partner of the National Endowment for the Humanities. Any views, findings, conclusions or recommendations expressed in this program do not necessarily represent those of the National Endowment for the Humanities or the New Jersey Council for the Humanities.
American Son, which earned the 2016 Laurents/Hatcher Foundation Award for a new play by an emerging playwright, tells the story of a mother and her estranged husband who rush to a police station seeking answers after a car belonging to their son, Jamal, is pulled over. Jamal's whereabouts are unknown. With no explanation forthcoming and emotions building, this highly charged drama twists and turns to an explosive conclusion.
The play is directed by David Saint, GSP's Artistic Director, and features John Bolger (GSP's Outside Mullingar, Twelve Angry Men), Suzzanne Douglas (GSP's Lady Day at Emerson's Bar and Grill, Wit), Mark Junek (Broadway's The Performers) and Mark Kenneth Smaltz (Law & Order: SVU),
American Son is sponsored by The Karma Foundation and The Blanche and Irving Laurie Foundation.
Grant funding has been provided by the Middlesex County Board of Chosen Freeholders through a grant award from the Middlesex County Cultural and Arts Trust Fund. This program is made possible in part by funds from the New Jersey State Council on the Arts/Department of State, A Partner Agency of the National Endowment for the Arts.