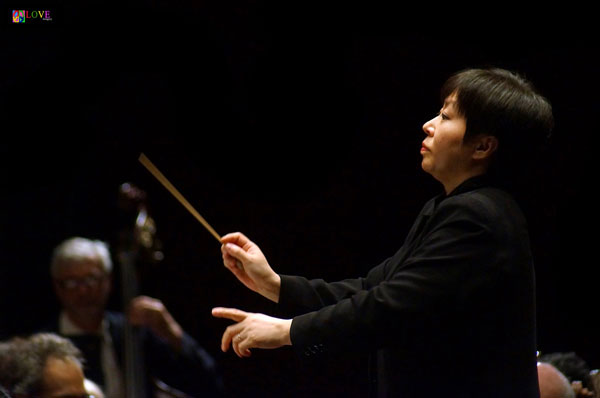 People mill about the inviting NJPAC outer lobby in Newark, NJ on Sunday, June 11, 2017, chatting with friends and family or getting a refreshing drink or a tasty snack from the concession stand.
Above the din, however, one can hear the sounds of a professional-grade string quartet coming from inside the stunning multi-tiered interior grand lobby.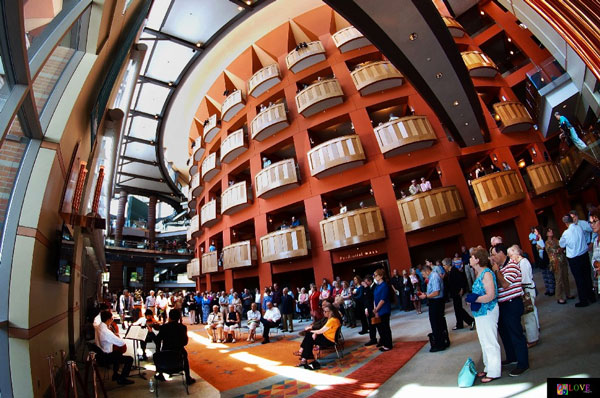 Here, music lovers are intently listening to a pre-concert performance presented by the Anne Lieberson Ensemble, a quartet of talented string players including concertmaster Caleb Shi, 15, violin; Kevin Wallace, 15, violin; Neelesh Kantheti, 17, viola; and Andrew Wallace, 15, cello.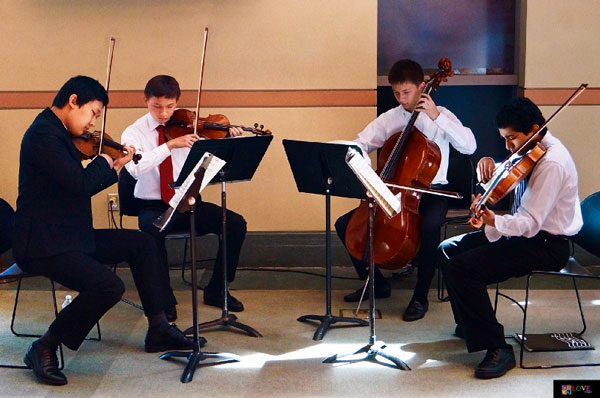 As invited guests enjoy the music from seats placed directly in front of the performers, others watch from various levels of the lobby.
This special musical ensemble is just one of the many outstanding educational programs offered by the New Jersey Symphony Orchestra to area youth.
---
According to Joanna Borowski, Assistant Director of Education and Community Engagement for the NJSO, Caleb, Kevin, Neelesh, and Andrew are all principal players in the NJSO Youth Orchestra, a group comprised of over 200 young Garden State musicians!
Each of these young men auditioned for their respective chairs in the orchestra and, based on their exceptional musical abilities, were selected to perform today as a part of this special quartet. They also will be featured two more times next season.
Says Borowski about the boys, "They are very dedicated to their music, but incredible in terms of their academics, as well."
The performers play with focus and passion and turn written notes on the page into beautiful melodies and harmonies that swell and fall and fill the space with luscious sound. It is a treat for the senses to see and hear these youngsters play together in such close proximity to the audience that listeners can practically feel the vibrations coming from their instruments!
After avid applause, we take a moment to chat with concertmaster and violinist, Caleb Shi. Caleb is a high school junior who tells us that "playing with the NJSO's Youth Orchestra is fantastic," adding, "it's wonderful to have an opportunity to play with peers with such a high-caliber musical performance level."

Talking about his colleagues in the quartet — Neelish, and twin brothers, Kevin and Andrew— Caleb reveals, "We're all really passionate about what we do." And despite the fact that Caleb tells us he someday plans to have a career in science, he nevertheless emphatically states, "I always plan to keep music in my life."
Lights flash and soft chimes signal for us to make our way out of the lobby and take our seats in NJPAC's striking auditorium, Prudential Hall.
With the New Jersey Symphony Orchestra members already in place on the stage, Gabriel van Aalst, President and CEO of the NJSO, welcomes the audience, reminding them, "This will be the last concert of the season — a big farewell from us to you."
Before the performance begins, van Aalst talks about the Terhune Award, given to orchestra members who have been with the group for 25 years. He asks these individuals to stand, at which point, approximately one quarter of the orchestra's members rise.
He then recognizes audience members who have been attending NJSO concerts for 25 years or more. Dozens of patrons stand.
Lastly, van Aalst honors NJSO violinist Debra Biderman who has performed with the group for 50 years. According to van Aalst, Biderman's first concert was in 1967 when she played Shostkovich's "Symphony №5 in D Minor," a piece the group will perform again this afternoon!
Following huge applause, concertmaster Eric Wyrick takes the stage, followed by internationally-recognized guest pianist Yefim Bronfman and NJSO conductor Xian Zhang. All shake hands before taking their respective places on the stage.
As the lights dim, the sound of the French horn greets us and the piano echoes, leading us into the first piece on tonight's program, Brahms' "Piano Concerto No 2 in B-flat Major."
The orchestra alternates taking the lead and accompanying the piano throughout the drama.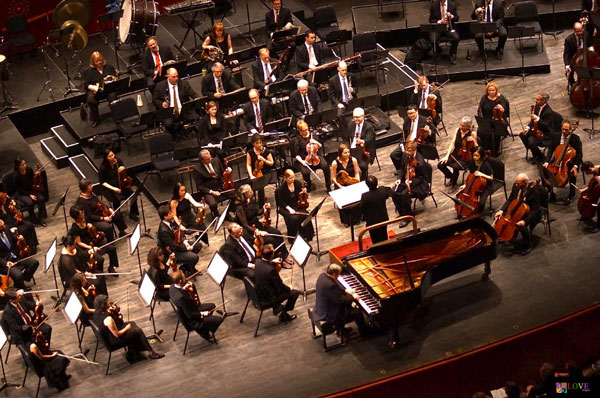 Bronfman's fingers march up and down the keyboard with grace, ease, and passion as the orchestra is called to attention like a well-trained company of soldiers moving forward under Zhang's steady baton.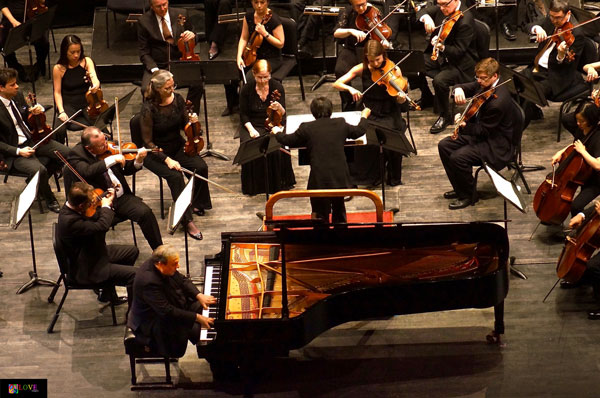 The crystal clear sound of the orchestra fills the theater with emotion as golden stage lights shine on glorious instruments, illuminating the passion and wonder of the sound.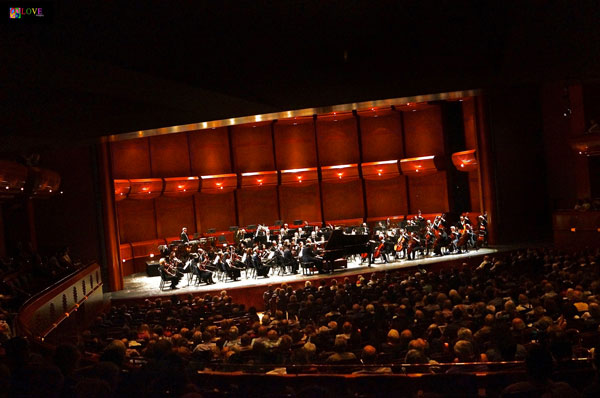 Eventually, the mood changes, the strings now leading the piece in a new direction, Bronfman's piano rolling with grace and dignity. In terms of technical proficiency, imagination, and emotion, his performance is world class.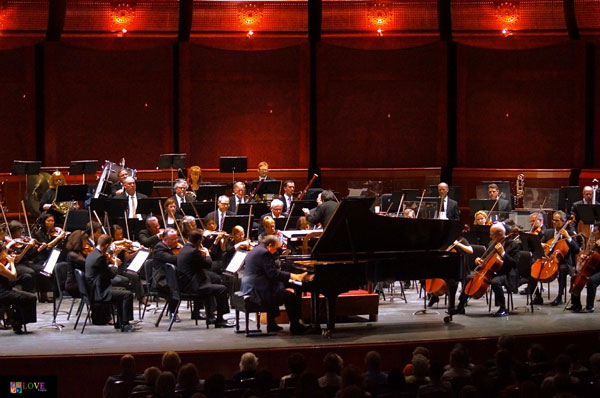 Throughout, Zhang is an ever present force as all of the seasoned performers on stage follow her direction in interpreting this dramatic piece by Brahms.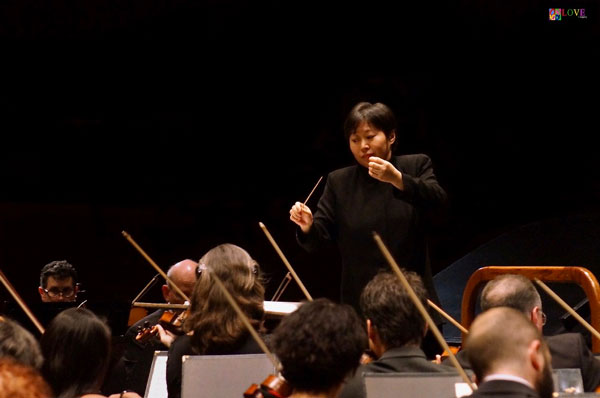 Ultimately, Zhang, Bronfman, and the NJSO bring the audience to their feet cheering "Bravo!" as the conductor and pianist shake hands to well-earned applause.
During intermission, we have an opportunity to chat with audience members John and Jean from Watchung who tell us they've been attending NJSO concerts for 34 years.
John says of the NJSO, "We really think they are a jewel," not just for their "top-notch performances all across the state," but for the "work they do in terms of educating the next generation of musicians."
Adding, "We are happy to support this orchestra in such a small way by attending their concerts," John further notes, "I think we get rewarded much more than we give."
John's wife, Jean, agrees and goes on to point out, "Every conductor, over the years, has had his or her own passion for different composers, so to hear each orchestral leader's take on the music is always very interesting."
"Although some conductors might tend to rush the pieces," adds Jean, "we really appreciate how Xian Zhang spaces out the music so listeners can hear between the notes."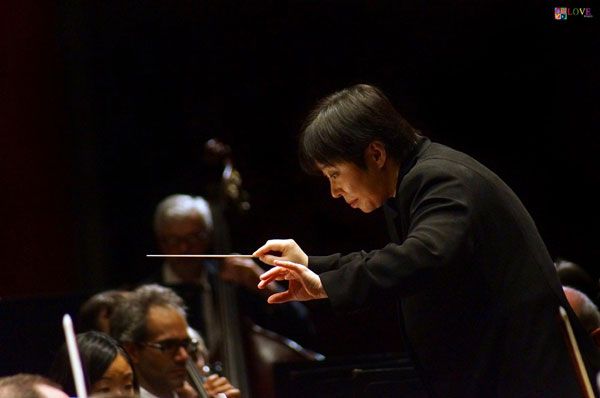 Calling Zhang "a bundle of energy," Jean says her interpretation of the Brahms' piece today is "simply gorgeous!"
After intermission, Zhang and the orchestra return to the stage to perform Shostakovich's "Symphony №5 in D Minor."
This weighty piece begins with the violins singing their song as the woodwinds follow.
Featuring the dancelike conducting of Zhang, the maestro silently and gracefully instructs the musicians as to how she wants them to interpret the composition. They respond to every nuance, filling the auditorium with feeling and demonstrating that there is no experience quite like witnessing orchestral music played live.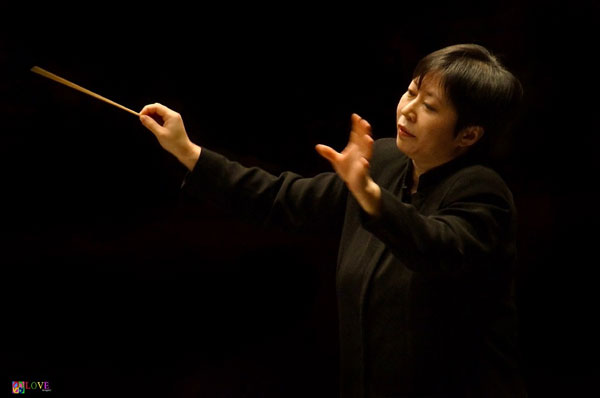 Waving her fingers toward herself, pleading for the talented musicians to give her what she needs, they oblige — creating a sound like no other that pulls at one's heart!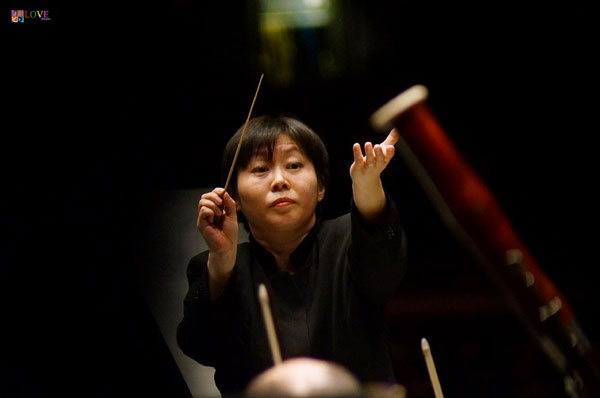 As the violins saw away at their instruments, they create tension and add drama to the piece — at times haunting, at times lush and rich — giving this audience something rare in today's world: a time where individuals can center themselves and get in touch with humanity.
As we breathe in the stunning sounds of the Shostakovich, we hear the music washing over the audience and notice how so many music lovers in the packed house appear to be "in the zone" — focused, and connecting with true culture.
Some listeners to our right are tapping along in time to the hypnotic rhythm.
One young man in front of us is literally on the edge of his seat — his mouth open wide — taking in the breathtaking harmonies and rhythms.
A couple to our left can be seen with their eyes closed, holding hands.
It is at times like this — free from the electronic devices which seem to pervade so many aspects of our modern world — that minds can simply wander and free-associate.
For example, as the Shostakovich plays, we do not only recognize shadings of Gershwin and Rachmaninov, but we also hear parallels to the music of Beethoven and even John Williams' score to Raiders of the Lost Ark.
As the music builds in terms of passion, emotion, and volume in the mighty finale, there is an audible gasp from the audience at it's dramatic conclusion!
People stand and cheer as we see a young boy in the audience deliver a bouquet of flowers to Maestro Zhang, which she graciously shares with her fellow NJSO musicians.
Following the performance, we take a moment to chat with George and Liz from Whippany, who tell us they've been coming to NJSO concerts together for over 25 years. 

According to George, when they first started following the New Jersey Symphony, they "used to watch them perform in high school auditoriums."
Revealing how much he enjoyed the Brahms, George laments, "I would have liked to have heard even more of Bronfman's piano," before interjecting, "but that's Brahams, and you can't change Brahms!"
Liz was impressed with both the Brahms and Shostokovich pieces on today's program pointing out, "Every section of the orchestra was featured in this concert," before further noting, "the enthusiasm of this audience was amazing!"
Going on to add, "We always love the varied programming the NJSO has to offer," with regards to this Season Finale with Zhang and Bronfman performance, Liz concludes by characterizing it in three simple words: "Fantastic. Rousing. Powerful!"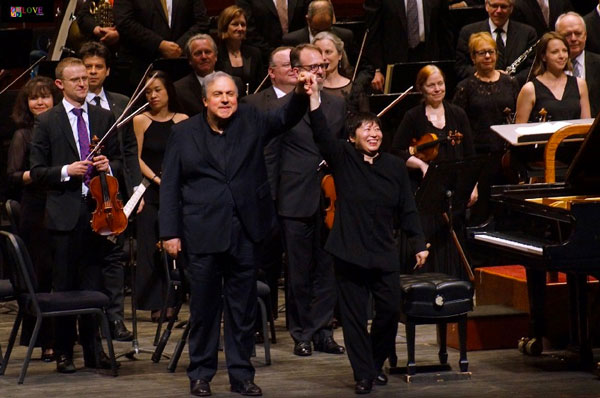 For more information on upcoming performances by the NJSO — including their summer series of concerts in Clark, Hoboken, West Windsor, Red Bank, and other New Jersey locations, many of which are free — please go to www.njsymphony.org. To learn more about upcoming performances at NJPAC, please click on www.njpac.org.
Photos by Love Imagery
Spotlight Central. Your source for Jersey entertainment news and reviews
Love Imagery Fine Art Photography. all you need. peace/love/flower/power