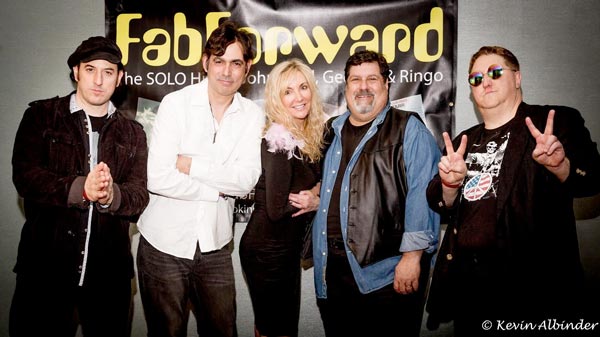 (SUSSEX, NJ) -- FabForward-The Solo Hits of John, Paul, George, & Ringo will be performing their special show at the Cornerstone Playhouse in Sussex NJ on March 31 at 8:00pm. Unlike many sound alike and look a-like Beatles tribute bands, FabForward is not a Beatles Tribute but instead they pay tribute to the hits of The Beatles' members when they became solo artists following the heartbreaking breakup of the Beatles in 1970.
FabForward was the winner of the 2016 NY Metro Area Fest for Beatle Fans Battle of the Bands contest.   And FabForward was a featured artist this month at 2017 NY Metro Fest For Beatles' Fans in Jersey City where they were joined on stage by Mark Rivera, legendary saxophonist for Ringo Starr, Billy Joel, and Elton John, and Mark Hudson, Ringo Starr's former record producer and former member of The Hudson Brothers, who hosted a variety show during the 1970s and had a top 40 hit with "So You Are A Star."
Former Beatle Paul McCartney is still a major concert draw and a prominent and relevant act in 2017 and was the #1 artist of the 1970's.   As solo artists, McCartney, John Lennon, George Harrison, and Ringo Starr Beatles racked up more than 15 number ones and many more top-40 hits including Band on the Run, Jet, Live and Let Die, Silly Love Songs, Imagine, Just Like Starting Over, Instant Karma, Woman, Watching the Wheels, My Sweet Lord, Give Me Love, Got My Mind Set on You, It Don't Come Easy, Photograph, You're 16 and many more!
"FabForward is the only act if this kind in the USA as each one of the four male members of FabForward vocally represents one of the former Beatles, which creates a fun and interesting show. " said  Bassist  Kerri Parrott.  "FabForward is not a "look alike tribute" but instead recreates the music and sound of the solo Beatles members hits."  "As the only female member, I have been nicknamed Linda and Yoko, since both Beatle wives performed with their husband's solo projects," said Freda.
Freda is a lifelong resident of Sussex County, and is also a 7th Grade Social Studies Teacher at The Sussex Middle School.   Freda admits she has been a Beatles fan almost since birth and as a child recalls owning their solo singles during the 1970s.  "These songs take me back to my youth. I still have the picture sleeves and 45's for Band on the Run and Listen to What the Man Said," Freda said. "The music of The Beatles transcends generations. If you attend a McCartney concert the ages span from 6-to 80 years of age!
---
Along With a little help from her friends,  FabForward was formed  in early 2016, with bassist Freda, lead guitarist Dave DiLorenzo, keyboardist Steve Goodman,  Drummer Keith Droz and Keyboardist/Guitarist Bob Spro. Since their first gig last June, FabForward has been gaining momentum and attention.  FabForward is providing entertainment at various concert series throughout NJ, NY, and PA this summer including appearing at the Concert on the Green Series at Sussex County Community College on Thursday,  July 20.  FabForward's  members  have played in some of the most successful club and cover bands in the tri-state area and performed on MTV and at such venues as the PNC arts center, Roseland Ballroom, Citifield, Jenkinson's, and more.