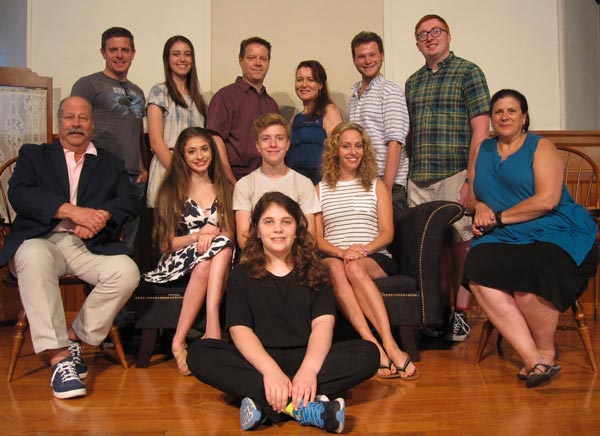 (CAPE MAY, NJ) -- "'The Rubaiyat of Omar Khayam!'  That's the best of all!  'A jug of wine, a loaf of bread, and thou beside me singing in the wilderness,'" announces seventeen-year old Richard, defending his choice of literature to his parents. His letters to seventeen-year-old Muriel contain quotes from Khayam and Swinburne.  Finding these letters offensive, Muriel's father forbids Richard to see her again. Heartbroken, he goes on a bender and meets Belle.  Is Richard going to turn into his Uncle Sid, or can he be brought back to his senses? 
     The award-winning Equity professional East Lynne Theater Company presents "Ah, Wilderness!" with a cast of fourteen, from July 26 – September 2, Wednesdays through Saturdays at 8:00pm.  The opening night party, at no additional cost, is at The Merion Inn, across the street from The First Presbyterian Church of Cape May, 500 Hughes Street, where the company is in residence. There will be an after-show Q&A on Friday, August 4.
     Eugene O'Neill's comedy about teenage growing pains takes place in Connecticut during the July 4th weekend in 1906. When it premiered on Broadway in 1933, George M. Cohan portrayed Nat Miller, Richard's father. When it went on the road, Nat was played by Will Rogers.
     Taking on the role of Nat for ELTC is Mark Lazar, who was in the company's world premiere of "Zorro!"  He's a 20-year company member with People's Light & Theatre, outside Philadelphia, and has performed extensively throughout the country. Emma Palzere-Rae portrays his wife, Essie. She performed for ELTC as Harriet Beecher Stowe in her own "Aunt Hattie's House," which is one of the company's tour offerings. She's performed in such productions as "Lend Me a Tenor" and "Doubt," and was the former artistic director for Plays for Living.    
    Essie's brother, Sid, and Nat's sister, Lily, are played by those familiar with ELTC: Mark Edward Lang and Alison J. Murphy.  Theater and corporate training events have taken Mark to 35 U.S. states and around the world. ELTC credits include "The Guardsman" (as an actor) and "Anna Christie" (as director). Past ELTC productions for Alison include "The Late Christopher Bean" and "The New York Idea." She has also performed with American Stage Company and Shakespeare in the Garden. Mark and Alison are performing their new play "Zelda and Scott: Love Letters (and others)" at ELTC on Monday, August 7 at 8:00 p.m.
---
     Nat and Essie's children are played by Evan Smilyk (Richard), Jakob Pender (Tommy), Sydney Freihofer (Mildred), and Connor J. Burke (Arthur). 
     This marks Evan's fourth mainstage appearance with ELTC. Last year, he was in the company's "Dracula," and in "Damn Yankees" at Lower Township High School. ELTC's artistic director, Gayle Stahlhuth, met Evan and Jakob when she directed them in plays at West Cape May Elementary School in a program provided by ELTC. They have also participated in ELTC's Summer Theater Workshop. Jakob attends middle school in Avalon.
     Sydney is a sophomore at Mainland Regional High School in Linwood where she recently performed in "Sister Act!"  She's also performed with the Broadway Theatre of Pitman, Bellarine Theatre Company, and Off Broad Street Players. Connor recently graduated from Elizabethtown College in Elizabethtown, PA where he performed in shows including "Company," "Twelfth Night," and "Spring Awakening."  
     Playing Richard's love interest, Muriel McComber, is Brigid Harrington, and taking on the role of her father is Thomas Raniszewski. Brigid was Jane Banks in Broadway's "Mary Poppins."  She recently completed filming the role of Julie in "Benji the Dove," and is heard daily as the voice of Koko in "Chuggington" on the Disney Chanel. Thomas has been performing with ELTC since "Rain" in 2005, and last season was in "Dracula." He was in the world premiere of "Dying Like Ignacio" in New York. 
     Jared Noah Aronoff plays Wint Selby, a friend of Arthur's who introduces Richard to Belle, played by Rachel Holt. Jared, who was ELTC's production assistant in 2015, recently graduated from Temple University, where he performed in shows including "Our Town." He's also worked at the Arden Theatre and Paper Mill Playhouse. Rachel, who was in ELTC's "Dracula," works in commercials, films and TV. Credits include "The Alchemist" at The Shakespeare Theatre Company in Washington D.C. and "An Ideal Husband" at the Walnut Street Theatre.
     Robert LeMaire plays the Salesman and Gayle Stahlhuth is Nora, the maid. Robert, who recently directed "Robin Hood" for ELTC's Student Workshop, has been performing with ELTC since 2001, including last season's "Dracula."  He also directs shows for the Ocean City High School Drama Guild. Gayle has produced over 90 different productions for ELTC since becoming artistic director in 1999. She is directing all of the shows this season.
     Meanwhile, on ELTC's mainstage is "Will Rogers' U.S.A." running through July 22, Wednesdays through Saturdays at 8:30 p.m.
     For information and reservations, call 609-884-5898 or visit www.eastlynnetheater.org.
PHOTO: Most of the cast of East Lynne Theater Company's "Ah, Wilderness!":  Thomas Raniszewski, Sydney Freihofer, Mark Edward Lang, Alison J. Murphy, Jared Noah Aronoff, Connor J. Burke, Mark Lazar, Brigid Harrington, Evan Smilyk, Rachel Hole, Emma Palzere-Rae, and Jakob Pender. Photo Credit: Gayle Stahlhuth