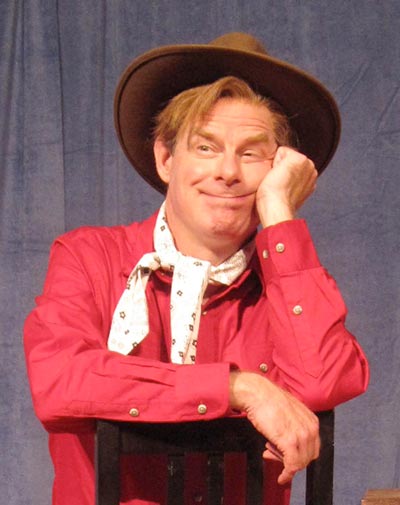 (CAPE MAY, NJ) -- "There's no trick to being a humorist when you have the whole government working for you," was just one of many remarks made by Will Rogers (1879-1935).  As a young man, he worked on ranches, and being a master of the lariat led to his performing in Vaudeville.  By 1917 he was a headliner for the Ziegfeld Follies, blending his unique style of poking gentle fun at current events with his rope tricks. In 1922, he started a syndicated column that was read in 2,800 daily papers.  His wit, wisdom and understanding of the human condition is often compared to that of Mark Twain. 
Rogers enjoyed performing his humorous banter to audiences throughout the country in a variety of venues.  The award-winning Equity professional East Lynne Theater Company is pleased to offer several evenings with Rogers, as portrayed by Tom Bryn, in "Will Rogers' U.S.A."  This funny and smart show runs from June 14 through July 22, Wednesdays through Saturdays at 8:30 p.m.  The location is the historic First Presbyterian Church, 500 Hughes St., Cape May, where the company is in residence. On opening night, June 14, there is an after-show party at The Washington Inn, 801 Washington Street, at no additional ticket cost.  It's an excellent opportunity to meet the actor, staff and volunteers for ELTC, and mingle with theater lovers.
Tom Byrn appeared last season in ELTC's "Biography" and the solo show, "Mr. Lincoln," which was also part of the 2015 season and toured to Bloomsburg Theatre Ensemble in PA. Howard Shapiro gave "Mr. Lincoln" an excellent review for WHYY TV and radio, with favorable comments for director Gayle Stahlhuth and calling Byrn's performance a "tour de force."
This past winter, Byrn was in "The Importance of Being Earnest" at Cider Mill Playhouse in Endicott, NY. He has acted at various theaters in the Philadelphia area, including, People's Light & Theatre, Interact, Lantern, and Act II Playhouse.  He is co-editor of "Letters to the Editor," published by Simon & Schuster, and a member of the Lincoln Center Director's Lab. This marks his ninth production with ELTC.
Dave Bova created the wig, as he did for "Mr. Lincoln." He works throughout the country, and recently created the wigs for Broadway's "Sunset Boulevard" and "Bandstand."  The costume was designed by Marion T. Brady who has designed for ELTC for over 20 years.
---
In 1970, "Will Rogers' U.S.A." was conceived and produced by George Spota, with James Whitmore playing Will Rogers.  It was adapted and originally directed by Paul Shyre.  Many of the plays produced by ELTC have hard-to-find scripts, and this one was no exception.  Artistic director Gayle Stahlhuth, who is also directing "Will Rogers' U.S.A.," spent months tracking down this unpublished play.   
Jennifer Rogers-Etcheverry, Will Rogers' great-granddaughter is hoping to see the show in July. Living in Bakersfield, CA, she is a founding director of the Will Rogers Ranch Foundation and rides in the Rose Parade with "Sons and Daughters of the Reel West."
Tickets are $32 for general admission, $27 for seniors (62 and over), and $17 for full-time students, and those in the military: active, retired, and veterans. Ages 12 and under are free.  Season tickets are available until July 1, cost $88, and are flexible, even allowing patrons to use all four for one performance, if they wish.
All tickets are available for purchase with credit card, cash or personal check at the box office when there is a performance,  through ELTC's website, www.eastlynnetheater.org, by phone, 609-884-5898, e-mail eastlynneco@aol.com , or by sending a check to the office: 121 Fourth Ave., West Cape May, NJ 08204. 
Photo of Tom Byrn who is portraying Will Rogers in East Lynne Theater Company's production of "Will Rogers' U.S.A."  Photo credit Gayle Stahlhuth