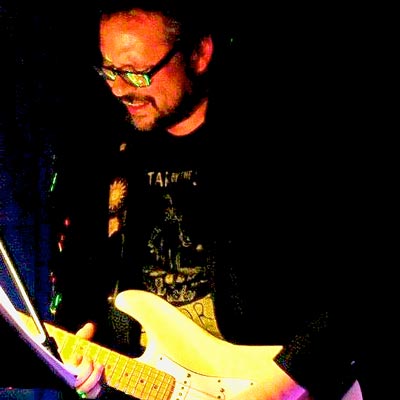 Former Jersey Shore native, Colie Brice, moved to Maine several years ago, but the profilic artist has continued to create and put out new music on a regular basis. Sea Are Bee is his latest release.  Amazingly it is his 31st solo release and the 10th since moving to Eastport, Maine.
"[Sea Are Bee] is an eclectic mix of aural musings compiled over this past year mostly while I was focused on other performance and production projects," explained Brice. "To paraphrase the late great John Lennon, I guess music is what happens while you are busy making other plans. I find that Eastport and the surrounding areas continue to be a fertile, inspiring and soulfully nurturing creative habitat.  I remain so grateful to live and work here.  Truthfully, if I were to win the lottery tomorrow I don't think I'd change much or move.  I'd only spend a higher proportion of my time on my personal art.  Well maybe I'd sneak off somewhere in April, but I'd surely come back!"
Brice is a multi-instrumentalist who has been recorded on over 40 albums, some on major labels with big budgets, others recorded DIY style on indie labels. Jersey music fans may remember his work with Phantom's Opera - a band that at one time featured Michael Romeo of Symphony X and later Karl Cochran of Ace Frehley and Joe Lynn Turner's band.  He also started Aeria Records, a boutique indie label, that put out releases by many New Jersey-based artists.
As a stage musician, Colie has performed at diverse venues ranging from the Stone Pony in Asbury Park, to the Viper Room in Hollywood, California and many points in between. He has shared the bill with an eclectic variety of notable acts such as Dick Dale, Layonne Holmes (Jon Bon Jovi solo band), Juggling Suns, Tony Levin, Handsome Dick Manitoba, Marshall Tucker, Skid Row, Jill Sobule, and Southside Johnny and the Asbury Jukes among others.
"I recently got an iphone for work projects and listened to this whole album via streaming while I hiked through an incredible park here called Shackford Head," add Brice.  "I have found Sea Are Bee to be a worthwhile companion on a vigourous, rugged hike overlooking, rock formations,  evergreen forests and sweeping bay views with glimmering sunlight.  I hope you do too.." 
---
Sea Are Bee is available at CD Baby.