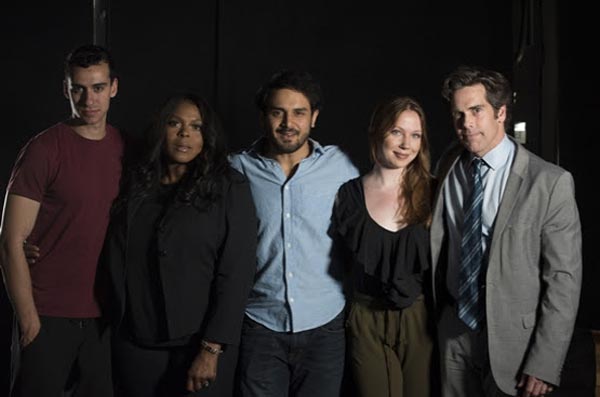 (TEANECK, NJ) -- Black Box Studios presents Disgraced by Ayad Akhtar. Misty Easler, Alex Hughes, Katie Housley, Hemang Sharma, and Laurence Wallace star in this new production of the 2013 Pulitzer Prize Winner for Drama. Performances are from Thursday to Sunday until July 23.
Amir Kapoor is a successful Pakistani-American lawyer who is rapidly moving up the corporate ladder while distancing himself from his cultural roots. Emily, his wife, is white; she's an artist, and her work is influenced by Islamic imagery. When the couple hosts a dinner party, what starts out as a friendly conversation escalates into something far more damaging.
Disgraced is directed by Matt Okin and Produced by Huey Esquire & Black Box Studios.  Admission is $30 for adults and $25 for students and seniors. Tickets are available online.
Performances are no through July 23 on Thursdays at 8:00pm; Fridays at 8:00pm; Saturdays at 8:00pm; and Sundays at 3:00pm and 7:30pm. 
Black Box PAC is located at 200 Walraven Drive in Teaneck, New Jersey.
---
Disgraced is presented in special arrangement with Dramatist Play Service, Inc., NY.
AFTER SHOW TALKBACKS
"America's Rabbi" Shmuley Boteach, whom The Washington Post and Newsweek call "the most famous Rabbi in America," leads the talkback following the Sunday, July 16 at 7:30 performance, which promises to be a rousing and provocative conversation.  
On Thursday, July 20, Rabbi Steven Sirbu of Temple Emeth in Teaneck will lead the discussion, drawing upon his background in theater and his extensive work in community relations.  
Finally, creative artist and Teaneck International Film Festival Executive Director Jeremy Lentz leads the post-performance chat following the closing performance on Sunday, July 23 at 7:30 PM.