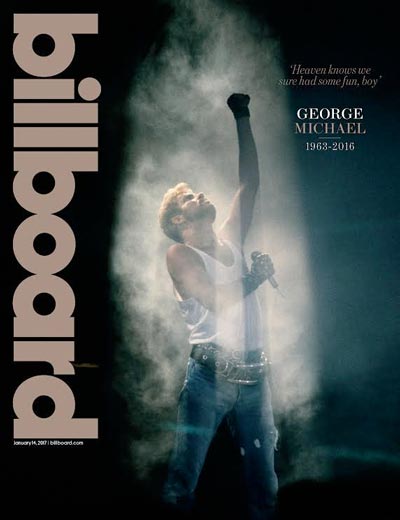 The year 2016 will long be remembered for the list of incredible artists who left us, beginning with David Bowie in January and ending with George Michael on Christmas.  Those part of Generation X were shocked to wake up to the reality that so many of the artists they grew up with would no longer be around.  Billboard Magazine has just released a special tribute to George Michael that fans will want to read. In the issue, Rob Kahane (Michael's manager) opens up about George's feelings on his own looks, his life, career, and the new music he was working on.
Kahane who managed George Michael at the height of his solo career met up with the singer in early December 2016.  Michael had recently finished 18 months in a Swiss rehab facility.
"I called him, and he said, 'I'm good.' He sounded fine," said Kahane. Though the two hadn't talked in years, they made a plan to have lunch in January. And Kahane heard a few of Michael's new songs, which he says are "totally pop, like something that would've been on Faith. The songs weren't depressing. That's why I thought everything was OK with him."
Unlike many stars from the 1980s, Michael rarely produced much music in the last 20 years.  In fact, his only two releases consisted of an album of mostly standards sung with an orchestra in 1999 and Patience in 2004.  Following a successful run with Wham and the incredible success of Faith (1987) which sold 25 million copies worldwide and 10 million in the United States, he left many fans wondering why he seemingly disappeared from the industry.
Judging from the recent reports of his final years, including battles with weight and drug issues, it appears his appearance played a major role in his avoidance of the spotlight.  According to the Billboard feature, his looks was a battle he fought throughout his life. Rob Tannenbaum who penned the piece recalls Michael telling him in an interview from 1986, "People have no comprehension of what I looked like as a kid," he said, laughing. "I was such an ugly little bastard."
---
Kahane told Billboard, "He never thought he was good-looking.  When he looked in the mirror, he'd still see a pudgy, homely kid."
Despite the way he felt about his looks, Michael always knew he would be famous.  He also knew that he would die young. Both premonitions would prove correct.
"From a really early age, I believed I was going to be a star," he told Tannenbaum in the 1986 interview. "I remember being on a bus when I was a child, about 8 or 9. I'd had a bad day at school -- I'd been picked on -- and I remember thinking it would be OK when I was older, because I wasn't going to be like everybody else. That's the reason kids want to be stars. They think they'll be able to rise above their problems because they're famous -- which obviously isn't true."
In late December, the Daily Mirror reported that George Michael had three albums of unreleased music in his private collection, including The Trojan Souls which contained "This Kind of Love" - a song produced by Elton John that was linked online by Michael's boyfriend Fadi Fawaz in his memory.  Will fans ever be able to hear these "lost" albums? Time will tell.  For the complete Billboard feature, click here.