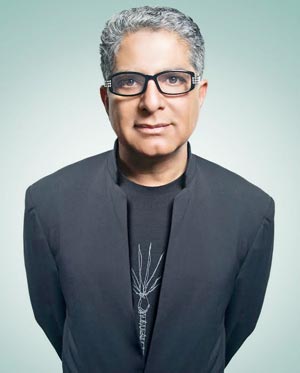 (ENGLEWOOD, NJ) -- What happens when modern science reaches a crucial turning point that challenges everything we know about reality? Join New York Times bestselling author Deepak Chopra at Bergen Performing Arts Center (bergenPAC) on Friday, March 24 at 8:00pm as he shares new insights from his latest work You Are the Universe and explores some of the most important and baffling questions about our place in the world. There will be a post-show book signing with Deepak Chopra in the bergenPAC theater lobby. Tickets range from $49 to $179.  The event is sponsored by Englewood Hospital and Medical Center.
The greatest spiritual urge in our time is the urge to change, to walk the path of transformation. Millions of people feel this urge, yet they run into the same problem. Where is transformation supposed to occur? Should we focus on our bodies or alter our beliefs, address our old conditioning or pursue a special spiritual discipline? None of this has been made clear, which is why transformation remains a muddled topic for many people. Chopra will address these questions as well as practical ways to experience higher consciousness, transformation and healing.
Deepak Chopra MD, FACP, founder of The Chopra Foundation and co-founder of The Chopra Center for Wellbeing, is a world-renowned pioneer in integrative medicine and personal transformation, and is Board Certified in Internal Medicine, Endocrinology and Metabolism.  He is a Fellow of the American College of Physicians, Clinical Professor at UCSD Medical School, Researcher, Neurology and Psychiatry at Massachusetts General Hospital (MGH), and a member of the American Association of Clinical Endocrinologists. The World Post and The Huffington Post global internet survey ranked Chopra #17 influential thinker in the world and #1 in Medicine. Chopra is the author of more than 85 books translated into over 43 languages, including numerous New York Times bestsellers. For more information visit: www.deepakchopra.com.
The experts at the Graf Center for Integrative Medicine at Englewood Hospital and Medical Center are re-imagining what wellness looks like through a holistic approach, focusing on the mind and body as one. Certified experts are offering complimentary medically based services, including therapeutic chair massages, group acupuncture, yoga demonstrations, Reiki and aromatherapy for guests to enjoy prior to the Deepak Chopra show from 6:30PM. until 8PM throughout the bergenPAC theater. Come enjoy the Graf Center wellness services.
bergenPAC is located at 30 North Van Brunt Street in Englewood, NJ.
---